More Than $1M GTD in the 888poker XL Spring Series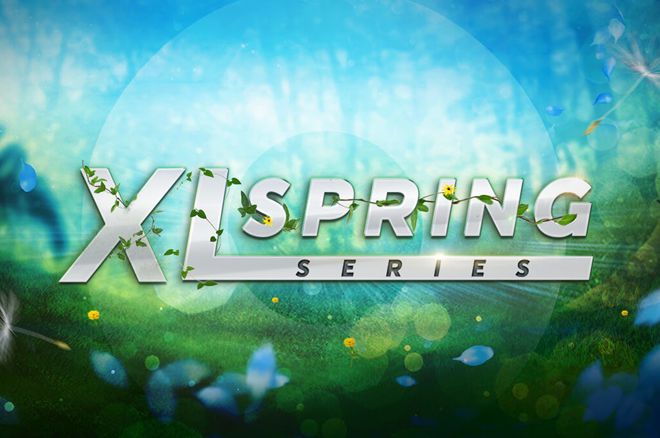 Big poker action returns to 888poker at the end of the month with the online poker room hosting the inaugural XL Spring Series on May 30 to June 6.
The festival boasts 25 action-packed events with more than $1 million in combined guaranteed prize pools with the majority of the events boasting affordable $5.50 to $55 buy-ins.
This is certainly a festival you won't want to miss as it is the biggest of the Spring at 888poker.
Grab $88 for FREE at 888poker (No Deposit Required!)
$500K GTD Main Event
The XL Spring #23 - $500,000 Main Event is easily the highlight of the festival thanks to its huge $500,000 guarantee for a $250 buy-in on Sunday, June 6.
There is also a Mini Main Event boasting a $50,000 guarantee for a $33 buy-in and a very affordable Micro Main Event featuring a $5.50 buy-in and a $15,000 guarantee.
Not only will players have ample opportunities to qualify into the Main Event and other XL Spring events for a fraction of the cost but 888poker is also giving away seats to the Main Event and cash during daily freerolls.
888poker will also be giving away XL freeroll tickets and cash via gift drops to players actively playing.
2021 XL Spring Schedule
| Date | Time (GMT) | Event | Buy-in | Guarantee |
| --- | --- | --- | --- | --- |
| May 30 | 6 p.m. | XL Spring #1 - $50,000 Opening Event | $55 | $50,000 |
| | 6 p.m. | XL Spring #2 - $25,000 Mini Opening | $16.50 | $25,000 |
| | 6:30 p.m. | XL Spring #3 - $10,000 Micro Opening | $5.50 | $10,000 |
| | 8 p.m. | XL Spring #4 - $15,000 Late Opening | $33 | $15,000 |
| May 31 | 6 p.m. | XL Spring #5 - $20,000 R&A Event | $33 | $20,000 |
| | 6 p.m. | XL Spring #6 - $8,000 Mini R&A | $5.50 | $8,000 |
| | 8 p.m. | XL Spring #7 - $8,000 Late R&A | $11 | $8,000 |
| June 1 | 6 p.m. | XL Spring #8 - $50,000 High Roller | $320 | $50,000 |
| | 6 p.m. | XL Spring #9 - $25,000 Mini High Roller | $55 | $25,000 |
| | 8 p.m. | XL Spring #10 - $20,000 Late High Roller | $109 | $20,000 |
| June 2 | 6 p.m. | XL Spring #11 - $30,000 PKO | $109 | $30,000 |
| | 6 p.m. | XL Spring #12 - $15,000 Mini PKO | $16.50 | $15,000 |
| | 8 p.m. | XL Spring #13 - $10,000 Late PKO | $33 | $10,000 |
| June 3 | 6 p.m. | XL Spring #14 - $40,000 PKO 8-Max | $160 | $40,000 |
| | 6 p.m. | XL Spring #15 - $15,000 Mini PKO 8-Max | $22 | $15,000 |
| | 8 p.m. | XL Spring #16 - $15,000 Late PKO 8-Max | $55 | $15,000 |
| June 4 | 5 p.m. | XL Spring #17 - $30,000 DeepStack | $55 | $30,000 |
| | 5 p.m. | XL Spring #18 - $15,000 Mini DeepStack | $16.50 | $15,000 |
| | 7 p.m. | XL Spring #19 - $10,000 Late DeepStack | $33 | $10,000 |
| June 5 | 6 p.m. | XL Spring #20 - $30,000 6-Max | $109 | $30,000 |
| | 6 p.m. | XL Spring #21 - $15,000 Mini 6-Max | $16.50 | $15,000 |
| | 8 p.m. | XL Spring #22 - $15,000 Late 6-Max | $55 | $15,000 |
| June 6 | 5 p.m. | XL Spring #23 - $500,000 Main Event | $250 | $500,000 |
| | 5:30 p.m. | XL Spring #24 - $50,000 Mini Main Event | $33 | $50,000 |
| | 6 p.m. | XL Spring #25 - $15,000 Micro Main Event | $5.50 | $15,000 |