Walls Coming Down for Vegas Poker? Wynn First to Remove Dividers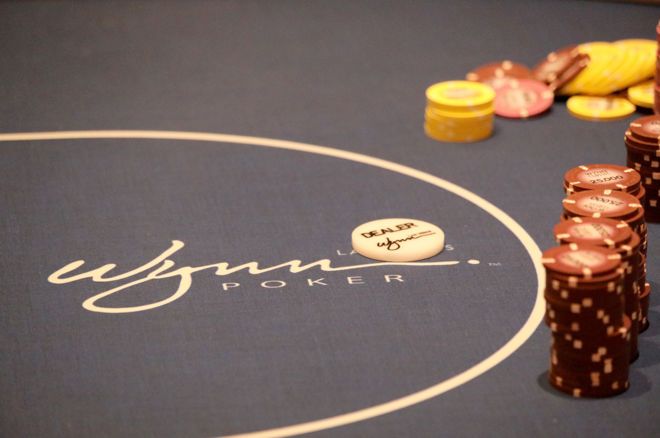 Table Of Contents
Poker players sick of being enclosed in a plexiglass bubble while playing in Las Vegas are getting welcome news: the transition away from the dividers has begun.
Wynn/Encore is the first to begin removal of the plexiglass dividers that previously shielded each player and the dealer into their own personal space, according to the local Vegas FOX outlet. They're able to do so after getting clearance from local gaming authorities to bump up to 100% occupancy.
While the FOX5 report mentioned the removal of plexiglass from table games and slot machines, PokerNews confirmed with the property's poker room that the removal extends to poker. The plan as of Tuesday was for Wynn Signature Series events starting Wednesday and later to play plexiglass-free, though they'd remain eight-handed. "Some cash games" were also already being dealt with no dividers.
According to FOX5, nearly 90% of the properties' employees have been vaccinated thanks in part to a partnership with the local University Medical Center for on-site vaccinations. Employees and guests will still be required to wear masks indoors due to a statewide mandate.
First Tangible Change Following Removal of Social Distancing
The news coming out of the Wynn follows a major announcement last month from the governor's office that outlined a plan for removal of social distancing on May 1 and 100% capacity in all businesses by June 1.
However, nothing much seemed to be changing on the poker front. Even the Wynn, when reached by PokerNews in late April, didn't report any planned changes in response to the announcement.
A couple of other poker rooms responded to queries in similar fashion. Venetian said they "didn't have any updates to share," while Golden Nugget provided the following on April 26:
"We currently offer eight-handed games with plexi dividers in our poker room," said Chris Latil, senior VP and general manager of the property. "No changes to current guidelines have been announced by [Nevada Gaming Control Board]. When and if guidelines are revised, we will adapt our business practices accordingly to remain compliant."
Demand Could Grow for $10M Guarantee
Wynn already ranked as one of the more popular Vegas rooms, and that only figures to be magnified for players wishing for a more "normal" poker experience who finally have that option.
Those players who have been waiting for that experience in a big tournament will have their chance with this summer's $10M guaranteed Wynn Millions. Unless things take a drastic turn for the worse COVID-wise in the coming month-plus, that series figures to be played under the same conditions with which the Wynn is finishing its current Signature Series.
With Wynn having gotten the go-ahead for divider-free poker, the only question that remains is how soon competitors will follow suit. Big tournament series are sure to be scheduled throughout Las Vegas both this summer and in the fall around the coming World Series of Poker, so poker players will be eager to see what the playing conditions are like at each property.