Natural8 Donates $40,000 to Support COVID-19 Response in India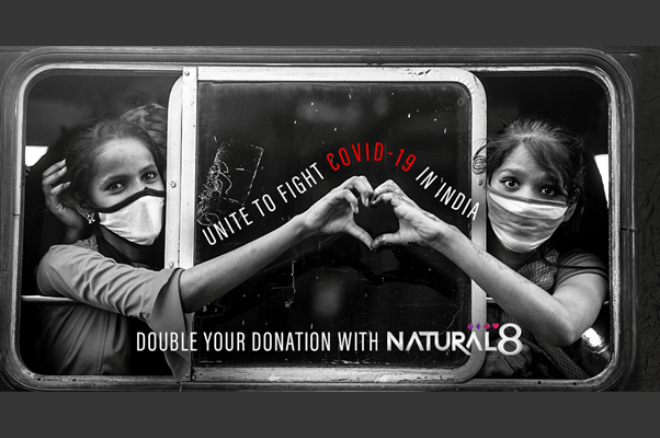 Table Of Contents
Natural8 today announced that they will be donating more than $40,000 to support COVID-19 relief efforts in India.
Last month, Natural8 launched the Unite to Fight COVID-19 in India campaign. The fundraiser saw the online poker site raising funds to provide aid in the form of medicine, oxygen and other essential items crucial in the fight against COVID-19. India was chosen as it was one of the countries most affected by the pandemic.
In total, more than 300 players from all over the world contributed to raise $22,297.79. With Natural8's pledge to match every donation dollar for dollar, the total donation amounted to $44,595.58.
All-In Flipout Rewards Players' Generosity
In addition to matching the players' donations, Natural8 organised a lucky draw in the form of an All-In Tournament (Flipout) for the players who made a donation of $1 or more. A total prize pool of $3,000 was given out through the Unite To Fight Covid-19 in India Flipout.
Natural8 ambassadors and Team Hot members Danny Tang, Michael Soyza, Phachara Wongwichit and Pete Chen were amongst those who made contributions and helped create awareness of this campaign.
When asked for his thoughts, professional poker player and Team Hot member Michael Soyza said, "It was important to me to donate, as the situation in India looks to be very dire. It is so important that we come together and help in whatever way we can."
Natural 8 believes that this contribution will go some way in the fight against COVID-19, and help to rebuild hope for those who have been affected by this devastating disease. Natural8 would also like to take this opportunity to sincerely thank their players and everyone else who donated for their generosity.
More About CryptoRelief
The donations will go directly to community-run fund CryptoRelief, who have so far amassed close to $1,000,000 in their goal to provide #OxygenForEveryone during the ongoing crisis in India.
India has been one of the countries most affected by the ongoing pandemic, and this second most populated country in the world has recorded more than 28 million cases and more than a quarter of a million COVID-19 deaths. With the highest count at roughly 400,000 daily infections, the country has seen more than 15,000 infections per hour and approximately 2 deaths per minute.
Those who missed out on this fundraiser can still donate directly to CryptoRelief and assist in their mission to "reduce suffering by providing healthcare and essentials to those fighting for survival against COVID-19".
Every dollar will help provide relief to those suffering in India, and even the smallest of charity can make a huge impact on another person's life.
Sponsor-generated content from Natural8