Daniel Negreanu Crowned 2021 PokerGO Cup Champion; Cary Katz Wins $100K Finale ($1,058,000)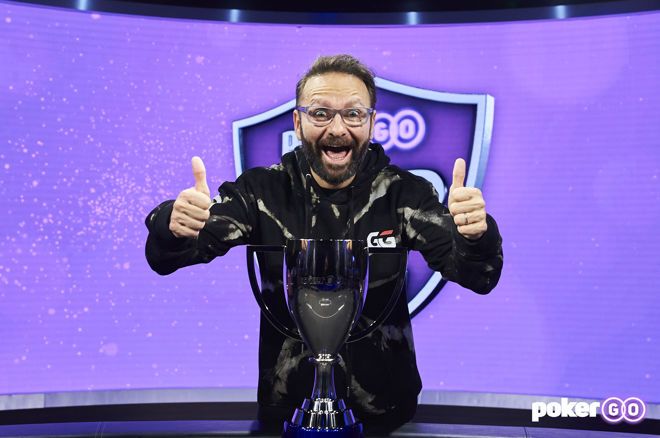 PokerGO founder Cary Katz won the final and largest event of the PokerGO Cup by navigating through a star-studded field of 23-entries in the PokerGO Cup Event #8: $100,000 No-Limit Hold'em to win the $1,058,000 top prize at the PokerGO Studio at the ARIA Resort & Casino.
This was the second big win of the year for Katz on the PokerGO Tour after previously winning the 2021 ARIA High Roller Series Event #2: $10,000 No-Limit Hold'em for $82,800. Last night's victory was obviously much bigger, a fact not lost on Katz.
"It means over a million dollars," Katz said of what the win means to him to PokerGO. "I'm pretty excited about that score. I think it's the first $100K of the year. I feel very fortunate because I came in second to last in chips. I doubled up the first hand and it was smooth sailing from there."
Meanwhile, GGPoker Ambassador Daniel Negreanu seemingly came out of nowhere to win the inaugural PokerGO Cup series title. Ali Imsirovic held the lead after winning Event #2 and Event #4 with Negreanu coming into the picture after winning Event #7. Negreanu's fourth-place finish in Event #8 was enough to pass by Imsirovic to be crowned the festival champion.
"I'm a nerd, big time," Negreanu said to PokerGO. "When I was a kid, I used to take wrestlers and pit them against each other, roll dice, and one wrestler would win. I would keep stats on their tournament results, for like the 'player of the year.' I did that when I was eight, nine years old, so I love this kind of stuff. Winning a tournament is awesome, but winning a player of the series is so much more involved. You need to have repeated results and stuff like that, so it's huge for me."
PokerGO Cup Event #8: $100,000 No-Limit Hold'em Final Table Results
| Place | Player | Country | Prize | PokerGO Tour Points |
| --- | --- | --- | --- | --- |
| 1 | Cary Katz | United States | $1,058,000 | 400 |
| 2 | Sam Soverel | United States | $644,000 | 193 |
| 3 | Sean Winter | United States | $368,000 | 110 |
| 4 | Daniel Negreanu | Canada | $230,000 | 69 |
The PokerGO Cup Event #8: $100,000 No-Limit Hold'em attracted 23 entries generating a healthy $2,300,000 prize pool. The final table, which took place at the PokerGO Studio at the ARIA Resort & Casino, was broadcast to poker fans around the world at the subscription-based PokerGO.
Remember, an annual subscription to PokerGO costs $99.99, but you can save $20 off by using promo code "CUP2021" at checkout. Sign up by going here.
Final Table Action
All eyes were on Negreanu and Sam Soverel as both players were in contention for the PokerGO Cup championship. Imsirovic was the leader coming into the final event but Negreanu would pass him in points with a fourth-place finish or better. Negreanu would have clinched the leaderboard if he finished in third or better but with a fourth-place finish, he had to sweat Soverel from winning the event as he would have been crowned the festival champion instead of Negreanu if he defeated Katz heads-up.
Soverel began the final table with nearly half the chips in play and the players on the money bubble. Dan Smith would ultimately hit the rail empty-handed after his tens were no match against Soverel's jacks.
At this point, Imsirovic was out of the race for the festival champion and the title could have been Negreanu's if he was able to ladder up one more spot. Such was not the case as Negreanu ran into a bit of bad luck to hit the rail in fourth-place for $230,000. Negreanu got his chips in good with aces against Soverel's snowmen. However, an eight spiked the board to give Soverel a set and Negreanu was now the one with a sweat, as only Soverel could overtake him as the festival champ if he went on to win.
Sean Winter found himself with crumbs of a stack, and was also eliminated by Soverel in third place for $368,000 when his jack-deuce suited didn't hold against seven-four.
Katz Comes From Behind
Soverel began heads-up play with a 2.5:1 chip advantage over Katz. Soverel would not only be able to win a seven-figure prize if he closed out the tournament but he would have also been crowned the first PokerGO Cup Champion. If Soverel couldn't hold on, that honor would go to Negreanu, who was on the rail rooting for Katz to come back to win the final event.
Katz went on a tear, which included getting a few bluffs through, to take the lead before he extended it to a massive 12:1 chip advantage when the final hand took place. Katz jammed the button with queen-four and Soverel called with ten-nine. Soverel bricked the board to go out in second place for $644,000.
Meanwhile, congratulations to both Cary Katz for winning the only seven-figure score of the PokerGO Cup and Daniel Negreanu for being crowned the inaugural PokerGO Cup Champion, which came with a tasty $50,000 prize along with that honor.
"I've never rooted for a billionaire to win a million dollars more than I did just now," Negreanu said after Katz won the final event of the PokerGO Cup.
2021 PokerGO Cup Standings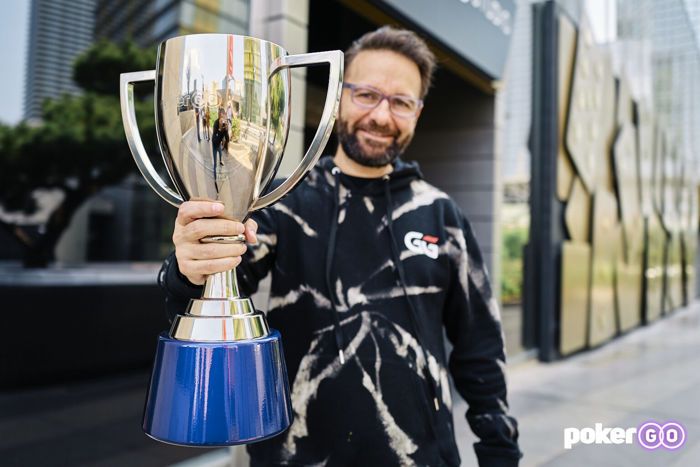 | Rank | Player | Country | Earnings | Points |
| --- | --- | --- | --- | --- |
| 1 | Daniel Negreanu | Canada | $996,200 | 537 |
| 2 | Ali Imsirovic | Bosnia and Herzegovina | $545,500 | 497 |
| 3 | Cary Katz | United States | $1,161,800 | 475 |
| 4 | David Coleman | United States | $710,000 | 470 |
| 5 | Alex Foxen | United States | $533,200 | 421 |
| 6 | Sam Soverel | United States | $812,200 | 361 |
| 7 | Jason Koon | United States | $446,000 | 316 |
| 8 | Dylan Linde | United States | $255,000 | 255 |
| 9 | Sergi Reixach | Spain | $320,700 | 244 |
| 10 | Jake Schindler | United States | $324,000 | 194 |
2021 PokerGO Results
| Date | Event | Entries | Prize Pool | Winner | Country | Prize |
| --- | --- | --- | --- | --- | --- | --- |
| July 6-7 | Event #1: $10,000 No-Limit Hold'em | 66 | $660,000 | Alex Foxen | United States | $178,200 |
| July 7-8 | Event #2: $10,000 No-Limit Hold'em | 61 | $610,000 | Ali Imsirovic | Bosnia and Herzegovina | $183,000 |
| July 8-9 | Event #3: $10,000 No-Limit Hold'em | 53 | $530,000 | Dylan Linde | United States | $169,600 |
| July 9-10 | Event #4: $15,000 No-Limit Hold'em | 50 | $750,000 | Ali Imsirovic | Bosnia and Herzegovina | $240,000 |
| July 10-11 | Event #5: $25,000 No-Limit Hold'em | 36 | $900,000 | Jake Schindler | United States | $324,000 |
| July 11-12 | Event #6: $25,000 No-Limit Hold'em | 36 | $900,000 | Jason Koon | United States | $324,000 |
| July 12-13 | Event #7: $50,000 No-Limit Hold'em | 35 | $1,750,000 | Daniel Negreanu | Canada | $700,000 |
| July 13-14 | Event #8: $100,000 No-Limit Hold'em | 23 | $2,300,000 | Cary Katz | United States | $1,058,000 |
*Images courtesy of PokerGO