$100m GTD in 2021 PokerStars World Championship of Online Poker (WCOOP) Schedule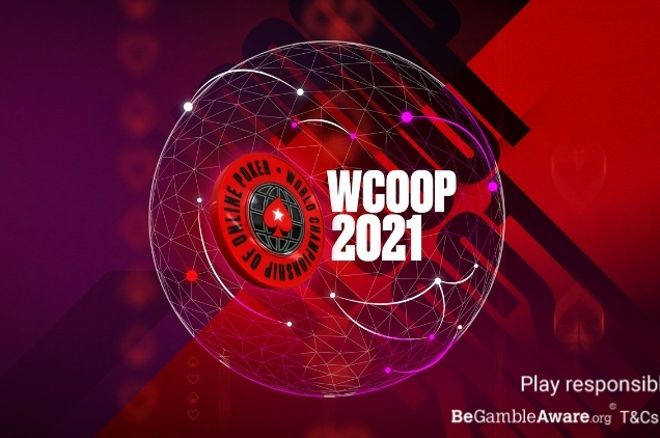 The full 102-event schedule for the 2021 PokerStars World Championship of Online Poker (WCOOP) has been released, and with the festival celebrating its 20th edition this year, there's $100m guaranteed across the Low, Medium and High buy-in levels.
The festival takes place from August 22 to September 15, 2021, culminating as always in the WCOOP Main Events. This year, the six Main Events offer $16 million in guaranteed prize money.
Last year the $5,200 NLHE Main Event was won by Andre "PTFisherman23" Marques after a three-way deal. It was one of 24 events Live Reported by PokerNews over the course of the 2020 WCOOP.
Andre "PTFisherman23" Marques Wins the 2020 WCOOP $5,200 Main Event After Three-Way Deal
"Biggest WCOOP Guarantee to Date"
It's going to be a big festival, not only with 306 individual events but also the largest WCOOP guarantee in history. That according to Severin Rasset, Managing Director of Poker at PokerStars.
"WCOOP is part of the PokerStars legacy. It's where our community can battle to be a part of history and become a world champion in poker.
"This is the 20th edition of WCOOP and this year we've got our biggest WCOOP guarantee to date at $100 million, unique trophies for the champions, and so many different ways for players to qualify, including our Road to WCOOP promotion and 50/50 WCOOP Series up and running right now."
---
Read More: Brazil Home to Online Poker "Elite" says PokerStars Ambassador Andre Akkari
---
Road to WCOOP
Satellites are now running in the PokerStars client as the 'Road to WCOOP' gets underway over the next weeks. The promotion will be awarding $1 million worth of WCOOP tickets until August 21.
Additionally, every event winner in the 50/50 WCOOP Series (running until August 15) will win a $5,200 WCOOP Main Event entry, with $7.5 million in prize money also up for grabs!
2021 WCOOP Main Events
As always, there are six different Main Events - three No Limit Hold'em and three Pot-Limit Omaha. They all take place on
PokerStars $1m WCOOP Giveaway
To celebrate the 20th WCOOP, PokerStars are giving away $1 million in value including freerolls, satellites and leaderboards.
---
Read More: PokerStars Team Pro Parker Talbot on Educating His Community and Missing Live Poker
---
WCOOP Leaderboards
As always, PokerStars players will be able to compete for the title of WCOOP Player of the Year across four separate leaderboards, with $100,000 in cash prizes for the winners.
Low - $5,000 + Trophy
Medium - $8,500 + Trophy
High - $12,500 + Trophy
Overall - $25,000 + Trophy
figures reflect 2020 Leaderboard first-prize payouts
Last year it was Rinat "Zapahzamazki" Lyapin who took down the overall leaderboard for the trophy and $25,000 in cash, narrowly beating Yuri "theNERDguy" Dzivielevski into second place.
WCOOP Fast Track
Head on over to the PokerStars client to be in with a chance of winning WCOOP seats with Fast Track every day from now until September 12, 2021.
Players will be able to win Main Event seats worth $5,200 from as little as $1. PokerStars will also be adding $100,000 in extra value to its WCOOP satellites.
---
Read More: Check Out These Three Must-Read Satellite Strategy Tips
---
WCOOP Ticket Machine
Over the course of the WCOOP, players who enter any WCOOP event will be entered in a daily draw for their chance to win tickets. $750,000 in tickets will be awarded from August 23 to September 13.
Spin & Go's
As always, players wanting to Spin to Win will be able to win by playing PokerStars' popular Spin & Go games. From just $4, players will be able to win WCOOP Main Event entries, tickets and cash prizes.
---
Related: The 2021 Guide to PokerStars Spin and Go Poker
---
WCOOP Merchandise
To celebrate the 20th edition of the PokerStars WCOOP, the first 1,000 players who qualify for the WCOOP Main Event-L will win limited edition WCOOP merchandise from the PokerStars Store. Note: offer open to .EU players only.
2021 WCOOP Schedule
| Date | Time (ET) | Event |
| --- | --- | --- |
| Sun, 22 Aug | 08:05 | #02-L: $5.50 NLHE [WCOOP Kickoff - Mini Sunday Kickoff SE], $75K Gtd |
| Sun, 22 Aug | 08:05 | #02-M: $55 NLHE [WCOOP Kickoff - Sunday Kickoff SE], $300K Gtd |
| Sun, 22 Aug | 08:05 | #02-H: $530 NLHE [WCOOP Kickoff], $400K Gtd |
| Sun, 22 Aug | 10:30 | #03-L: $22 NLHE [PKO, Freezeout], $275K Gtd |
| Sun, 22 Aug | 10:30 | #03-M: $215 NLHE [PKO, Sunday Warm-Up SE, Freezeout], $700K Gtd |
| Sun, 22 Aug | 10:30 | #03-H: $2,100 NLHE [PKO, Sunday Warm-Up SE], $700K Gtd |
| Sun, 22 Aug | 13:05 | #04-L: $55 NLHE [8-Max], $1M Gtd |
| Sun, 22 Aug | 13:05 | #04-M: $530 NLHE [8-Max], $1.5M Gtd |
| Sun, 22 Aug | 13:05 | #04-H: $5,200 NLHE [8-Max, High Roller], $1M Gtd |
| Sun, 22 Aug | 14:15 | #05-L: $22 PLO [6-Max], $100K Gtd |
| Sun, 22 Aug | 14:15 | #05-M: $215 PLO [6-Max], $175K Gtd |
| Sun, 22 Aug | 14:15 | #05-H: $2,100 PLO [6-Max], $275K Gtd |
| Sun, 22 Aug | 15:30 | #06-L: $11 NLHE [6-Max], $125K Gtd |
| Sun, 22 Aug | 15:30 | #06-M: $109 NLHE [6-Max], $300K Gtd |
| Sun, 22 Aug | 15:30 | #06-H: $1,050 NLHE [6-Max], $500K Gtd |
| Sun, 22 Aug | 17:05 | #07-L: $5.50 NLHE [8-Max, Turbo, PKO, Mini Sunday Cooldown SE, Freezeout], $50K Gtd |
| Sun, 22 Aug | 17:05 | #07-M: $55 NLHE [8-Max, Turbo, PKO, Sunday Cooldown SE, Freezeout], $300K Gtd |
| Sun, 22 Aug | 17:05 | #07-H: $530 NLHE [8-Max, Turbo, PKO, Sunday Cooldown SE, Freezeout], $400K Gtd |
| Mon, 23 Aug | 13:05 | #08-L: $55 NLHE [8-Max, PKO], $500K Gtd |
| Mon, 23 Aug | 13:05 | #08-M: $530 NLHE [8-Max, PKO], $650K Gtd |
| Mon, 23 Aug | 13:05 | #08-H: $5,200 NLHE [8-Max, PKO, High Roller], $600K Gtd |
| Mon, 23 Aug | 14:15 | #09-L: $22 HORSE, $30K Gtd |
| Mon, 23 Aug | 14:15 | #09-M: $215 HORSE, $60K Gtd |
| Mon, 23 Aug | 14:15 | #09-H: $2,100 HORSE, $100K Gtd |
| Mon, 23 Aug | 15:30 | #10-L: $11 NLHE [8-Max, PKO, Freezeout], $100K Gtd |
| Mon, 23 Aug | 15:30 | #10-M: $109 NLHE [8-Max, PKO, Freezeout], $350K Gtd |
| Mon, 23 Aug | 15:30 | #10-H: $1,050 NLHE [8-Max, PKO, Freezeout], $300K Gtd |
| Mon, 23 Aug | 17:05 | #11-L: $5.50 NLO8 [8-Max, PKO], $10K Gtd |
| Mon, 23 Aug | 17:05 | #11-M: $55 NLO8 [8-Max, PKO], $35K Gtd |
| Mon, 23 Aug | 17:05 | #11-H: $530 NLO8 [8-Max, PKO], $60K Gtd |
| Tue, 24 Aug | 10:30 | #12-L: $5.50 NLHE [8-Max, PKO], $50K Gtd |
| Tue, 24 Aug | 10:30 | #12-M: $55 NLHE [8-Max, PKO], $250K Gtd |
| Tue, 24 Aug | 10:30 | #12-H: $530 NLHE [8-Max, PKO], $300K Gtd |
| Tue, 24 Aug | 12:05 | #13-L: $11 FLO8 [8-Max], $12.5K Gtd |
| Tue, 24 Aug | 12:05 | #13-M: $109 FLO8 [8-Max], $35K Gtd |
| Tue, 24 Aug | 12:05 | #13-H: $1,050 FLO8 [8-Max], $100K Gtd |
| Tue, 24 Aug | 13:05 | #14-L: $109 NLHE [8-Max, Mini Super Tuesday SE], $500K Gtd |
| Tue, 24 Aug | 13:05 | #14-M: $1,050 NLHE [8-Max, Super Tuesday SE], $1M Gtd |
| Tue, 24 Aug | 13:05 | #14-H: $10,300 NLHE [8-Max, High Roller], $1M Gtd |
| Tue, 24 Aug | 14:15 | #15-L: $11 NL 2-7 Single Draw, $12.5K Gtd |
| Tue, 24 Aug | 14:15 | #15-M: $109 NL 2-7 Single Draw, $25K Gtd |
| Tue, 24 Aug | 14:15 | #15-H: $1,050 NL 2-7 Single Draw, $50K Gtd |
| Tue, 24 Aug | 15:30 | #16-L: $22 NLHE [7-Max, PKO], $350K Gtd |
| Tue, 24 Aug | 15:30 | #16-M: $215 NLHE [7-Max, PKO], $500K Gtd |
| Tue, 24 Aug | 15:30 | #16-H: $2,100 NLHE [7-Max, PKO], $350K Gtd |
| Wed, 25 Aug | 13:05 | #17-L: $22 NLHE [7-Max], $125K Gtd |
| Wed, 25 Aug | 13:05 | #17-M: $215 NLHE [7-Max], $300K Gtd |
| Wed, 25 Aug | 13:05 | #17-H: $2,100 NLHE [7-Max], $600K Gtd |
| Wed, 25 Aug | 14:15 | #18-L: $11 PLO [6-Max], $35K Gtd |
| Wed, 25 Aug | 14:15 | #18-M: $109 PLO [6-Max], $125K Gtd |
| Wed, 25 Aug | 14:15 | #18-H: $1,050 PLO [6-Max], $250K Gtd |
| Wed, 25 Aug | 15:30 | #19-L: $5.50+R NLHE [8-Max], $75K Gtd |
| Wed, 25 Aug | 15:30 | #19-M: $55+R NLHE [8-Max], $200K Gtd |
| Wed, 25 Aug | 15:30 | #19-H: $530+R NLHE [8-Max], $275K Gtd |
| Thu, 26 Aug | 10:30 | #20-L: $5.50 NLHE, $50K Gtd |
| Thu, 26 Aug | 10:30 | #20-M: $55 NLHE, $200K Gtd |
| Thu, 26 Aug | 10:30 | #20-H: $530 NLHE, $250K Gtd |
| Thu, 26 Aug | 12:05 | #21-L: $11 FLHE [6-Max], $15K Gtd |
| Thu, 26 Aug | 12:05 | #21-M: $109 FLHE [6-Max], $30K Gtd |
| Thu, 26 Aug | 12:05 | #21-H: $1,050 FLHE [6-Max], $65K Gtd |
| Thu, 26 Aug | 13:05 | #22-L: $55 NLHE [8-Max, PKO, Mini Thursday Thrill SE], $500K Gtd |
| Thu, 26 Aug | 13:05 | #22-M: $530 NLHE [8-Max, PKO, Thursday Thrill SE], $1M Gtd |
| Thu, 26 Aug | 13:05 | #22-H: $5,200 NLHE [8-Max, PKO, High Roller], $750K Gtd |
| Thu, 26 Aug | 14:15 | #23-L: $11 Stud Hi/Lo, $15K Gtd |
| Thu, 26 Aug | 14:15 | #23-M: $109 Stud Hi/Lo, $40K Gtd |
| Thu, 26 Aug | 14:15 | #23-H: $1,050 Stud Hi/Lo, $75K Gtd |
| Thu, 26 Aug | 15:30 | #24-L: $22 NLHE [6-Max, Freezeout], $85K Gtd |
| Thu, 26 Aug | 15:30 | #24-M: $215 NLHE [6-Max, Freezeout], $200K Gtd |
| Thu, 26 Aug | 15:30 | #24-H: $2,100 NLHE [6-Max], $350K Gtd |
| Thu, 26 Aug | 17:05 | #25-L: $5.50 NLHE [8-Max, Turbo, PKO, Freezeout], $50K Gtd |
| Thu, 26 Aug | 17:05 | #25-M: $55 NLHE [8-Max, Turbo, PKO, Freezeout], $200K Gtd |
| Thu, 26 Aug | 17:05 | #25-H: $530 NLHE [8-Max, Turbo, PKO, Freezeout], $250K Gtd |
| Sat, 28 Aug | 10:30 | #26-L: $5.50 NLHE [Deep Stack, Freezeout], $50K Gtd |
| Sat, 28 Aug | 10:30 | #26-M: $55 NLHE [Deep Stack, Freezeout], $175K Gtd |
| Sat, 28 Aug | 10:30 | #26-H: $530 NLHE [Deep Stack, Freezeout], $225K Gtd |
| Sat, 28 Aug | 12:05 | #27-L: $11 5-Card PLO8 [6-Max], $25K Gtd |
| Sat, 28 Aug | 12:05 | #27-M: $109 5-Card PLO8 [6-Max], $60K Gtd |
| Sat, 28 Aug | 12:05 | #27-H: $1,050 5-Card PLO8 [6-Max], $150K Gtd |
| Sat, 28 Aug | 13:05 | #28-L: $11 NLHE [8-Max, PKO], $150K Gtd |
| Sat, 28 Aug | 13:05 | #28-M: $109 NLHE [8-Max, PKO], $500K Gtd |
| Sat, 28 Aug | 13:05 | #28-H: $1,050 NLHE [8-Max, PKO], $600K Gtd |
| Sat, 28 Aug | 14:15 | #29-L: $11 8-Game, $30K Gtd |
| Sat, 28 Aug | 14:15 | #29-M: $109 8-Game, $65K Gtd |
| Sat, 28 Aug | 14:15 | #29-H: $1,050 8-Game, $85K Gtd |
| Sat, 28 Aug | 15:30 | #30-L: $22 NLHE [8-Max, Freezeout], $125K Gtd |
| Sat, 28 Aug | 15:30 | #30-M: $215 NLHE [8-Max, Freezeout], $200K Gtd |
| Sat, 28 Aug | 15:30 | #30-H: $2,100 NLHE [8-Max], $300K Gtd |
| Sat, 28 Aug | 17:05 | #31-L: $11 NLHE [7-Max, Turbo, PKO, Freezeout], $85K Gtd |
| Sat, 28 Aug | 17:05 | #31-M: $109 NLHE [7-Max, Turbo, PKO, Freezeout], $175K Gtd |
| Sat, 28 Aug | 17:05 | #31-H: $1,050 NLHE [7-Max, Turbo, PKO], $200K Gtd |
| Sun, 29 Aug | 08:05 | #32-L: $11 NLHE [Mini Sunday Kickoff SE], $125K Gtd |
| Sun, 29 Aug | 08:05 | #32-M: $109 NLHE [Sunday Kickoff SE], $300K Gtd |
| Sun, 29 Aug | 08:05 | #32-H: $1,050 NLHE, $350K Gtd |
| Sun, 29 Aug | 10:30 | #33-L: $5.50 NLHE [8-Max, PKO, Freezeout], $50K Gtd |
| Sun, 29 Aug | 10:30 | #33-M: $55 NLHE [8-Max, PKO, Freezeout], $250K Gtd |
| Sun, 29 Aug | 10:30 | #33-H: $530 NLHE [8-Max, PKO, Sunday Warm-Up SE, Freezeout], $350K Gtd |
| Sun, 29 Aug | 13:05 | #34-L: $215 NLHE [8-Max], $1.25M Gtd |
| Sun, 29 Aug | 13:05 | #34-M: $2,100 NLHE [8-Max], $1M Gtd |
| Sun, 29 Aug | 13:05 | #34-H: $25,000 NLHE [8-Max, Super High Roller], $3M Gtd |
| Sun, 29 Aug | 14:15 | #35-L: $22 5-Card PLO [6-Max], $50K Gtd |
| Sun, 29 Aug | 14:15 | #35-M: $215 5-Card PLO [6-Max], $125K Gtd |
| Sun, 29 Aug | 14:15 | #35-H: $2,100 5-Card PLO [6-Max], $250K Gtd |
| Sun, 29 Aug | 15:30 | #36-L: $11 NLHE [PKO, Freezeout], $100K Gtd |
| Sun, 29 Aug | 15:30 | #36-M: $109 NLHE [PKO, Freezeout], $300K Gtd |
| Sun, 29 Aug | 15:30 | #36-H: $1,050 NLHE [PKO, Freezeout], $300K Gtd |
| Sun, 29 Aug | 17:05 | #37-L: $55 NLHE [8-Max, Turbo, PKO, Mini Sunday Cooldown SE], $300K Gtd |
| Sun, 29 Aug | 17:05 | #37-M: $530 NLHE [8-Max, Turbo, PKO, Sunday Cooldown SE], $400K Gtd |
| Sun, 29 Aug | 17:05 | #37-H: $5,200 NLHE [8-Max, Turbo, PKO, High Roller], $500K Gtd |
| Mon, 30 Aug | 13:05 | #38-L: $22 NLHE [6-Max, PKO], $325K Gtd |
| Mon, 30 Aug | 13:05 | #38-M: $215 NLHE [6-Max, PKO], $650K Gtd |
| Mon, 30 Aug | 13:05 | #38-H: $2,100 NLHE [6-Max, PKO], $500K Gtd |
| Mon, 30 Aug | 14:15 | #39-L: $11 Razz, $15K Gtd |
| Mon, 30 Aug | 14:15 | #39-M: $109 Razz, $40K Gtd |
| Mon, 30 Aug | 14:15 | #39-H: $1,050 Razz, $75K Gtd |
| Mon, 30 Aug | 15:30 | #40-L: $11 NLHE [7-Max, Freezeout], $85K Gtd |
| Mon, 30 Aug | 15:30 | #40-M: $109 NLHE [7-Max, Freezeout], $225K Gtd |
| Mon, 30 Aug | 15:30 | #40-H: $1,050 NLHE [7-Max, Freezeout], $225K Gtd |
| Tue, 31 Aug | 12:05 | #41-L: $22 FL 2-7 Triple Draw, $15K Gtd |
| Tue, 31 Aug | 12:05 | #41-M: $215 FL 2-7 Triple Draw, $40K Gtd |
| Tue, 31 Aug | 12:05 | #41-H: $2,100 FL 2-7 Triple Draw, $85K Gtd |
| Tue, 31 Aug | 13:05 | #42-L: $55 NLHE [8-Max, Mini Super Tuesday SE], $350K Gtd |
| Tue, 31 Aug | 13:05 | #42-M: $530 NLHE [8-Max, Super Tuesday SE], $650K Gtd |
| Tue, 31 Aug | 13:05 | #42-H: $5,200 NLHE [8-Max], $700K Gtd |
| Tue, 31 Aug | 14:15 | #43-L: $22 PLO8 [6-Max], $40K Gtd |
| Tue, 31 Aug | 14:15 | #43-M: $215 PLO8 [6-Max], $100K Gtd |
| Tue, 31 Aug | 14:15 | #43-H: $2,100 PLO8 [6-Max], $150K Gtd |
| Tue, 31 Aug | 15:30 | #44-L: $5.50 NLHE [7-Max, PKO, Freezeout], $35K Gtd |
| Tue, 31 Aug | 15:30 | #44-M: $55 NLHE [7-Max, PKO, Freezeout], $200K Gtd |
| Tue, 31 Aug | 15:30 | #44-H: $530 NLHE [7-Max, PKO, Freezeout], $300K Gtd |
| Wed, 01 Sept | 13:05 | #45-L: $11 NLHE [PKO], $175K Gtd |
| Wed, 01 Sept | 13:05 | #45-M: $109 NLHE [PKO], $600K Gtd |
| Wed, 01 Sept | 13:05 | #45-H: $1,050 NLHE [PKO], $750K Gtd |
| Wed, 01 Sept | 14:15 | #46-L: $11 FL Badugi [6-Max], $10K Gtd |
| Wed, 01 Sept | 14:15 | #46-M: $109 FL Badugi [6-Max], $20K Gtd |
| Wed, 01 Sept | 14:15 | #46-H: $1,050 FL Badugi [6-Max], $50K Gtd |
| Wed, 01 Sept | 15:30 | #47-L: $11 NLHE [Heads-Up], $35K Gtd |
| Wed, 01 Sept | 15:30 | #47-M: $109 NLHE [Heads-Up], $85K Gtd |
| Wed, 01 Sept | 15:30 | #47-H: $1,050 NLHE [Heads-Up], $175K Gtd |
| Wed, 01 Sept | 17:05 | #48-L: $5.50 NLHE [6-Max, Freezeout], $50K Gtd |
| Wed, 01 Sept | 17:05 | #48-M: $55 NLHE [6-Max, Freezeout], $175K Gtd |
| Wed, 01 Sept | 17:05 | #48-H: $530 NLHE [6-Max, Freezeout], $250K Gtd |
| Thu, 02 Sept | 10:30 | #49-L: $11 NLHE, $70K Gtd |
| Thu, 02 Sept | 10:30 | #49-M: $109 NLHE, $200K Gtd |
| Thu, 02 Sept | 10:30 | #49-H: $1,050 NLHE, $250K Gtd |
| Thu, 02 Sept | 12:05 | #50-L: $5.50 NLO8 [6-Max], $15K Gtd |
| Thu, 02 Sept | 12:05 | #50-M: $55 NLO8 [6-Max], $50K Gtd |
| Thu, 02 Sept | 12:05 | #50-H: $530 NLO8 [6-Max], $100K Gtd |
| Thu, 02 Sept | 13:05 | #51-L: $22 NLHE [8-Max, PKO, Freezeout], $225K Gtd |
| Thu, 02 Sept | 13:05 | #51-M: $215 NLHE [8-Max, PKO, Mini Thursday Thrill SE, Freezeout], $500K Gtd |
| Thu, 02 Sept | 13:05 | #51-H: $2,100 NLHE [8-Max, PKO, Thursday Thrill SE], $800K Gtd |
| Thu, 02 Sept | 14:15 | #52-L: $109 8-Game, $50K Gtd |
| Thu, 02 Sept | 14:15 | #52-M: $1,050 8-Game, $100K Gtd |
| Thu, 02 Sept | 14:15 | #52-H: $10,300 8-Game [High Roller], $500K Gtd |
| Thu, 02 Sept | 15:30 | #53-L: $55 NLHE [6-Max, Freezeout], $200K Gtd |
| Thu, 02 Sept | 15:30 | #53-M: $530 NLHE [6-Max, Freezeout], $250K Gtd |
| Thu, 02 Sept | 15:30 | #53-H: $5,200 NLHE [6-Max, High Roller], $500K Gtd |
| Thu, 02 Sept | 17:05 | #54-L: $11 NLHE [8-Max, Turbo, PKO, Freezeout], $85K Gtd |
| Thu, 02 Sept | 17:05 | #54-M: $109 NLHE [8-Max, Turbo, PKO, Freezeout], $300K Gtd |
| Thu, 02 Sept | 17:05 | #54-H: $1,050 NLHE [8-Max, Turbo, PKO, Freezeout], $250K Gtd |
| Sat, 04 Sept | 10:30 | #55-L: $22 NLHE [Deep Stack], $125K Gtd |
| Sat, 04 Sept | 10:30 | #55-M: $215 NLHE [Deep Stack], $250K Gtd |
| Sat, 04 Sept | 10:30 | #55-H: $2,100 NLHE [Deep Stack], $250K Gtd |
| Sat, 04 Sept | 12:05 | #56-L: $11 PLO [6-Max, PKO], $30K Gtd |
| Sat, 04 Sept | 12:05 | #56-M: $109 PLO [6-Max, PKO], $100K Gtd |
| Sat, 04 Sept | 12:05 | #56-H: $1,050 PLO [6-Max, PKO], $200K Gtd |
| Sat, 04 Sept | 13:05 | #57-L: $5.50 NLHE [6-Max, PKO], $80K Gtd |
| Sat, 04 Sept | 13:05 | #57-M: $55 NLHE [6-Max, PKO], $400K Gtd |
| Sat, 04 Sept | 13:05 | #57-H: $530 NLHE [6-Max, PKO], $500K Gtd |
| Sat, 04 Sept | 14:15 | #58-L: $11 NL 5-Card Draw, $15K Gtd |
| Sat, 04 Sept | 14:15 | #58-M: $109 NL 5-Card Draw, $20K Gtd |
| Sat, 04 Sept | 14:15 | #58-H: $1,050 NL 5-Card Draw, $40K Gtd |
| Sat, 04 Sept | 15:30 | #59-L: $11 NLHE [4-Max, PKO], $100K Gtd |
| Sat, 04 Sept | 15:30 | #59-M: $109 NLHE [4-Max, PKO], $200K Gtd |
| Sat, 04 Sept | 15:30 | #59-H: $1,050 NLHE [4-Max, PKO], $175K Gtd |
| Sat, 04 Sept | 17:05 | #60-L: $22 NLHE [8-Max, Turbo], $150K Gtd |
| Sat, 04 Sept | 17:05 | #60-M: $215 NLHE [8-Max, Turbo], $250K Gtd |
| Sat, 04 Sept | 17:05 | #60-H: $2,100 NLHE [8-Max, Turbo], $250K Gtd |
| Sun, 05 Sept | 08:05 | #61-L: $5.50 NLHE [PKO], $50K Gtd |
| Sun, 05 Sept | 08:05 | #61-M: $55 NLHE [PKO], $250K Gtd |
| Sun, 05 Sept | 08:05 | #61-H: $530 NLHE [PKO], $400K Gtd |
| Sun, 05 Sept | 10:30 | #62-L: $22 NLHE [8-Max], $175K Gtd |
| Sun, 05 Sept | 10:30 | #62-M: $215 NLHE [8-Max, Sunday Warm-Up SE], $400K Gtd |
| Sun, 05 Sept | 10:30 | #62-H: $2,100 NLHE [8-Max, Sunday Warm-Up SE], $500K Gtd |
| Sun, 05 Sept | 13:05 | #63-L: $109 NLHE [8-Max, PKO], $1.5M Gtd |
| Sun, 05 Sept | 13:05 | #63-M: $1,050 NLHE [8-Max, PKO], $1.5M Gtd |
| Sun, 05 Sept | 13:05 | #63-H: $10,300 NLHE [8-Max, PKO, High Roller], $1M Gtd |
| Sun, 05 Sept | 14:15 | #64-L: $55 PLO [6-Max], $100K Gtd |
| Sun, 05 Sept | 14:15 | #64-M: $530 PLO [6-Max], $200K Gtd |
| Sun, 05 Sept | 14:15 | #64-H: $5,200 PLO [6-Max], $500K Gtd |
| Sun, 05 Sept | 15:30 | #65-L: $22 NLHE [6-Max, Freezeout], $150K Gtd |
| Sun, 05 Sept | 15:30 | #65-M: $215 NLHE [6-Max, Freezeout], $325K Gtd |
| Sun, 05 Sept | 15:30 | #65-H: $2,100 NLHE [6-Max, Freezeout], $400K Gtd |
| Sun, 05 Sept | 17:05 | #66-L: $5.50 NLHE [7-Max, Turbo, PKO, Mini Sunday Cooldown SE, Freezeout], $50K Gtd |
| Sun, 05 Sept | 17:05 | #66-M: $55 NLHE [7-Max, Turbo, PKO, Sunday Cooldown SE, Freezeout], $250K Gtd |
| Sun, 05 Sept | 17:05 | #66-H: $530 NLHE [7-Max, Turbo, PKO, Sunday Cooldown SE, Freezeout], $500K Gtd |
| Mon, 06 Sept | 13:05 | #67-L: $11 NLHE [PKO], $175K Gtd |
| Mon, 06 Sept | 13:05 | #67-M: $109 NLHE [PKO], $500K Gtd |
| Mon, 06 Sept | 13:05 | #67-H: $1,050 NLHE [PKO], $650K Gtd |
| Mon, 06 Sept | 14:15 | #68-L: $5.50 NLHE/PLO [6-Max], $20K Gtd |
| Mon, 06 Sept | 14:15 | #68-M: $55 NLHE/PLO [6-Max], $50K Gtd |
| Mon, 06 Sept | 14:15 | #68-H: $530 NLHE/PLO [6-Max], $100K Gtd |
| Mon, 06 Sept | 15:30 | #69-L: $5.50 NLHE [7-Max], $50K Gtd |
| Mon, 06 Sept | 15:30 | #69-M: $55 NLHE [7-Max], $150K Gtd |
| Mon, 06 Sept | 15:30 | #69-H: $530 NLHE [7-Max], $250K Gtd |
| Tue, 07 Sept | 12:05 | #70-L: $5.50 PLO8 [6-Max], $15K Gtd |
| Tue, 07 Sept | 12:05 | #70-M: $55 PLO8 [6-Max], $50K Gtd |
| Tue, 07 Sept | 12:05 | #70-H: $530 PLO8 [6-Max], $100K Gtd |
| Tue, 07 Sept | 13:05 | #71-L: $22 NLHE [8-Max, Freezeout], $125K Gtd |
| Tue, 07 Sept | 13:05 | #71-M: $215 NLHE [8-Max, Mini Super Tuesday SE, Freezeout], $300K Gtd |
| Tue, 07 Sept | 13:05 | #71-H: $2,100 NLHE [8-Max, Super Tuesday SE], $650K Gtd |
| Tue, 07 Sept | 14:15 | #72-L: $11 Stud, $15K Gtd |
| Tue, 07 Sept | 14:15 | #72-M: $109 Stud, $40K Gtd |
| Tue, 07 Sept | 14:15 | #72-H: $1,050 Stud, $75K Gtd |
| Tue, 07 Sept | 15:30 | #73-L: $11 NLHE [6-Max, PKO, Freezeout], $100K Gtd |
| Tue, 07 Sept | 15:30 | #73-M: $109 NLHE [6-Max, PKO, Freezeout], $300K Gtd |
| Tue, 07 Sept | 15:30 | #73-H: $1,050 NLHE [6-Max, PKO], $400K Gtd |
| Wed, 08 Sept | 12:05 | #74-L: $5.50 6+ Hold'em [6-Max], $15K Gtd |
| Wed, 08 Sept | 12:05 | #74-M: $55 6+ Hold'em [6-Max], $20K Gtd |
| Wed, 08 Sept | 12:05 | #74-H: $530 6+ Hold'em [6-Max], $40K Gtd |
| Wed, 08 Sept | 13:05 | #75-L: $55 NLHE [8-Max, Midweek Freeze], $200K Gtd |
| Wed, 08 Sept | 13:05 | #75-M: $530 NLHE [8-Max, Midweek Freeze], $350K Gtd |
| Wed, 08 Sept | 13:05 | #75-H: $5,200 NLHE [8-Max, Midweek Freeze], $400K Gtd |
| Wed, 08 Sept | 14:15 | #76-L: $22 5-Card NLO8 [6-Max], $35K Gtd |
| Wed, 08 Sept | 14:15 | #76-M: $215 5-Card NLO8 [6-Max], $85K Gtd |
| Wed, 08 Sept | 14:15 | #76-H: $2,100 5-Card NLO8 [6-Max], $175K Gtd |
| Wed, 08 Sept | 15:30 | #77-L: $11 NLHE [4-Max], $50K Gtd |
| Wed, 08 Sept | 15:30 | #77-M: $109 NLHE [4-Max], $175K Gtd |
| Wed, 08 Sept | 15:30 | #77-H: $1,050 NLHE [4-Max], $200K Gtd |
| Thu, 09 Sept | 10:30 | #78-L: $11 NLHE [6-Max], $65K Gtd |
| Thu, 09 Sept | 10:30 | #78-M: $109 NLHE [6-Max], $200K Gtd |
| Thu, 09 Sept | 10:30 | #78-H: $1,050 NLHE [6-Max], $250K Gtd |
| Thu, 09 Sept | 12:05 | #79-L: $5.50 PLO [6-Max, PKO], $25K Gtd |
| Thu, 09 Sept | 12:05 | #79-M: $55 PLO [6-Max, PKO], $100K Gtd |
| Thu, 09 Sept | 12:05 | #79-H: $530 PLO [6-Max, PKO], $200K Gtd |
| Thu, 09 Sept | 13:05 | #80-L: $109 NLHE [8-Max, PKO, Mini Thursday Thrill SE, Freezeout], $600K Gtd |
| Thu, 09 Sept | 13:05 | #80-M: $1,050 NLHE [8-Max, PKO, Thursday Thrill SE, Freezeout], $850K Gtd |
| Thu, 09 Sept | 13:05 | #80-H: $10,300 NLHE [8-Max, PKO, High Roller], $750K Gtd |
| Thu, 09 Sept | 14:15 | #81-L: $11 HORSE, $20K Gtd |
| Thu, 09 Sept | 14:15 | #81-M: $109 HORSE, $50K Gtd |
| Thu, 09 Sept | 14:15 | #81-H: $1,050 HORSE, $100K Gtd |
| Thu, 09 Sept | 15:30 | #82-L: $22 NLHE [6-Max, Freezeout], $100K Gtd |
| Thu, 09 Sept | 15:30 | #82-M: $215 NLHE [6-Max, Freezeout], $200K Gtd |
| Thu, 09 Sept | 15:30 | #82-H: $2,100 NLHE [6-Max], $300K Gtd |
| Thu, 09 Sept | 17:05 | #83-L: $11 NLHE [7-Max, Turbo, PKO, Freezeout], $100K Gtd |
| Thu, 09 Sept | 17:05 | #83-M: $109 NLHE [7-Max, Turbo, PKO, Freezeout], $250K Gtd |
| Thu, 09 Sept | 17:05 | #83-H: $1,050 NLHE [7-Max, Turbo, PKO, Freezeout], $250K Gtd |
| Sat, 11 Sept | 10:30 | #84-L: $11 NLHE [Deep Stack, Freezeout], $85K Gtd |
| Sat, 11 Sept | 10:30 | #84-M: $109 NLHE [Deep Stack, Freezeout], $225K Gtd |
| Sat, 11 Sept | 10:30 | #84-H: $1,050 NLHE [Deep Stack, Freezeout], $200K Gtd |
| Sat, 11 Sept | 13:05 | #85-L: $22 NLHE [8-Max, PKO], $300K Gtd |
| Sat, 11 Sept | 13:05 | #85-M: $215 NLHE [8-Max, PKO], $650K Gtd |
| Sat, 11 Sept | 13:05 | #85-H: $2,100 NLHE [8-Max, PKO], $500K Gtd |
| Sat, 11 Sept | 14:15 | #86-L: $11 NLO8 [6-Max], $25K Gtd |
| Sat, 11 Sept | 14:15 | #86-M: $109 NLO8 [6-Max], $60K Gtd |
| Sat, 11 Sept | 14:15 | #86-H: $1,050 NLO8 [6-Max], $150K Gtd |
| Sat, 11 Sept | 15:30 | #87-L: $11 NLHE [6-Max, Turbo, Freezeout], $75K Gtd |
| Sat, 11 Sept | 15:30 | #87-M: $109 NLHE [6-Max, Turbo, Freezeout], $200K Gtd |
| Sat, 11 Sept | 15:30 | #87-H: $1,050 NLHE [6-Max, Turbo], $275K Gtd |
| Sat, 11 Sept | 17:05 | #88-L: $22 NLHE [8-Max, Turbo, PKO, Freezeout], $125K Gtd |
| Sat, 11 Sept | 17:05 | #88-M: $215 NLHE [8-Max, Turbo, PKO, Freezeout], $275K Gtd |
| Sat, 11 Sept | 17:05 | #88-H: $2,100 NLHE [8-Max, Turbo, PKO], $200K Gtd |
| Sun, 12 Sept | 08:05 | #89-L: $5.50 NLHE [Mini Sunday Kickoff SE], $30K Gtd |
| Sun, 12 Sept | 08:05 | #89-M: $55 NLHE [Sunday Kickoff SE], $200K Gtd |
| Sun, 12 Sept | 08:05 | #89-H: $530 NLHE, $500K Gtd |
| Sun, 12 Sept | 10:30 | #90-L: $22 NLHE [8-Max, PKO, Freezeout], $275K Gtd |
| Sun, 12 Sept | 10:30 | #90-M: $215 NLHE [8-Max, PKO, Sunday Warm-Up SE, Freezeout], $750K Gtd |
| Sun, 12 Sept | 10:30 | #90-H: $2,100 NLHE [8-Max, PKO, Sunday Warm-Up SE], $850K Gtd |
| Sun, 12 Sept | 13:05 | #91-L: $55 NLHE [8-Max, NLHE Main Event], $1.5M Gtd |
| Sun, 12 Sept | 13:05 | #91-M: $530 NLHE [8-Max, NLHE Main Event], $2.5M Gtd |
| Sun, 12 Sept | 13:05 | #91-H: $5,200 NLHE [8-Max, NLHE Main Event], $10M Gtd |
| Sun, 12 Sept | 15:05 | #92-L: $109 PLO [6-Max, PLO Main Event], $275K Gtd |
| Sun, 12 Sept | 15:05 | #92-M: $1,050 PLO [6-Max, PLO Main Event], $750K Gtd |
| Sun, 12 Sept | 15:05 | #92-H: $10,300 PLO [6-Max, PLO Main Event], $1M Gtd |
| Sun, 12 Sept | 17:05 | #93-L: $11 NLHE [7-Max, Turbo, PKO, Mini Sunday Cooldown SE, Freezeout], $100K Gtd |
| Sun, 12 Sept | 17:05 | #93-M: $109 NLHE [7-Max, Turbo, PKO, Sunday Cooldown SE, Freezeout], $400K Gtd |
| Sun, 12 Sept | 17:05 | #93-H: $1,050 NLHE [7-Max, Turbo, PKO, Sunday Cooldown SE, Freezeout], $650K Gtd |
| Mon, 13 Sept | 13:05 | #94-L: $11 NLHE [8-Max, PKO, Series Saver], $200K Gtd |
| Mon, 13 Sept | 13:05 | #94-M: $109 NLHE [8-Max, PKO, Series Saver], $750K Gtd |
| Mon, 13 Sept | 13:05 | #94-H: $1,050 NLHE [8-Max, PKO, Series Saver], $1.25M Gtd |
| Mon, 13 Sept | 14:05 | #01-L: $5.50 NLHE [Phase 2], $1M Gtd |
| Mon, 13 Sept | 14:05 | #01-M: $22 NLHE [Phase 2], $1M Gtd |
| Mon, 13 Sept | 14:05 | #01-H: $109 NLHE [Phase 2], $1M Gtd |
| Mon, 13 Sept | 15:30 | #95-L: $5.50 NLHE [8-Max, Freezeout], $35K Gtd |
| Mon, 13 Sept | 15:30 | #95-M: $55 NLHE [8-Max, Freezeout], $200K Gtd |
| Mon, 13 Sept | 15:30 | #95-H: $530 NLHE [8-Max, Freezeout], $300K Gtd |
| Mon, 13 Sept | 17:05 | #96-L: $11 NLHE [8-Max, Turbo, Freezeout], $85K Gtd |
| Mon, 13 Sept | 17:05 | #96-M: $109 NLHE [8-Max, Turbo, Freezeout], $200K Gtd |
| Mon, 13 Sept | 17:05 | #96-H: $1,050 NLHE [8-Max, Turbo, Freezeout], $250K Gtd |
| Tue, 14 Sept | 13:05 | #97-L: $22 NLHE [8-Max, Freezeout], $125K Gtd |
| Tue, 14 Sept | 13:05 | #97-M: $215 NLHE [8-Max, Mini Super Tuesday SE, Freezeout], $300K Gtd |
| Tue, 14 Sept | 13:05 | #97-H: $2,100 NLHE [8-Max, Super Tuesday SE], $500K Gtd |
| Tue, 14 Sept | 14:15 | #98-L: $11 6+ Hold'em [6-Max], $30K Gtd |
| Tue, 14 Sept | 14:15 | #98-M: $109 6+ Hold'em [6-Max], $40K Gtd |
| Tue, 14 Sept | 14:15 | #98-H: $1,050 6+ Hold'em [6-Max], $75K Gtd |
| Tue, 14 Sept | 15:30 | #99-L: $11 NLHE [8-Max, PKO, Freezeout], $85K Gtd |
| Tue, 14 Sept | 15:30 | #99-M: $109 NLHE [8-Max, PKO, Freezeout], $250K Gtd |
| Tue, 14 Sept | 15:30 | #99-H: $1,050 NLHE [8-Max, PKO], $300K Gtd |
| Wed, 15 Sept | 13:05 | #100-L: $55 NLHE [8-Max, Final Freeze], $175K Gtd |
| Wed, 15 Sept | 13:05 | #100-M: $530 NLHE [8-Max, Final Freeze], $250K Gtd |
| Wed, 15 Sept | 13:05 | #100-H: $5,200 NLHE [8-Max, Final Freeze], $500K Gtd |
| Wed, 15 Sept | 14:15 | #101-L: $11 PLO [6-Max], $30K Gtd |
| Wed, 15 Sept | 14:15 | #101-M: $109 PLO [6-Max], $100K Gtd |
| Wed, 15 Sept | 14:15 | #101-H: $1,050 PLO [6-Max], $200K Gtd |
| Wed, 15 Sept | 15:30 | #102-L: $11 NLHE [7-Max, Hyper-Turbo, PKO, Series Wrap-Up], $65K Gtd |
| Wed, 15 Sept | 15:30 | #102-M: $109 NLHE [7-Max, Hyper-Turbo, PKO, Series Wrap-Up], $250K Gtd |
| Wed, 15 Sept | 15:30 | #102-H: $1,050 NLHE [7-Max, Hyper-Turbo, PKO, Series Wrap-Up], $275K Gtd |