Tommy Le Wins WSOP $10,000 Pot-Limit Omaha Championship For Second Time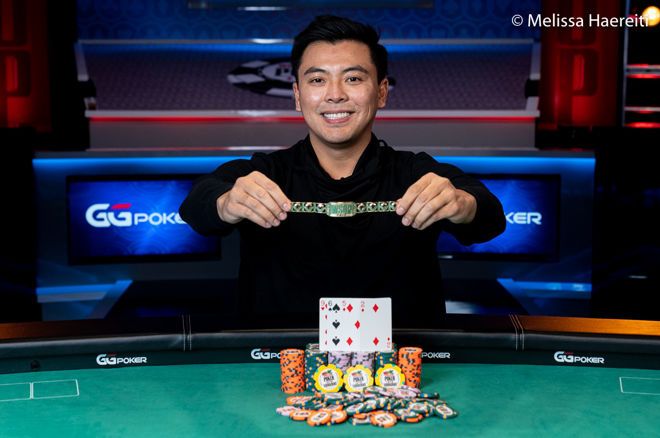 Tommy Le has captured World Series of Poker gold again by besting a field of 344 entries in Event #45: $10,000 Pot-Limit Omaha Championship. Le claimed the biggest slice of the $3,207,800 prize pool and locked up a cash of $746,477, bringing his WSOP earnings over the $2 million mark. The win not only rewarded Le with his second bracelet but also his second victory in this very event with Le previously winning the PLO Championship in 2017.
Le defeated Jordan Spurlin heads up who will take home $461,360 for his second-place finish. Also making appearances at the final table were Jeremy Ausmus (5th - $168,689), Eli Elezra (6th - $124,508), and Ashly Butler (8th - $71,242). He further cemented his status as one of the best PLO tournament players in the history of WSOP with eight official final table appearances and one unofficial final table in a 6-max tournament since 2010.
"I feel like I just won a bracelet and it's the best feeling in the world. It's amazing, I love the WSOP and come every year. I think it's an awesome event and I really play because I love the game," the Californian said right after his victory.
Le's preference for the great game of PLO is down to the dynamics and options that the four-card variant offers. "No Limit is more solved but PLO is still unknown and you kinda just play based on instincts," he added and confirmed that playing based on feelings plays a big role in his success as "not playing conventional makes him tough to play against."
Event #45: $10,000 Pot-Limit Omaha Championship Final Table Results
| Result | Player | Country | Prize (in USD) |
| --- | --- | --- | --- |
| 1 | Tommy Le | United States | $746,477 |
| 2 | Jordan Spurlin | United States | $461,360 |
| 3 | Chris Sandrock | United States | $324,800 |
| 4 | Artem Maksimov | Russia | $232,236 |
| 5 | Jeremy Ausmus | United States | $168,689 |
| 6 | Eli Elezra | Israel | $124,508 |
| 7 | Arthur Morris | United States | $93,406 |
| 8 | Ashly Butler | United States | $71,242 |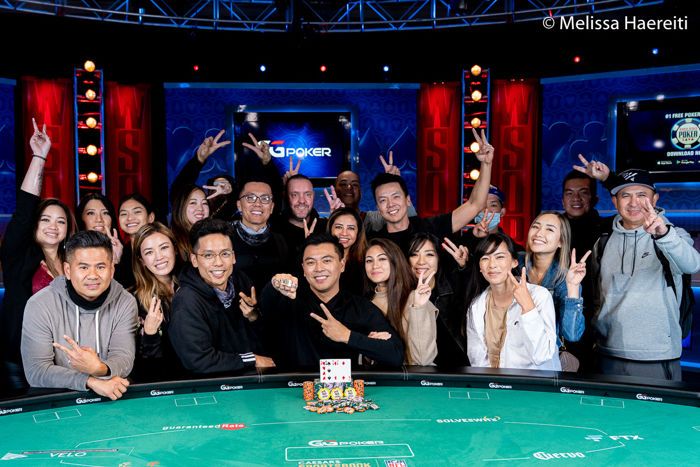 During the final day, Le was never at risk of elimination and that made the final showdown less swingy than previous close calls. The road to his second WSOP gold bracelet win wasn't without hiccups. A dramatic three-way showdown could have ended it all only for the tides to change temporarily.
"Oh here we go, it's just more work and making it hard. It would have just been too easy had I won that hand. But I am glad it did happen, though, it gave me the chance to work, to really play. I really enjoy and love being on the felt. I love winning but I also enjoy playing," Le same when he recalled one of the key hands of the final day.
Le will certainly be back to compete in the $25,000 Pot-Limit Omaha High Roller and he will be full of confidence no matter what. "When I play, I am always confident in my decision. I try not to second guess myself. Win or lose, I never walk away feeling I made a mistake or with regret, I always leave that on the felt," the now two-time bracelet winner reassured.
One of the arguably toughest obstacles Le had to overcome was casino owner Chris Sandrock, who would eventually bow out in third place. Sandrock was at the root of most of the action throughout all tournament days and that made it a challenge to deal with.
"Chris got no fear. He got this crazy unpredictability that makes the dynamics change quite a bit and I adapted to the game. I always adapt to the table and the game. There is times when I pick a line and I go for it. Halfway through I feel something and swerve to the left and next, I am in a huge pot with like ten-high and I don't really know how I got there but I know I am there."
The stack sizes of Sandrock changed every other minute as he went from big stack to short stack and back in pursuit of Le atop the leaderboard. This had an influence on all contenders for the gold bracelet and it was seemingly up to Le to balance things out.
"With Chris [Sandrock], I was trying to lower the variance. I knew he would make some mistakes and I didn't know how he was going to play today. I saw him play really aggressive and wild yesterday and then he slowed down, so I kind of wanted to start off slow to cool his temperament, and then once I got a good feel for where he is at, never double barrel bluff. He bets really big on the river when he doesn't have it and things like that," Le mentioned as he had picked up several patterns throughout the final day.
It was a topsy turvy affair in which Le prevailed and he had to surrender the lead for short periods to Sandrock and eventual runner-up Jordan Spurlin. By then, Jeremy Ausmus was already on the rail after he was left drawing dead on the turn against Sandrock following a three-way limped pot.
After the wild ride of Sandrock saw his stack dwindle, he spiked a double against Artem Maksimov and claimed the remaining chips soon after to reduce the field to the final three contenders. Le's grip in three-handed play resulted in a commanding lead and he was two cards away from a double knockout only for Spurlin to triple up and Sandrock to double into the top spot.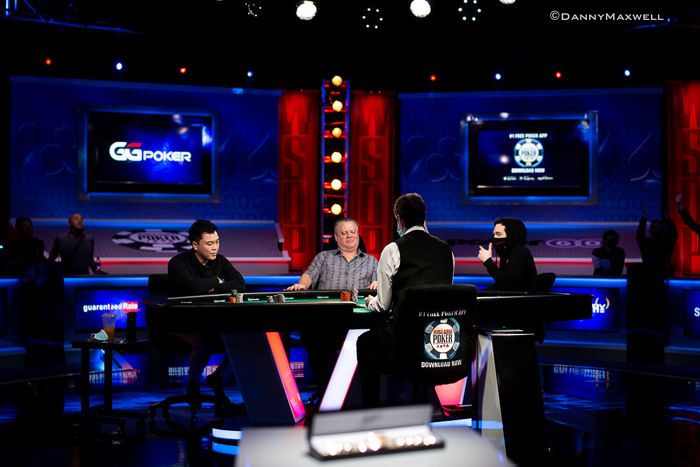 However, it was just a temporary setback as Le soon pulled way ahead once more. Sandrock then ran kings into the double-suited aces of Spurlin and was left without any equity on the turn to set up the heads-up duel for the coveted gold bracelet. It turned out to be a one-sided affair as Le dominated right from the get-go. Spurlin doubled his short stack once but was unable to mount yet another comeback to settle for the runner-up spot.
The next high-stakes Pot-Limit Omaha contest will commence during the 2021 World Series of Poker on Wednesday and the PokerNews team will be back on the floor to provide all the updates. Le will be back then, too, and aim to finish one spot higher than his runner-up finish in the $25,000 Pot-Limit Omaha High Roller back in 2016.
Check out our 2021 WSOP Hub here!