Is this Hero Call by Patrik Antonius the Sickest Ever in a $25K High Roller?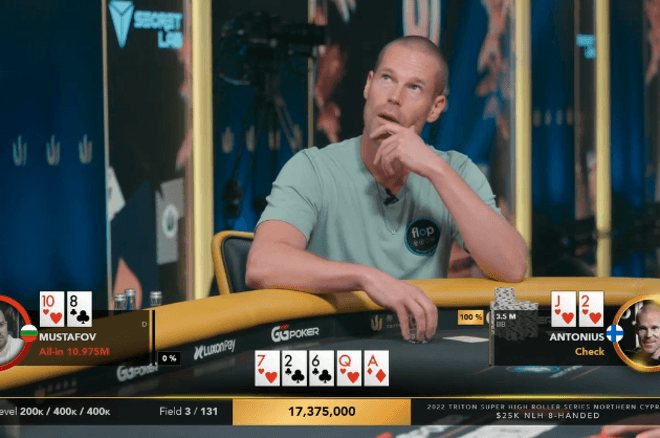 Longtime poker pro Patrik Antonius made an incredible call at the final table of a $25,000 No-Limit Hold'em high roller in at Triton Poker Cyprus holding just bottom pair, a call that left his opponent and viewers alike completely stunned.
The hero call for his tournament life gave Antonius a double-up through chip leader Fahredin Mustafov and the Finnish pro went on to win the event for his first Triton title and $825,000.
"Sickest Hand of the Tournament"
The hand, which can be viewed on the TritonPoker Twitch stream, took place during three-handed play with blinds of 200,000/400,000/400,000 and began with a raise to 800,000 from Mustafov on the button holding 10♥8♣. Antonius defended his big blind holding J♥2♥.
The flop landed 7♥2♣6♣ and Antonius checked after making bottom pair. The Bulgarian continued with a bet of 700,000 with his gutshot and Antonius called to see the Q♥ turn.
Antonius, who picked up a flush draw, checked again and Mustafov barrelled for 1.4 million. Atonius went in the tank for two and a half minutes and called.
The river brought the A♦ to whiff both players and Antonius again checked. Mustafov took a moment before putting Antonius all in for his remaining 3.5 million. Despite being left with nothing but bottom pair, Antonius did not immediately fold.
"Can he make the call for the sickest hand of this tournament!?" exclaimed Triton commentator Randy Lew.
"The fact that he's even considering making the hero call here with bottom pair," agreed co-commentator Henry Kilbane.
Antonius used all but one of his time banks as he entered a deep tank. After six minutes, he made the call with just a pair of ducks, which brought a "good call" from Mustafov as he tabled his bluff and conceded the pot.
"Patrik Antonius, ladies and gentleman. He's done it!" Lew celebrated.
In a tournament defining moment, @Patrik_Antonius makes the most INSANE CALL with immense ICM pressure from the ch… https://t.co/G4qxfxlZdS

— Triton Poker (@tritonpoker)
First Triton Title
The sick call propelled Antonius to his first Triton victory as he eliminated Steve O'Dwyer in third before sending Mustafov out as the runner-up, which brought the Bulgarian a career-best $557,000.
"It has some special feel," Antonius said after the victory. "Triton is growing ... all the top players are playing this tournament, so it's nice to win, I have to say. And it's a nice way to start a series like this."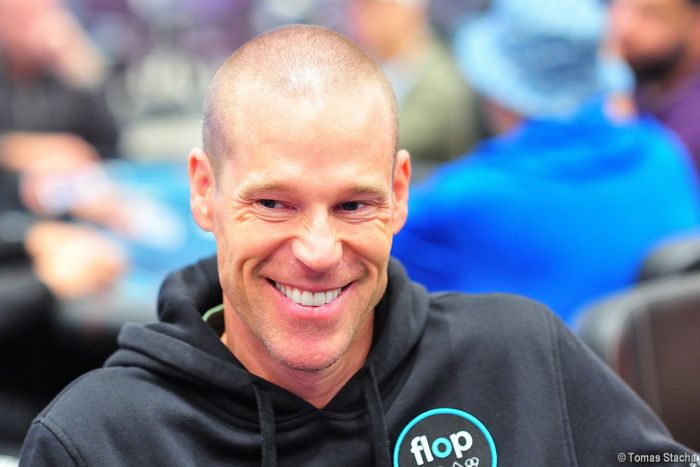 Other players who ran deep in the Triton event include Hong Kong's Danny Tang (4th - $300,000) and American Ebony Kenney, who finished in fifth for a career-best $240,000. Later in the series, Kenney will jump up even further in stakes and play the $200,000 Coin Rivet Invitational.
The full final table results for Poker Cyprus $25,000 Eight-Handed is available in the table below.
Triton Poker Cyprus $25,000 Eight-Handed Final Table Results
| | | | | |
| --- | --- | --- | --- | --- |
| | PLACE | NAME | COUNTRY | PRIZE (IN USD) |
| | 1 | Patrik Antonius | Finland | $825,000 |
| | 2 | Fahredin Mustafov | Bulgaria | $557,000 |
| | 3 | Steve O'Dwyer | Ireland | $362,000 |
| | 4 | Danny Tang | Hong Kong | $300,000 |
| | 5 | Ebony Kenney | United States | $240,000 |
| | 6 | Viacheslav Buldygin | Russia | $190,500 |
| | 7 | Kannapong Thanarattrakul | Thailand | $145,700 |
| | 8 | Seth Davies | United States | $109,500 |
Here's a look at the remaining schedule for Triton Poker Cyprus, which includes the $100,000 NLH Main event, a $25,000 Pot-Limit Omaha event and a number of Short Deck high rollers.
Triton Poker Cyrpus Remaining Schedule
| | | | | |
| --- | --- | --- | --- | --- |
| | DATE | TIME | EVENT | BUY-IN |
| | 6 Sep, 2022 | 3:00 PM | #2 NLH - 6 HANDED | $30,000 |
| | 7 Sep, 2022 | 1:00 PM | #2 NLH - 6 HANDED | $30,000 |
| | 7 Sep, 2022 | 3:00 PM | #3 NLH - 6 HANDED | $50,000 |
| | 8 Sep, 2022 | 1:00 PM | #3 NLH - 6 HANDED | $50,000 |
| | 8 Sep, 2022 | 4:00 PM | #5 NLH - 8 HANDED | $75,000 |
| | 9 Sep, 2022 | 1:00 PM | #5 NLH - 8 HANDED | $75,000 |
| | 10 Sep, 2022 | 4:00 PM | #6 NLH - COIN RIVET INVITATIONAL | $200,000 |
| | 10 Sep, 2022 | 2:00 PM | #15 NLH - 8 HANDED | $20,000 |
| | 11 Sep, 2022 | 1:00 PM | #6 NLH - COIN RIVET INVITATIONAL | $200,000 |
| | 11 Sep, 2022 | 1:00 PM | #15 NLH - 8 HANDED | $20,000 |
| | 11 Sep, 2022 | 4:00 PM | #7 POT LIMIT OMAHA | $25,000 |
| | 12 Sep, 2022 | 1:00 PM | #6 NLH - COIN RIVET INVITATIONAL | $200,000 |
| | 12 Sep, 2022 | 1:00 PM | #7 POT LIMIT OMAHA | $25,000 |
| | 12 Sep, 2022 | 4:00 PM | #8 NLH - MAIN EVENT | $100,000 |
| | 13 Sep, 2022 | 1:00 PM | #8 NLH - MAIN EVENT | $100,000 |
| | 13 Sep, 2022 | 4:00 PM | #9 NLH 8-HANDED TURBO | $50,000 |
| | 14 Sep, 2022 | 1:00 PM | #8 NLH - MAIN EVENT | $100,000 |
| | 14 Sep, 2022 | 4:00 PM | #10 SHORT DECK ANTE-ONLY | $30,000 |
| | 15 Sep, 2022 | 1:00 PM | #10 SHORT DECK ANTE-ONLY | $30,000 |
| | 15 Sep, 2022 | 3:00 PM | #11 SD ANTE-ONLY - 1 BULLET (PL PF) | $40,000 |
| | 16 Sep, 2022 | 1:00 PM | #11 SD ANTE-ONLY - 1 BULLET (PL PF) | $40,000 |
| | 16 Sep, 2022 | 3:00 PM | #12 SD ANTE-ONLY - 1 BULLET | $50,000 |
| | 17 Sep, 2022 | 1:00 PM | #12 SD ANTE-ONLY - 1 BULLET | $50,000 |
| | 17 Sep, 2022 | 5:00 PM | #13 SD - MAIN EVENT | $100,000 |
| | 18 Sep, 2022 | 1:00 PM | #13 SD - MAIN EVENT | $100,000 |
| | 18 Sep, 2022 | 5:00 PM | #14 SHORT DECK ANTE-ONLY | $25,000 |
| | 19 Sep, 2022 | 1:00 PM | #13 SD - MAIN EVENT | $100,000 |
| | 19 Sep, 2022 | 3:00 PM | #14 SHORT DECK ANTE-ONLY | $25,000 |
Images courtesy Triton Poker via Twitch