RGPS Thunder Valley Season $1M GTD Season Final Gets Underway Next Month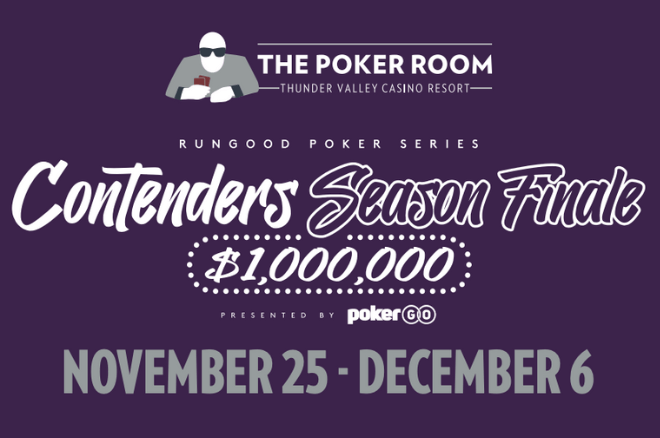 After wrapping up at Jamul Casino in San Diego, the RunGood Poker Series (RGPS) is ending 2022 in truly spectacular fashion as the team heads to northern California for RGPS Contenders Thunder Valley, which will feature the poker stop's first-ever $1 million guaranteed event.
In addition to the $2,500 buy-in RunGood Season Finale, the RGPS Thunder Valley stop, set to run Nov. 25-Dec. 6, will feature a $1,000 buy-in RunGood Take 1 event with a $250,000 guarantee and plenty of other events and satellites.
Read about the latest RGPS Jamul stop!
$1 Million Guarantee
The $1 million guaranteed RunGood Season Finale, which was announced in March and which PokerNews will be live reporting, will feature two starting flights, the first of which gets underway on Dec. 3. at noon local time. In exchange for their $2,500 buy-in, players will receive a starting stack of 40,000 chips and blinds of 100/200/200.
What an absolutely INSANE schedule for the @RGPokerSeries stop in @TVPokerRoom. The season finale culminates in a $… https://t.co/GZYCLIW36G

— Jeff Platt (@jeffplatt)
Levels will last for 60 minutes in duration with 15-minute breaks every two levels. Registration will remain open until the start of Level 9 and players will be allowed one re-entry on Day 1a, Day 1b and before the start of Day 2 on Dec. 5.
Day 3 of the Season Finale will take place on Dec. 6 and will play down to a winner, who will take home the lion's share of the $1 million guaranteed prize pool. Additionally, the winner will be awarded an entry to the RGPS All-Stars ProAm event in Las Vegas in December.
Plenty More Guarantees
In addition to the Season Finale, the RGPS Thunder Valley stop will feature plenty of big events, kicking off with the $1,100 buy-in RunGood Take 1 event with a $250,000 guarantee. The event features two starting flights Nov. 25-26 and will play to a winner on Day 2 on Nov. 27.
Later in the series, a $300 buy-in RunGood Knockout event will take place where players can win $100 bounties for every player they eliminate, as well as a RunGood Ambassador Bomb Pot Bounty event with a $135 buy-in.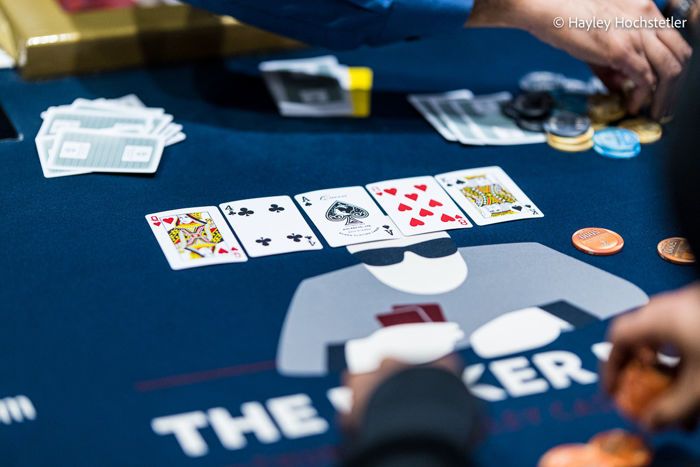 A $600 buy-in RunGood Studio Ticket event will begin on Nov. 30 and will feature a $100,000 guarantee, in addition to awarding a seat to the ProAm event. Similarly, the $1,000 buy-in RunGood Director's Cut toward the end of the series will have a $100,000 prize pool up for grabs.
There will be a number of satellites and step satellites throughout the series where players can will seats into events for as little as $75 or $150.
Orr Struck Gold at Last Thunder Valley Stop
At the last RGPS Thunder Valley stop in January, the $575 buy-in Main Event attracted a record-setting 890 entries across three starting flights to generate a near-half-million prize pool of $445,000.
In that event, Kasey Orr bested the massive field and took home $65,728 and the trophy after a heads-up deal with Nicolaus Estrella, who in turn pocketed $65,726.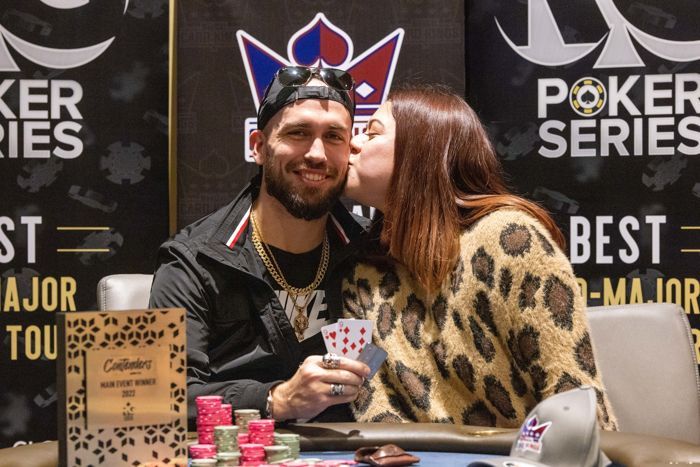 Other players who were in the record-breaking field included included Eric Estrellado, Martin Abraham, Jeff Platt, Frank Saunders, Dustin Orozco, Tsolmon Jargalsaikhan, Blong Moua, Bernard Lee, and Julie Cornelius.
RGPS Thunder Valley Final Table Results
​​
| | | |
| --- | --- | --- |
| PLACE | PLAYER | PRIZE (IN USD) |
| 1 | Kasey Orr | $65,728* |
| 2 | Nicolaus Estrella | $65,726* |
| 3 | Dustin Russell | $34,815 |
| 4 | Jack Jenco | $26,075 |
| 5 | Mike Hanson | $19,760 |
| 6 | Ryan Awwad | $15,755 |
| 7 | Theresa Cummings | $13,040 |
| 8 | Daniel Hatch | $10,370 |
| 9 | Balthazar Villa | $7,790 |
*Denotes heads-up deal.
After RGPS Thunder Valley, the RunGood team will close out the year with the RGPS All-Stars ProAm event at PokerGO Studio Dec. 16-17.
2022 RGPS Thunder Valley Schedule
| | DATE | EVENT |
| --- | --- | --- |
| | Nov. 25 | 1A RunGood Take 1 $250,000 GTD (Buy-In $1,000) |
| | Nov. 26 | 1B RunGood Take 1 $250,000 GTD (Buy-In $1,000) |
| | Nov. 27 | Step Satellite - 1 in 5 win a $400 RunGood Season Finale Satellite Entry (Buy-In $100, 20 seats GTD) |
| | Nov. 27 | Day 2 RunGood Take 1 $250,000 GTD (Buy-In $1,000) |
| | Nov. 27 | Step Satellite - 1 in 7 win a $2,500 RunGood Season Finale Entry (Buy-In $400, 20 seats GTD) |
| | Nov. 27 | RunGood Knockout (Buy-In $300, $100 Bounties) |
| | Nov. 28 | Satellite - 1 in 10 win a $600 RunGood Studio Ticket Entry (Buy-In $75, 5 seats GTD) |
| | Nov. 28 | RunGood Ambassador Bomb Pot Bounty (Buy-In $135) |
| | Nov. 29 | Satellite - 1 in 10 win a $600 RunGood Studio Ticket Entry (Buy-In $75, 5 seats GTD) |
| | Nov. 29 | 1A RunGood Fifty-Five $55,000 GTD (Buy-In $255) |
| | Nov. 29 | 1B RunGood Fifty-Five $55,000 GTD (Buy-In $255) |
| | Nov. 30 | Satellite - 1 in 5 win a $600 RunGood Studio Ticket Entry (Buy-In $140, 10 seats GTD) |
| | Nov. 30 | Day 2 RunGood Fifty-Five $55,000 GTD (Buy-In $255) |
| | Nov. 30 | 1A RunGood Studio Ticket $100,000 GTD (Buy-In $600) |
| | Nov. 30 | Satellite - 1 in 5 win a $600 RunGood Studio Ticket Entry (Buy-In $140, 10 seats GTD) |
| | Dec. 1 | Turbo Satellite - 1 in 5 win a $600 RunGood Studio Ticket Entry (Buy-In $140, 10 seats GTD) |
| | Dec. 1 | 1B RunGood Studio Ticket $100,000 GTD (Buy-In $600) |
| | Dec. 1 | Step Satellite - 1 in 5 win a $400 RunGood Season Finale Satellite Entry (Buy-In $100, 10 seats GTD) |
| | Dec. 2 | Day 2 RunGood Studio Ticket $100,000 GTD (Buy-In $600) |
| | Dec. 2 | RunGood PLO (Buy-in $500) |
| | Dec. 2 | Step Satellite - 1 in 5 win a $400 RunGood Season Finale Satellite Entry (Buy-In $100, 20 seats GTD) |
| | Dec. 2 | Shootout Satellite - 1 in 7 win a $2,500 RunGood Season Finale Entry (Buy-In $400, 30 seats GTD) |
| | Dec. 3 | Turbo Satellite - 1 in 7 win a $2,500 RunGood Season Finale Entry (Buy-In $400, 5 seats GTD) |
| | Dec. 3 | 1A RunGood Season Finale $1,000,000 GTD (Buy-In $2,500) |
| | Dec. 4 | Last Chance Turbo Satellite - 1 in 7 win a $2,500 RunGood Season Finale Entry (Buy-In $400, 5 seats GTD) |
| | Dec. 4 | 1B RunGood Season Finale $1,000,000 GTD (Buy-In $2,500) |
| | Dec. 5 | Satellite - 1 in 8 win a $1,000 RunGood Director's Cut Entry (Buy-In $150, 10 seats GTD) |
| | Dec. 5 | Day 2 RunGood Season Finale $1,000,000 GTD (Buy-In $2,500) |
| | Dec. 5 | Day 1 RunGood Director's Cut $100,000 GTD (Buy-In $1,000) |
| | Dec. 6 | Satellite - 1 in 5 win a $500 RunGood Curtain Call Entry (Buy-In $125, 10 seats GTD) |
| | Dec. 6 | RunGood HORSE (Buy-in $500) |
| | Dec. 6 | Day 3 RunGood Season Finale $1,000,000 GTD (Buy-In $2,500) |
| | Dec. 6 | Day 2 RunGood Director's Cut $100,000 GTD (Buy-In $1,000) |