Boston Rob Returns to Where He Got Married; Suggests Negreanu Do Survivor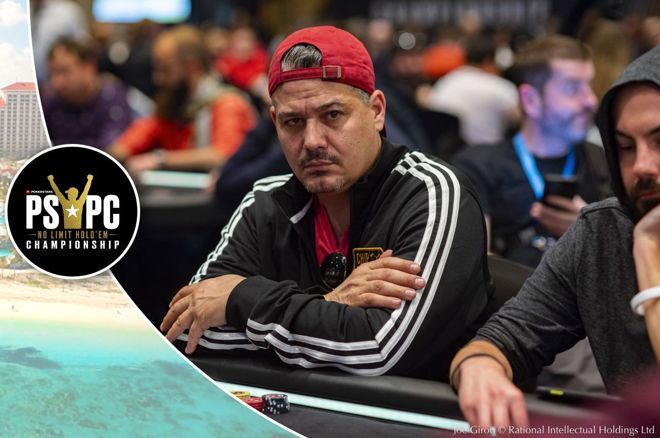 Table Of Contents
Late on Day 1 of the 2023 PokerStars Players No-Limit Hold'em Championship (PSPC), a man wearing a Boston Red Sox hat strolled into the ballroom and took a seat to compete. That man was none other than "Boston" Rob Mariano, who rose to fame nearly 20 years ago when he first appeared on the hit television show Survivor.
Mariano, who would go on to appear six times (so far), actually had a prior connection to the Bahamas – it's where he got married to his wife Amber, who he met while competing on Survivor: All-Stars back in 2003.
"In general, I'm good with islands, but the Bahamas is special to me," Boston Rob told PokerNews. "It's where my wife Amber and I got married almost 18 years ago. I fell the magic that something else good is going to happen here."
Mariano bagged 96,000 after Day 1 of the PSPC and was hopeful things would go well on Tuesday's Day 2.
"It's funny. I've played poker for over 20 years now, but it's like just recently I've rediscovered a passion for it. When my kids were really young I took some time off, dove into being a dad and that sort of stuff. I recently rediscovered the game and I have been having a lot of fun, particularly the last six months with the rings and being out here in the Bahamas."
The rings he referred to came on the RunGood Poker Series (RGPS). Last year, Mariano topped a 206-entry field to win the $200 NLH Guest Ambassador Bounty Event at RGPS JACK Cleveland, good for $8,615, and then in December went on to win the season-ending 2022 RGPS All-Stars Pro-Am for $6,500 and a second ring.
"I took that one down. It was sweet revenge for my buddies that were needling me in that tournament. I'm not going to name any names, Josh Arieh, but anyway it was a great culmination event," said Mariano. "The guys at RunGood, Tana Karn and those guys, have always been super welcoming. I love playing on that tour and it was special for me to bring home that trophy."
Survivor Alum & Reality Star "Boston" Rob Mariano Wins 2022 RGPS Pro-AM in Vegas
Survivor Notoriety
For those familiar with Survivor and reality TV in general (Mariano has also appeared on Amazing Race, The Price is Right, and most recently Season 2 of Secret Celebrity Renovation), it's hard not to recognize Boston Rob. In fact, it's pretty much standard for someone to recognize him whenever he sits down at a poker table.
"Everybody pretty much does," he admitted. "The cat is out of the bag now after 20 years, six years of Survivor and being around the poker circuit. But that's ok, I like it. They still don't know what I'm doing. They might think they know, but they really don't."
He continued: "I recognize a lot of the pros, and I love to call them out at the table because there's nothing they can do about it. It's fun. It really does level the playing field here. The PSPC is really a unique tournament in that regard. It gives everyday players the opportunity to play with these guys who do it each and every day to test their skills. It's awesome."
For Boston Rob, playing the PSPC is a big opportunity for which he feels prepared.
"I feel good. I played in the PokerGO Cup a few weeks ago out in Vegas. I did a bubble in a tournament, not a stone-cold bubble, but near the bubble, and I was surprised how comfortable I felt there. I do feel good about my game and where we're going. You know, a little magic can happen, and I've been known to be lucky too."
Negreanu on Survivor?
Well over a decade ago, poker pro Daniel Negreanu taught Boston Rob and his wife, Amber, some poker tricks. Ever since, they've remained friends, which makes sense given Boston Rob loves poker, and Negreanu is well-known to be a fan of Survivor. In fact, there have been rumors over the years that CBS was interested in possible having Negreanu on the show.
Unfortunately, Negreanu has yet to appear presumably because the filming of Survivor conflicts with the annual World Series of Poker (WSOP). However, if he were to one day go on the show, how does Boston Rob think he'd do?
"Daniel has been a friend for a lot of years. He helped me with poker, and he's still a friend today," he said. "I think Daniel he definitely has a social awareness to do well in the game. I don't think a lot of common mistakes that a lot of poker players make on Survivor, if you think of it like a tournament, a lot of them are trying to win the tournament in Level 1 or Level 2. You can't do that, you've got to go all the way to the end, so you can't play too quickly. I don't think Daniel would have that problem."
He added: "I think what might hinder him a little bit is probably his name recognition. A lot of people might recognize him, and for somebody that has a reputation in that game, I know that is a big hurdle to overcome and you have to fight that obstacle. But being aware that it's going to be an obstacle he can probably find a way to use it to his advantage. He's really good at games."
Finally, Boston Rob pointed out that, like poker has in the past, Survivor has gone through some changes. For the majority of its run, Survivor contestants played a 39-day game, but recently that was lowered to 26 days. That means participation doesn't require quite as long of a commitment.
"It's not even six weeks anymore Daniel, it's only three weeks," Boston Rob pointed out. "Take the time, get out there, and give it a shot."
While poker fans will no doubt hope that Negreanu one day gets on Survivor, we couldn't help but ask Boston Rob about a potential return to the game as well as what he has coming down the pipeline.
"I love Survivor, always have, still a fan of the show myself. My kids watch it now," he said. "On the professional front, my show with CBS, Secret Celebrity Renovation, we're hoping to do a Season 3. It looks like that's probably going to be in the works, so back to work soon."
However, before he goes back to work, Boston Rob has business in the Bahamas – to maybe win the PSPC!
Starting day 2 off right! @pokerstars #PSPC we got 96,000 let's #RunGood @BahaMarResorts @ChipLDR Let's G… https://t.co/ubV0SpVqq7

— Boston Rob (@BostonRob)
Follow live updates from the 2023 PSPC here!
Executive Editor US, PokerNews Podcast co-host & 2013 WSOP Bracelet Winner.