Garrett Adelstein to Doug Polk: Robbi Likely Cheated and I'm Not Giving the Money Back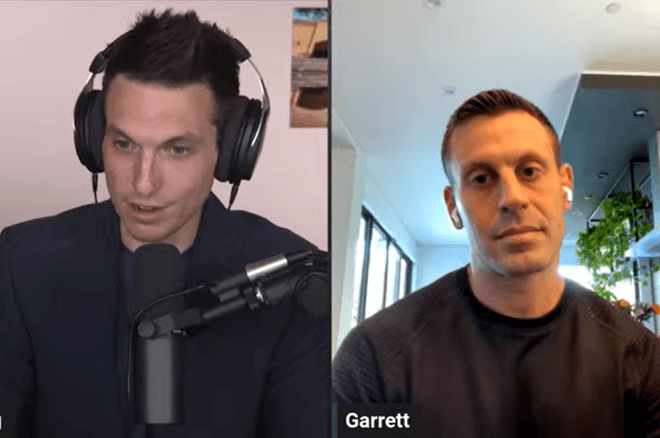 Table Of Contents
In his first public interview since the infamous J4 incident, on Doug Polk's podcast, Garrett Adelstein reiterated his confidence that he was cheated on Hustler Casino Live by Robbi Jade Lew, and said he will not be refunding her the disputed $135,000 she gave back to him.
Outside of a feature column in the Los Angeles Times and the occasional tweet, Adelstein has remained silent since the Sept. 29 scandal. But he opened up to the Texas poker room owner in a juicy conversation between two of poker's most accomplished pros, and over 15,000 concurrent viewers were tuned for it.
PokerNews Op-Ed: Garrett's Right - Modern Day High Stakes Poker Has Become a Bloodsport
Adelstein Cracks on "Nik Airball"
Adelstein, one of the top high-stakes pros in the world, first addressed a feud with Nikhil "Nik Airball" Arcot that began with Airball taking shots at Adelstein's character on Polk's podcast last week.
Nik Airball is a regular on Hustler Casino Live and has a love-him-or-hate-him persona that he's created since Adelstein left the stream following the J4 incident. Adelstein bashed Airball for attacking his character, but referred to his new rival as "brilliant" for playing a role on-camera and leveraging that into generating attention.
"My first interaction with (Nik Airball) was him coming up to me and telling me he's a huge fan," Adelstein explained and then said all he did was "talk s**t" to him during the game.
Polk's guest referred to Arcot as a "liar" but also explained that he didn't want to spend too much time discussing the topic because "I really don't want to be rolling in the mud with this piece of s**t."
Rehashing the Robbi Scandal
On Sept. 29, 2022, the last time Adelstein played poker on Hustler Casino Live, Lew made a controversial call on the turn with jack-high — no pair, no draw. The bet was for over $100,000 from Adelstein, who had just eight-high but was on a draw.
The pot reached $270,000 and Adelstein was shocked upon seeing Lew's hand, so much so that he immediately accused her of cheating and left the game. She denied cheating and Hustler's third-party investigation concluded there was "no evidence of wrongdoing." Early in the two-hour interview, Polk asked his guest if he still feels the same about what went down on that memorable evening.
"In essence, I stand completely by the statement I made. I think it's extremely likely that I was cheated," the high-stakes pro responded.
Over the past couple months, Lew has resurfaced on live-stream poker, both on Live at the Bike and on the stream at The Lodge Card Club in Texas, the poker room Polk co-owns.
Adelstein said that Lew "has a lot of balls" to return to live-stream poker after, as he claims, cheating him out of a massive pot. Shortly after the J4 incident, Lew and Adelstein had a heated discussion on the Hustler Casino floor about what had transpired. During that brief conversation, Lew paid him back $135,000, which she has explained was done to calm him down.
"No, I will not be refunding Robbi the money, period. I am extremely confident I was cheated in this hand."
Over the past six months, numerous poker fans have called for Adelstein to return that money to, as they believe, its rightful owner. He instead donated it to a charity. But still many believe the right decision is for him to give it back to Lew. Polk asked him if he would do so.
"No, I will not be refunding Robbi the money, period. I am extremely confident I was cheated in this hand," Adelstein defiantly stated.
Adelstein then pleaded with those who are on "Team Robbi" to put themselves in his shoes and and think about how they'd react if they felt they were cheated at the poker table.
Return to Hustler Casino Live or Elsewhere?
During the two-hour interview, which you can view on YouTube, the topic of conversation shifted over to Nik Airball's claims that Adelstein would block players he didn't like or want to play with from competing on Hustler Casino Live, which then led to questions about his interest in returning to HCL or another live-stream.
Adelstein acknowledged that he would often converse with HCL's co-owner Ryan Feldman to discuss lineups of future games. But he denied having the ability to blacklist players from the game.
"That's a load of horses**t, you don't force Ryan Feldman to do anything," Adelstein said of Airball's accusations that he controlled the Hustler lineups.
"Ryan is a very sharp and very savvy businessman," he continued and then said that Feldman "would never do anything to harm the show.
Adelstein showered Feldman with praise for his hard work. Although it was revealed last week that he is no longer welcome on Hustler Casino Live, at least for the time being, he referred to Feldman as a "friend" and understands why there isn't a seat for him anymore.
"I have no interest in supporting their stream at least for now."
"I want to say, to be very fair, Ryan is the very best at what he does. The reason the Hustler stream is what it is, is because of Ryan."
Given that there isn't a seat for him in a Hustler game right now, Polk asked him if he'd ever return to the most popular live-stream in poker.
"Probably not, I have no interest in supporting their stream at least for now," he responded.
With Hustler out of the way, it's clear that Live at the Bike, the live-stream that Adelstein has competed on for over six years, is the most likely destination for his return to poker. But he wouldn't commit to a date or make any guarantee that he will appear on LATB. He said that over the past six months he hadn't even entertained the idea of playing poker.
"The last couple of weeks, that mindset has shifted a little bit. I'm more open to it now," Adelstein said following the recent Nick Vertucci Show comments about his future on HCL. "That said, I don't think it's likely you'll see me playing poker once a week. If I was going to play, I'd only play on live-streams,"
Houston Curtis, Live at the Bike's executive producer, confirmed with PokerNews last week that Adelstein is welcome back on his show whenever he's ready to play. You can watch the full interview with Polk and Adelstein below: