Garrett Adelstein Won't Be Welcomed Back to Hustler Casino Live (For Now)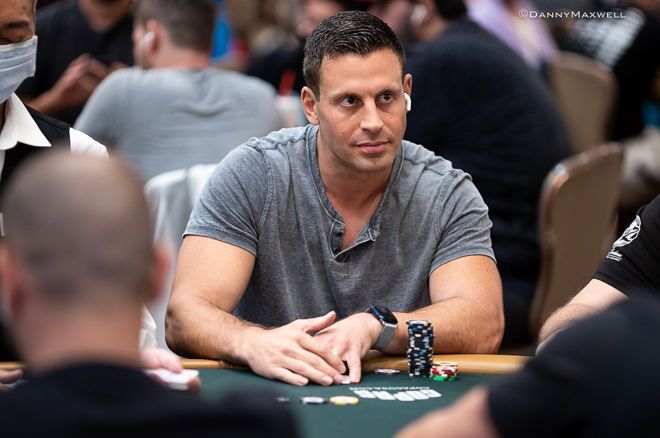 Six months after accusing Robbi Jade Lew of cheating, the show's most popular player — Garrett Adelstein — is no longer permitted to play on Hustler Casino Live. But the decision is considered "indefinite," according to co-owner Nick Vertucci, and he won't rule out the possibility of one day allowing the high-stakes crusher to return.
Don't count on that return any time soon, however. On the Nick Vertucci Show, guest Ben Lee, a regular on HCL, asked the host when Adelstein would rejoin the live-streamed cash game show from Hustler Casino in Los Angeles.
Vertucci, who spoke with PokerNews via a Monday phone conversation, made it clear that Adelstein isn't banned from Hustler Casino Live. But, along with co-owner Ryan Feldman, he made a "business decision" in regards to Adelstein's current status on the show.
Adelstein accused Lew of cheating during an infamous jack-four hand on Sept. 29 and hasn't appeared on HCL or any live-stream since. He toyed with the idea in a tweet earlier this year of returning for Hustler's $1 million buy-in cash game in May. But Vertucci made it clear in his podcast and to PokerNews that he won't be among that show's lineup.
"It's Not Personal
Adelstein, Vertucci, and Feldman have some history together, and most of it has been positive. Feldman previously ran the competing live-stream show Live at the Bike and "G-Man" was the most popular regular in the game, much like he's been at Hustler.
"We have no hard feelings toward (Adelstein)," Vertucci said. "We wish him the best. It's not personal."
Vertucci said he wasn't opposed to bringing the long-time star of Los Angeles live-stream poker back. In fact, he initially proposed the idea of having Lew and Adelstein both on the same episode. That would almost certainly attract a massive audience and getting views is what pays the bills, but Feldman saw it differently.
"As a matter of fact, I even told (Feldman) why don't we have them both on and we'd get a ton of views and he said, 'I don't care about the views, I'm not doing it,'" Vertucci said.
Vertucci reiterated that he has no ill will towards the former star of his show. He explained that it was a "business decision" and that as a friend and business partner with Feldman, he "supports his decision."
The Hand the Poker World Can't Stop Talking About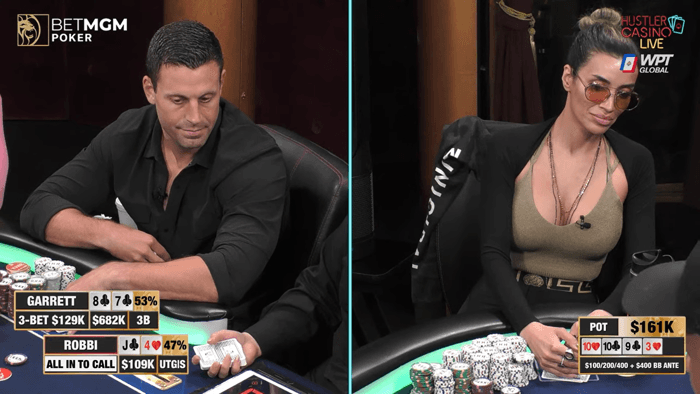 The infamous J4 hand brought about some publicity for Hustler Casino Live, but the show was already booming and didn't exactly need the mainstream media talking about a potential cheating scandal occurring during one of their streams.
Adelstein was adamant that Lew had cheated him out of a $270,000 pot when she called off a six-figure bet on the turn with nothing but jack-high and was correct. He left the game shortly after in protest and then took to social media and internet forums in the days and weeks after to share circumstantial evidence to back up the accusations.
Hustler Casino Live's production company, High Stakes Poker Productions, brought in a third-party investigator to look into the allegations. Following a month-long investigation, no proof of cheating was found. Lew even took a polygraph test and passed.
But the incident and accusations negatively impacted Hustler Casino Live. They even opened up a can of worms from conspiracy theorists who went so far as to allege that Vertucci, and possibly others, had been cheating for quite some time on HCL.
"Garrett decided to lean into his narrative without any proof and continued to lean into that narrative without any proof, and all the indications in his writings about what he thought happened didn't do us any good," Vertucci said.
Vertucci continued to explain that although he wasn't thrilled with Adelstein going public with the cheating accusations, he said, "I don't blame Garrett for anything. He has a right to his opinion."
The Infamous Jack-Four Hand Explained
Will Adelstein Makes His Return to Live at the Bike Instead?
Long before Hustler Casino Live launched in July 2021, Adelstein was a regular on Live at the Bike at the Parkwest Bicycle Casino not too far from Hustler.
Before the J4 incident, he'd played on LATB fairly regularly on days he wasn't playing at Hustler. So, HCL announcing that Adelstein won't be welcomed back for the time being could leave open the possibility of his return to LATB instead.
"When Garrett decides he wants to play live-stream poker again, we look forward to having him," Houston Curtis, Live at the Bike's executive producer, told PokerNews.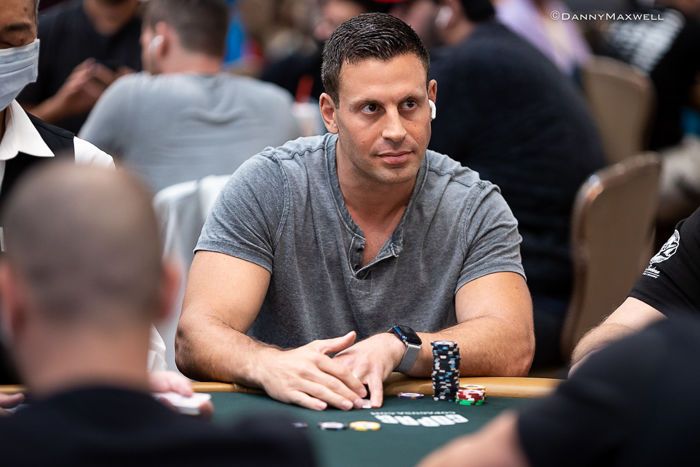 Lew has already made her live-stream return and did so multiple times recently on both Live at the Bike and in Texas at The Lodge Card Club.
But would she be welcomed back on Hustler Casino Live if she wanted to play on the stream?
"Robbi has never reached out to even ask about playing on the show since the infamous game in late September," Feldman said. "As of now, we have no intention of inviting her to any games in the near future."
Adelstein tweeted in response to Vertucci's comments on the Nick Vertucci Show. As you can tell from the following tweet, he wasn't thrilled about what was said.
Make no mistake, I have chosen to avoid all poker streams for the last 6 months, not the other way around. And my l… https://t.co/TCkxGgtcWB

— Garrett Adelstein (@GmanPoker)
PokerNews reached out to Adelstein for comment following his tweet but he said he didn't "have anything to add beyond my tweet."
Adelstein appeared 53 times on Hustler Casino Live, none since Sept. 29, 2022. According to the website TrackingPoker.com, he's up over $1.5 million on the show lifetime.
Vertucci said he doesn't worry about the popular poker pro returning to Live at the Bike. That show potentially stealing some Hustler viewers away because "of course, I took that into consideration."
"I was for having him back because of how good he is for the show, but Ryan, because he makes the lineups, felt because the games are playing longer and deeper, it was a better long-term decision not to bring him back," Vertucci continued.
Hustler Casino Live has over 228,000 YouTube subscribers, up nearly 30% since the J4 incident. Live at the Bike has 213,000 YouTube subscribers and has recently touted on social media increased viewership over the past month. Wherever Adelstein appears, if and when he does, there will certainly be plenty of poker fans tuned in.