Norman Chad & William Hung Headline 15th Annual Ante 4 Autism Event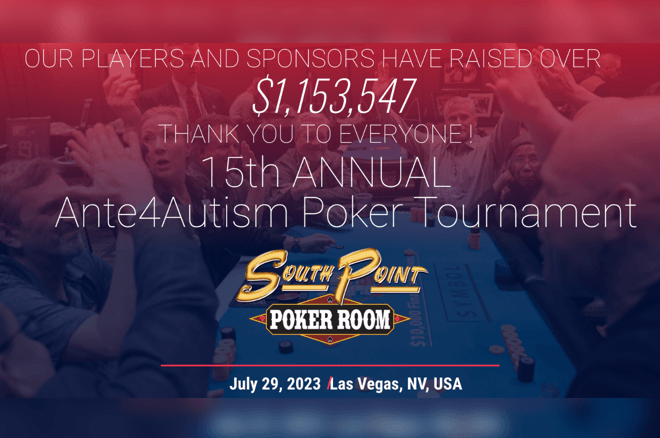 The 15th annual Ante 4 Autism charity poker tournament will take place in Las Vegas later this month in an effort to raise money for a good cause. The No-Limit Hold'em event will take place on Saturday, July 29 at 6:30 p.m. at South Point Hotel & Casino, a local favorite for low-stakes poker action.
As is typically the case with the Ante 4 Autism events, this year's tournament will include celebrity participants such as former WSOP Player of the Year Jeff Madsen and iconic poker commentator Norman Chad.
Other well-known poker pros who will be getting in on the Ante 4 Autism action include William Hung, Kenna James and Chip Jett. Even all-time World Series of Poker (WSOP) bracelet winner Phil Hellmuth, while he won't be able to make it, is supporting the event as a donor.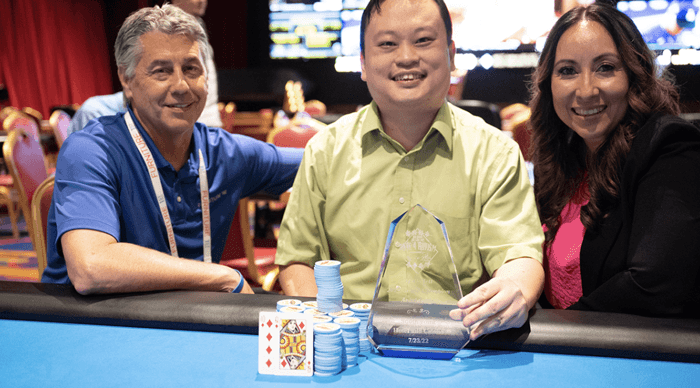 The $15,000 guaranteed prize pool will be split among the top nine players, while the Ante 4 Autism site will also list seven luxurious trips that will be auctioned off the night of the event. The trips up for grabs include a seven-night stay in Mexico for a minimum bid of only $2,250.
There will be other items auctioned off, including a Beautyrest Black Collection bed, a Tempurpedic Adapt Collection and a Stearns and Foster Studio Collection, three items perfect for anyone in the market for a new bed.
Five autism charities will receive proceeds from the event, including Project FOCUS at the Center for Autism Spectrum Disorders at UNLV, The Hope Fund - a division of International Hyperbarics Association (IHA), The Rich Center for Autism at Youngstown State University, National Autism Association of Southeast Ohio, and Autism Speaks.
Expect to see a number of celebrities playing in the Ante 4 Autism charity event at South Point.
"Karina Jett, one of the Co-Hosts, does a great job of arranging celebrities to play each year and we look forward to our celebrity friends joining us," Ante 4 Autism founder Doug Krinsky said in a press release.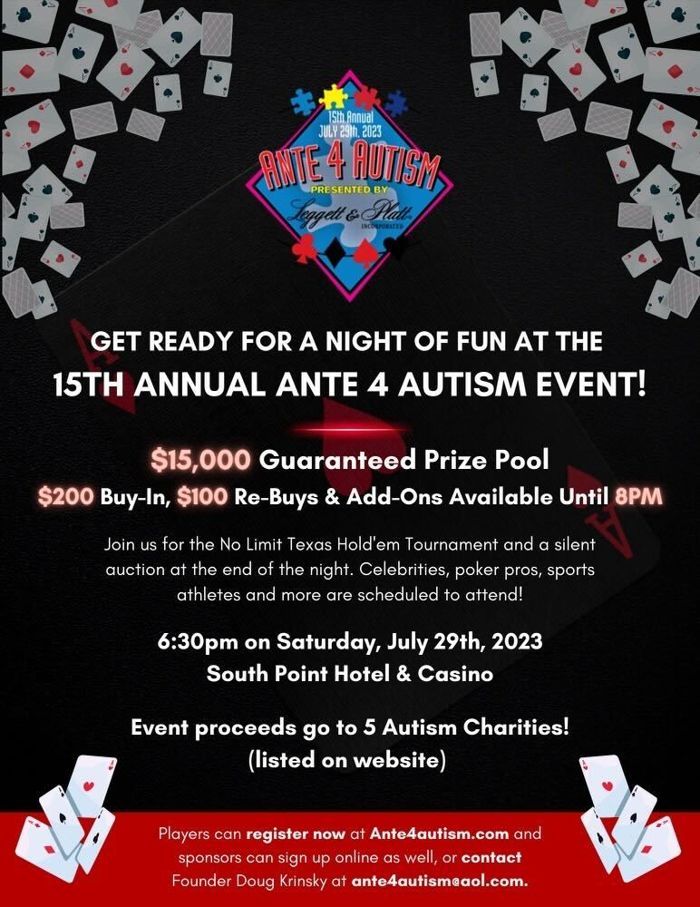 About Ante 4 Autism
The "Ante 4 Autism" charity event in Las Vegas was founded in 2009 by Doug Krinsky and is now held at the Golden Nugget each January. Doug and his wife Kelly Krinsky founded Beat Autism Now, Inc. a 501 C 3 not for profit organization, in 2008. The "Ante 4 Autism" event is now part of Beat Autism Now as the main event conducted every year. There is now a Host Committee of 12 individuals from across the country that help organize and run the Ante4autism event each year.
"Ante 4 Autism" was started to raise awareness about Autism and raise money within the home furnishings industry, to help support the needs of the families impacted by Autism. As of February 2019, they have raised $712,386. The proceeds of the event are now donated back to five Autism related charities each year.
Those interested in sponsorship opportunities can contact Doug Krinsky at [email protected]. Learn more at Ante4autism.com.
Images courtesy of Ante 4 Autism.