PokerNews Podcast: Tana Karn, Thirst Lounge's BetOnDrew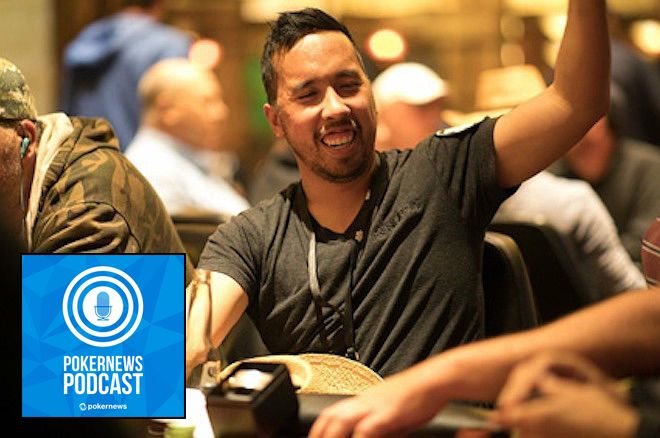 Sarah Herring and [Removed:139] are back with another episode of the Global Poker Award-nominated PokerNews Podcast!  
The two discuss Sarah's upcoming trip to Vegas, along with the hot topics in the poker community.
Marty Mathis takes down the partypoker Live MILLIONS South America Main Event. partypoker misses on another guarantee — does it matter?
The Venetian crowns a winner at its first World Poker Tour event, Shooting Star draws a solid turnout for not being a WPT tournament any more, and Phillip Pope wins the WSOP Circuit Main in Tulsa. 
Jeff welcomes in RunGood President & CEO Tana Karn to talk about the development of the RunGood Poker Series. 
Sarah chats with "BetOnDrew" (John Gonzalez) from the Thirst Lounge about his poker streaming plans for the future. 
Show Time Stamps
| | |
| --- | --- |
| 0:20 | Intro: March Madness...for Jeff, it's bracket pools...for Sarah, it's Game of Thrones pools |
| 4:40 | Darren Elias and Family Safe After Attempted Robbery by Poker Player |
| 9:00 | Marty Mathis Wins partypoker LIVE MILLIONS South America Main Event ($873,700) |
| 11:00 | partypoker falls short of another MILLIONS guarantee |
| 15:20 | Ben Palmer Wins Inaugural World Poker Tour Venetian for $431,655 |
| 17:20 | Sarah is coming to Vegas for the Global Poker Awards! |
| 17:50 | Sandeep Pulusani, Ryan Tosoc Chop Bay 101 Shooting Star |
| 20:20 | Phillip Pope Wins, Maurice Hawkins Third in WSOPC Tulsa Hard Rock Main |
| 22:20 | Jeff brings on RunGood President & CEO Tana Karn! |
| 23:00 | How the Run Good Poker Series formed and what the creative process was like: "It really was just starting from a backpack full of shirts." |
| 26:00 | The appeal of the RGPS: "We really wanted to design something that was based around the nightly hours for the weekend warriors and the poker grinders that have a day job and still want to enjoy the camaraderie and the excitement of that big stage feel for a poker series." |
| 27:00 | How Karn would evaluate the RGPS at this point: "It's an insane history of what we've done over the past couple years." |
| 29:00 | The "Showbound" season and partnership with Poker Central/PokerGO: "Absolutely amazing...they truly get what poker needs to move forward and to grow and stay exciting for people." |
| 31:00 | The allure of the having the opportunity to qualify for a seat on Poker After Dark: "(It's) the dream show we've all grown up watching." |
| 33:20 | The reaction to the "Showbound" theme from players: "The response has been truly amazing, people are ecstatic for the tour, to be able to partner up with such a great company." |
| 35:50 | The RunGood Ambassadors: "It's more of a family, and it really shows with our ambassadors." |
| 39:20 | Karn's dad's support of the tour: "I would love to make him an ambassador, but I feel like he already is one...he oves coming to the stops." |
| 41:30 | Karn's experience on Friday Night Poker: "It was such an amazing opportunity." |
| 45:10 | Follow Tana on Twitter. Find out more about the series here |
| 45:30 | Sarah brings Thirst Lounge's BetOnDrew onto the show! |
| 47:00 | How he got into streaming: "I think it was in 2014, I saw an article about Jason Somerville, and thought....oh, this is interesting." |
| 48:10 | Challenges at the beginning: "A constant hurdle with streaming is having your settings right, it's a juggling act, that's one of the most frustrating things." |
| 50:20 | Relationship with his fans: "I have my Twitch tattoo, that's an homage to them." |
| 51:30 | The importance of connecting with followers |
| 54:00 | Reaction from his community to the TL stream: "I see a lot of my community in the chat...they understand the objective, they understand the opportunity." |
| 56:30 | What the start of the Thirst Lounge has been like: "It's been a lot, it's been crazy, it's not real until you're in it." |
| 59:10 | Update on current staffing for the Thirst Lounge: "We've really learned a lot about each other." |
| 1:00:20 | How the dynamic has been within the team: "This is very much still unfolding...as much as I'm in it, I love watching it, taking a step back and watching it." |
| 1:04:00 | The logistics of the Thirst Lounge and dealing with internet issues |
| 1:06:40 | Global Poker Awards controversy: "I think I'm totally on Kevin (Martin's) page...a lot of people are rubbed the wrong way about it. To me, it just feels a little bit like somebody was punching a time card." |
| 1:10:20 | Who should be on the Streamer of the Year list: "There's a lot of people...I think of Matt Staples, Pav, Arlie, those are the first three names that come to my mind...Lex belongs in there." |
| 1:11:35 | Follow BetonDrew on Twitter, and follow the Thirst Lounge on Twitch |
| 1:13:00 | Next week: Vanessa Kade! And Sarah comes to Vegas for the GPAs |
Tell us who you want to hear from. Let us know what you think of the show - tweet about the podcast using #PNPod, and be sure to follow Sarah and Jeff on Twitter.
You can subscribe to the PokerNews Podcast on iTunes here!