5 Tips to IMMEDIATELY Improve Your Online Poker Game with 888poker Ambassador Vivian Saliba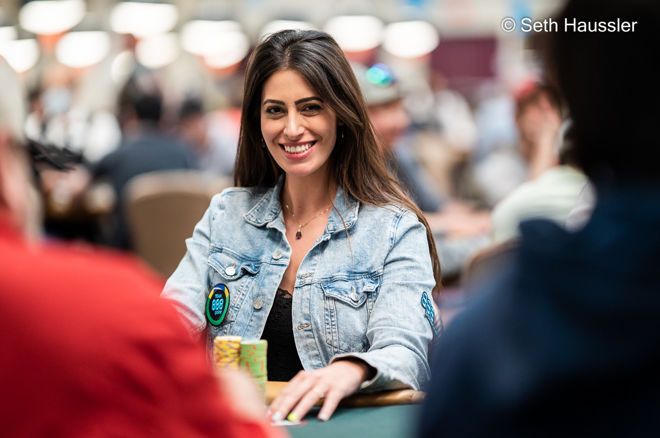 888poker is back again with another Made to Learn episode, which looks to help your online poker game. Their Ambassador Vivian Saliba takes the reigns in this edition and dishes out five simple tips that you can use immediately.
Saliba has just taken part in the 2022 World Series of Poker Europe, where she notched a sixth-place finish in Event #4: €2,000 Pot Limit Omaha. It was her second WSOP final table of the year, with the first coming in Vegas in the summer. The Brazilian went one better in the $600 PLO Deepstack bracelet event and finished in fifth for $52,795.
Play Fewer Tables
One of the first and straightforward things you can do to help improve your online poker game is to reduce the number of tables you are playing on. It is much easier to focus and make the best decisions when you can actually pay attention to the plays that are happening. This is much more difficult when you have too many tables open at once.
Playing fewer tables actually gives you more time as well to make decisions, as you won't have to worry about too many hands taking place at the same time.
Play Within Your Bankroll
The winning player is the one that makes mathematically sound plays more consistently. If you feel under pressure from the buy-in of the event you are playing, it could reduce your ability to make the best moves on the felt, especially if you are in a spot where your tournament life is on the line. Playing within your bankroll will help you not take each decision too personally.
Six New Promotions as 888poker Celebrates 20 Years of Poker
Watch Out for Timing Tells
The easiest tell to spot in online poker is timing tells. The amount of time a player takes to make an action can give you plenty of information.
Even if you have an easy decision in some spots, you should still watch out for how fast you are going to act, you don't want to give away that it was a simple choice.
Timing tells can help your opponent narrow down your range and thus allow them to make a more informed action, this is something you want to avoid so paying attention to your speed of play is something to consider.
Watch Out for Sizing Tells
If you always bet too big with your bluffs, your opponents will pick up on that and this also applies when it comes to betting for value. Make it harder for your opponents by being unpredictable. You should have several bet sizes for when you want to get paid off and for when you need your opponent to fold.
Spanish Pro Lucia Navarro Becomes Newest 888poker Ambassador
Don't Tilt
Players all wish they could win every hand, but unfortunately, that is an impossibility. Controlling your emotions and keeping cool are one of the most important elements of online poker. Understanding that variance exists and that even our big hands will sometimes lose makes it easier to keep composed when at the table.
Ontario Player Bags $140K BLAST Payout
Don't Miss Out On This 888poker Welcome Bonus
Now is the perfect time to join 888poker if you have not already done so. Download 888poker via PokerNews, create your free account, and 888poker will give you a free $88 worth of cash game and tournament tickets – this is a free £20 for residents of the United Kingdom – just for reaching this stage.
Your first deposit is matched 100% up to $400 in the form of a releasable bonus. You have 90 days to release as much bonus as you can. Contact 888poker support for more details.