Analysis on Fast-Playing a Monster from the 'Battle of Malta' Final Table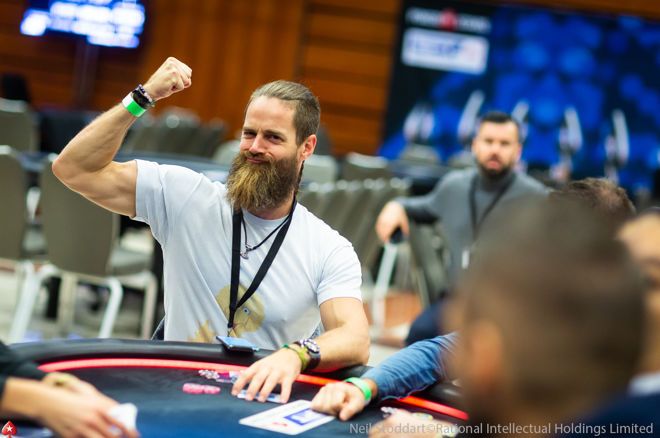 Table Of Contents
We all love to slow play our monsters. There's nothing more satisfying in poker than setting the trap and watching our villain fall right in. There are, however, times when fast-playing is the best route to winning a big pot. This is a situation that Dara O'Kearney and David Lappin look to examine in the latest strategy video from their award-winning podcast 'The Chip Race'.
Setting the Scene
Having already battled passed 4,653 players, accomplished pro Steven Van Zadelhoff was 4-handed in last year's 'Battle Of Malta'. With so much on the line, he flops a monster and in true Viking style, he goes for the jugular.
The action starts with Irishman Colum Higgins raising to 1.5M from the Cut Off with
. Van Zadelhoff calls in the small blind with
. The flop is where things get interesting though as it falls
. Van Zadelhoff checks and Higgins bet 1.3m.
The lads talk about the merits and demerits of this bet for a while, emphasising the awful spot that Higgins puts himself if Van Zadelhoff chooses to raise... which he does!
Van Zadelhoff raises to 4.8m and Higgins makes the call. Throughout this hand, there is plenty of discussion on the ICM factors at play.
The turn comes the
, bringing a second flush draw. Van Zadelhoff moves all in for Higgin's effective 18.9M chips. He explains that he liked fast playing in this spot for a few reasons: the King in his hand being a blocker to Higgin's possible draws making a made hand more likely, the potential action-killers on the river and a physical read he made that Higgins was strong.
Solver Analysis
Dara breaks down what the solver does, revealing a preferred mix of strategies. In such spots, randomisation is optimal and Dara talks about how in a live context Van Zadelhoff was smart to use the additional live info to inform a decision that could have gone both ways.
David then switches the conversation to Higgin's spot. We know he's behind this time but in the long run should he call? It transpires that the
in his hand is an enormous factor. That in combination with the ICM making every chip lost way more valuable than every chip gained means that the solvers always find the fold.
Unfortunately for Higgins, he did make the call and failed to hit his 2-outer. It was certainly a tough spot in a huge pressure moment and the lads dwell again on the flop decision to c-bet. They credit Van Zadelhoff with an excellent decision to fast-play his monster.
The Chip Race is a weekly podcast sponsored by Unibet Poker (@UnibetPoker), home of the currently running Unibet Online Series and the upcoming Unibet Open Online (May 24th/25th). It is available on Apple Music, SoundCloud and Stitcher.
Follow @daraokearney, @dklappin and @thechiprace on Twitter and, if you want more from two of the game's best and most prolific content creators, be sure to check out their entertaining new spin-off web show 'The Lock-In'. It's a 30-45 minute video chat, full of banter, anecdotes and deep dives into what's going on in the poker world. Niall Farrell appeared on their last episode and Jen Shahade is billed for their next episode coming this Friday. Episodes of 'The Lock-In' are dropped fortnightly on the The Chip Race YouTube Channel.