Four Tips for Navigating Large Low Buy-In Online Poker Tournament Fields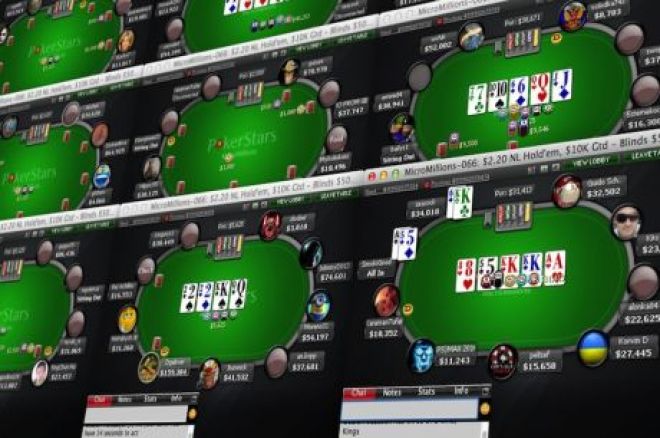 Micro- and low-stakes online poker tournaments can be a great source of frustration for those who frequent them on a regular basis, yet at the same time they can often be the most profitable format of poker you can play. Both of these facts are true primarily because of the large field size of a typical low buy-in online poker tournament.
PokerStars is currently staging its annual Turbo Championship of Online Poker tournament series which includes a number of lower buy-in events — click here for the remaining schedule of tournaments. Like many other tournaments on PokerStars and other sites, the fields are often enormous, sometimes running into the thousands. To be successful in a tournament with such a field size requires a lot of luck. In fact, if Lady Luck isn't shining down on you, your chances of survival are on a par with an ice cube in hell!
That said, you can't simply hope to be lucky if you want to navigate your way through large-field online poker tournaments. You need to act in such a way that you maximize your chances of (1) surviving and (2) progressing through to the money places and beyond.
Four of my best results at PokerStars have stemmed from low-stakes rebuy tournaments that had large fields. While hardly on par with someone like Chris Moorman who goes deep in tournaments whenever he fancies, the following four results made me feel like Moorman, at least for a few hours!
Third in the $3.30 rebuy with 2,994 runners
Fourth in the $3.30 rebuy with 2.662 runners
Fourth in the $5.50 rebuy with 1,002 runners
Sixth in the $3.30 rebuy with 2,663 runners
Here are a four guidelines I followed in those events which helped me make those deep runs.
1. Be There for the First Hand
One thing you can do to help maximize your chances of going deep in a tournament with many entrants is to register for it as early as you can. While I will take advantage of late registration on some tournaments, I try to ensure with these events that I am in my seat when the first hand is dealt. Why do I do this? Because the early stages are when you and your opponents have the deepest stacks and weaker, less experienced players make more and costlier mistakes when they are deep-stacked.
If you feel you have a skill advantage over a large percentage of the field, why would you buy in late when the average stack may only be 20 big blinds and a large number of the "fish" have already been "caught" and busted from the event? Surely you want to play with these bad players — you're giving up free chips and value if you don't.
2. Be Patient
You also absolutely have to be able to exercise patience when playing in a large field tournament. I've lost count of the number of times where I have seen players go broke with some weird or crazy hand in these kinds of tournaments, presumably because they lacked the patience to sit through a poor run of hands or some other mundane excuse. I've done it myself — I'm not perfect. You'll often be folding for long periods of time or have a stack hovering around 15 big blinds and a lot of times it will be these stretches that define your tournament.
3. Be Focused
In addition to sackful of patience, you need to develop the ability to focus for long periods of time to survive in these events. The tournament in which I came in third out of 2,994 entrants started at 7:00 p.m. and took over 11 hours before we decided to make a deal for the remainder of the prize pool. I'll admit I wasn't focused throughout the entire 11 hours — I even fell asleep for 35 minutes! — so I must have gotten plenty lucky to make up for it. But by keeping focused on the task in hand you stand a greater chance of progressing through the field.
4. Be Able to Change Gears
So registering early and starting on time helps, and patience and focus — two qualities that should make up the foundation of the your poker game — are very useful, too, in these events. Additionally, in large field tourneys you need to be able to change gears quickly — that is to say, to be able to alter your style of play quickly in an attempt to bamboozle opponents, as well as to be ready to play your hands aggressively and be completely fearless when it comes to your approach to the game.
That last point certainly comes into play when you are near the money bubble or are approaching the big payouts in the latter stages of these tournaments. Nobody wants to play poker for several hours and not have anything to show for it, so a lot of players tighten up and play extremely passively near the bubble. I used to be super-tight near the bubble until I read the advice of Ari Engel who said that you should always try to burst the bubble yourself (by playing aggressively and bullying those around you) because you'll usually find that those around you will not let you bubble because they'll play too tightly.
The same goes for late in the tournament, a stage at which I have been weak in the past and with which I still sometimes struggle. Instead of attempting to ladder up the payouts by waiting for others to be eliminated from the tournament, play aggressively and be in control of your own destiny. While it is true you may find yourself busting during the first few payout levels with this approach, the times you accumulate a ton of chips and progress to the final table where the real money is will more than make up for these earlier eliminations.
Those are a few core elements of a successful strategy for succeeding in low buy-in, big-field tournaments, a potentially profitable format if approached smartly.
Get all the latest PokerNews updates on your social media outlets. Follow us on Twitter and find us on both Facebook and Google+!