What Do You Do w/ a Flush Draw in Multi-Way Pot Short-Stacked in WSOP Main Event?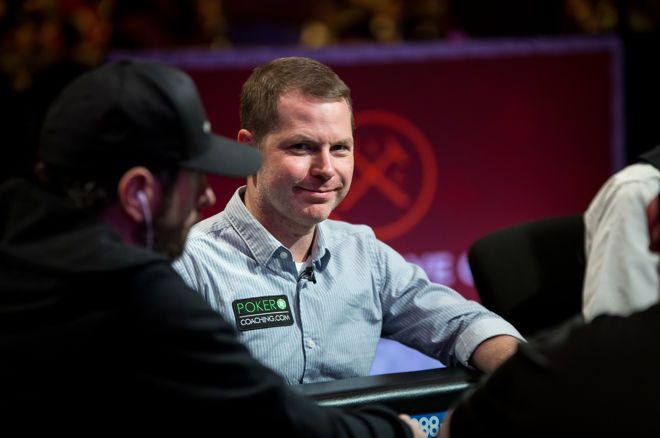 In the 2019 World Series of Poker (WSOP) Main Event, I found myself in an interesting spot with a flush draw in a multi-way pot. Interesting may not be the right word, as I wound up in a tough spot on the turn.
The hand took place with the blinds at 2,000/4,000/4,000 shortly after I had bluffed off a good portion of my chips, which was highlighted in my last strategy article. A tight-aggressive (TAG) player in the lojack, who was sitting on 292,0000 (73 bb), opened for 8,000 and the player on the button called. I looked down at the
in the big blind while sitting on a stack of 84,000 (21 bb).
This is certainly a situation where I could shove it all in, I don't have a problem with that. If the initial raiser was a loose-aggressive player (LAG) I'm pretty sure I'd go in, but from a TAG raiser I'm more inclined to call as I don't think I have a ton of fold equity against such players.
I do call and the flop comes
, which I check. The lojack bets 9,000 and the button calls. This is a spot where the lojack should be betting frequently, even into two players, as they have the range advantage. Once the button calls, he probably has either a pair or a draw, though my hand blocks a bunch of the other obvious flush draws.
You're going to find that if all of your options are bad, if calling is bad, if raising is bad, then folding is probably right.
We're not so worried about being against another draw, but what I am worried about is jamming into a king, which either of my opponents could have. In this scenario, I think a call is in order, which is what I do.
The
turn doesn't do much for me so I check, as does the lojack. The button then bets 25,000 into the pot of 57,000. You'd think the button wouldn't have a lot of
in his range, maybe a hand like
which I'm dead against. If the button has a king, maybe I could jam and have some fold equity, but I think the best options are to either call or fold.
So, am I getting the correct pot odds? Not quite. I'm going to make my flush about 20 percent of the time, but based on the pot odds I need to get there about 25 percent of the time. What about implied odds? If I check the river he's just going to check it back on a lot of spades, so it'll be hard to get paid. Plus, as I said I could be dead against a better flush draw.
So, calling isn't great as I'm not getting the right odds, so I should fold. That's what I do. You're going to find that if all of your options are bad, if calling is bad, if raising is bad, then folding is probably right.
We're just going to fold, move on with our life, and continue playing with our 18 big blind stack. Understand that you are going to experience swings in tournament poker, and a lot of the time those swings are in the downward direction, unfortunately.
For a more thorough breakdown of this hand, check out my thoughts in the following video:
Jonathan Little is a professional poker player and author with over $7,000,000 in live tournament earnings. He writes a weekly educational blog and hosts a podcast at JonathanLittlePoker.com. Sign up to learn poker from Jonathan for free at PokerCoaching.com. You can follow him on Twitter @JonathanLittle.