Pot-Limit Omaha Hi-Low (PLO8) Pointers from WSOP Event #31 Champion Jeff Madsen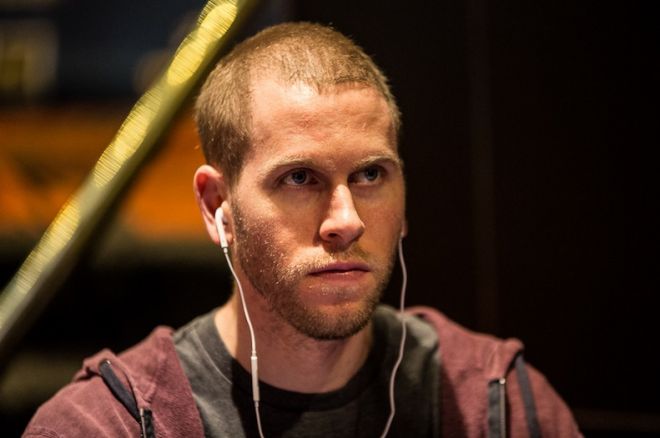 Late on Day 2 of Event #31: $3,000 Pot-Limit Omaha Hi-Low at the 2015 World Series of Poker, Jeff Madsen had a solid stack with three tables remaining in the tournament. Madsen was already a man with pot-limit Omaha Hi-Low (PLO8) credentials. Just a year ago he made his way to the final table of a $1,500 PLO Hi-Low event right here at the Rio All-Suite Hotel and Casino, where he finished fourth for $76,150.
During a break in play Madsen agreed to talk strategy and give us some PLO8 tournament pointers. As it happened, he went on to take down the tournament for his fourth gold bracelet and a $301,413 first prize.
Here's the advice Madsen shared with us regarding this increasingly popular tournament variant.
PokerNews: This is your second straight year making a deep run in a PLO8 tournament here. What do you think makes you so successful in this game?
Jeff Madsen: I play a lot of mixed cash games and a lot of limit Omaha hi-low. That translates to me understanding hand ranges and stuff like that.
Many of our readers probably have experience with fixed-limit Omaha hi-low. How does the way you approach the game change when it becomes pot-limit?
When you add pot-limit, position's really important. You want to play two-way hands. You don't want to get in huge preflop spots with a one-way hand like
. I'm happy to limp with these hands and try to trap someone so I'm freerolling. You want to know the spots where you might be getting quartered and keep the pot small.
So your approach to playing those
hands changes?
Just because you have
, it's not like you should get all your chips in if you flop the nut low [in PLO8]. Sometimes with the nuts, you should play it kind of slow because you could be getting freerolled, especially multi-way. You want to lock up spots where you're quartering someone.
Usually you don't want to build the pot and then fold it, but you have to be careful. It's a strong hand if you have top pair or the nut flush draw to go with it. Those are the hands you can be aggressive with.
What are you looking for as far as starting hand selection goes in PLO8?
The hand values are close preflop. When you see someone repotting a lot preflop, it's usually aces. You're playing ace-twos, nut flush draws, ace-three suiteds. Look for hands that play well postflop.
with no suits doesn't play very well, but a hand like
or
double-suited is fine because they're two way hands.
What's one of the most common mistakes you see players in these PLO8 tournaments making?
Position is really important. They should fold more hands in early position, where you want to play pretty tight. You have to fold a lot of hands that have equity, but you're out of position and you have to hit a perfect flop.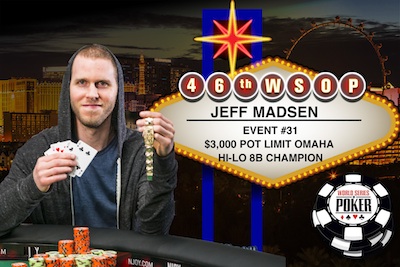 For players transitioning from PLO8 cash games to tournaments, what's an adjustment they need to make?
Stack sizes are way more important. You have to get your stack in more, so you have to manage your stack size. There are a lot of spots where you pot it to commit yourself. In a cash game it's deeper, so there are more multi-way pots.
In other words, you want to play hands that stronger heads-up?
Yeah. If you can get it heads-up, you can push your smaller edges and not have to be nut-nutted.
* * * * *
Thanks to Jeff Madsen for taking the time to talk PLO8 strategy with us, and congratulations as well to him for earning his fourth WSOP bracelet. Listen to Madsen discuss further his victory in Event #31 on Wednesday's episode of the PokerNews Podcast by clicking here.
Want to stay atop all the latest in the poker world? If so, make sure to get PokerNews updates on your social media outlets. Follow us on Twitter and find us on both Facebook and Google+!