Responding to the Surprising Postflop Shove in No-Limit Hold'em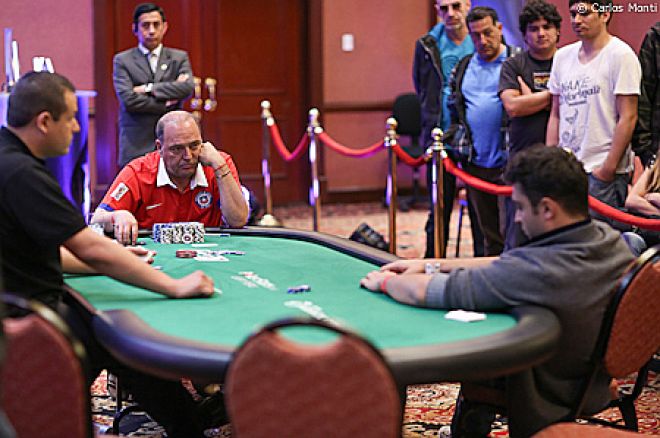 A no-limit hold'em hand can be like a twisty, winding journey, with a beginning and end and sometimes a suprising turn in between.
Yesterday I returned home from another long tourney journey, this time to Lima where the Latin American Poker Tour Peru Main Event played out over the course of five days. Despite coming on the heels of the World Series of Poker, the $2,500 event drew a decent-sized field of 366 entries, with a number of non-LAPT regulars making the trip including Dominik Nitsche, David Vamplew (who finished in the money in 32nd), and World Series of Poker Asia Pacific Main Event champion Scott Davies (who won the LAPT Peru High Roller while there).
The first leg of my trip back was a flight from Lima to Miami, which was on time and mostly without incident, although right at the end something quite unusual happened. We were descending smoothly, and from my window seat I watched as the buildings and greenery surrounding the Miami International Airport came into view. I thought I'd heard the landing gear being readied below, and it seemed like we were only a couple of hundred feet or so from the tarmac. I vaguely noticed a few drops of moisture abruptly appear and dart across the window pane.
Then, surprisingly, we weren't descending. We were going back up.
Passengers weren't too alarmed, but I could see everyone sitting up in their seats and heard a lot of quizzical murmurs as we ascended again back up to rejoin the gathering clouds above the airport.
An announcement followed. "We had a little weather at the end of the runway," we were told, and so for safety's sake we were going to circle around and try the landing again.
It took about 15 minutes to make the second attempt, during which time I found myself thinking back to a key hand from near the end of the LAPT Peru Main Event, one involving the 51-year-old businessman Claudio Moya of Chile and his young heads-up opponent, Chadi Moustapha of Lebanon.
Moya had begun heads-up play with a more than 3-to-1 chip lead, but after Moustapha edged back a bit the pair had struck what was kind of an interesting deal. Even though Moya still had a decent chip advantage with about 4.5 million to Moustapha's 2.7 million, they agreed to split most of the remaining prize money 50/50 — $120,000 for each — then play for the remaining $15,876 and the trophy.
On the surface, it seemed like a bad deal for Moya, but the longer heads-up went on, I started to understand why he'd made it.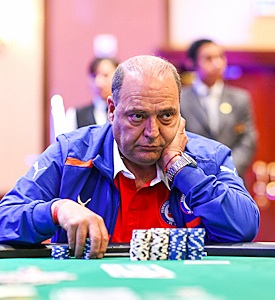 On one of the first hands after the deal, Moustapha flopped a set of fours versus Moya's pocket eights and doubled up to grab the lead. Moustapha then steadily began chipping up, showing a lot more aggression than his Chilean counterpart and seeming a lot more at ease with the heads-up dynamic. Not knowing either player prior to the event, I was hesitant to draw any firm conclusions about either, but I couldn't help applying age-based stereotypes as I became convinced Moustapha was indeed the stronger of the two.
Then came the hand I was referring to above, coming more than three long hours after the heads-up duel had begun.
Moustapha had about 4.4 million to Moya's 2.8 million. The blinds were 50,000/100,000 with a 10,000 ante, and after Moustapha raised his button and Moya called, the flop came
. At that Moya led for 600,000 — not too out-of-the-ordinary, although Moya had not been donk-betting that often in such spots. After pausing a moment Moustapha called the bet.
Their battle had been mostly quiet — indeed, other than Moustapha's double-up, Moya had only been all in a single time since then during all of that time without getting a call. So the hand was already starting to look interesting, relatively speaking.
Then came the point when everyone watching sat up in their seats and the murmuring started.
The
fell on fourth street, pairing the board, and after pausing just a moment Moya announced he was all in for his last 1.9 million or so, a bet that exceeded by a bit what was already in the middle.
The Lebanese player had been cruising along, seemingly, but this was an unexpected turn. Moya hadn't been engaging in a lot of postflop gamesmanship with him, more often than not taking passive lines and just calling or betting small whenever he'd caught a piece of the board.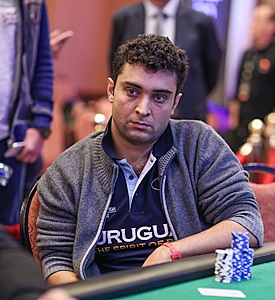 Moustapha normally acted without much delay, but this time he went deep into the tank, taking more than a minute to decide what to do. It was as though the landing gear had been down and he was about to finish the hand — and, perhaps soon, the tournament — but Moya's move precipitated a different course.
At last Moustapha called, and Moya — already standing — quickly tabled his
for a flopped straight. Moustapha had
, meaning he could still make a full house or Broadway, but the river was the
and Moya had retaken the lead. Not long after that hand, Moya won a preflop all-in against the short-stacked Moustapha, the latter's crash giving Moya the cash.
Sometimes a jarring interruption in a player's usual pattern of play signals impending danger. Nate Meyvis addressed this topic in an interesting article titled "When is the 'Big Move' Coming?" There Meyvis identifies some of the conditions that can help contribute to a player making a move like Moya's, and discusses how being aware of these contextual factors can help you decide how to respond when the big move does come.
It's easier said than done, though. When strange things happen, our minds go to strange places. I'll admit my thoughts became just a little scattered and harder to control when the plane was going up when I expected it would be going down. When a player makes an unexpected "big move," so, too, might it disturb your normal thought process.
Our second try at landing in Miami went smoothly. Had Moustapha been given a second chance at playing that hand with Moya, he might well have decided differently, although even in retrospect there seemed reasons for him to have called Moya's shove. (What would you have done?)
But there's no going back and trying again in a no-limit hold'em hand.
Photos courtesy Carlos Monti of the PokerStars Blog.
Want to stay atop all the latest in the poker world? If so, make sure to get PokerNews updates on your social media outlets. Follow us on Twitter and find us on both Facebook and Google+!