Strategy with Kristy: Phil Collins Discusses the WSOP Main Event Final Table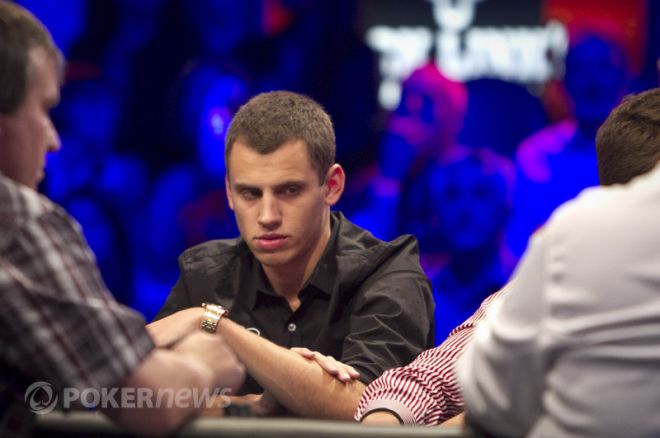 This summer, Phil Collins had an incredible and impressive run in the World Series of Poker Main Event to make the November Nine. He came into the final table fourth in chips. When play restarted three months later, many were surprised at Collins' limping strategy. For this edition of the Strategy with Kristy podcast, brought to you by South Point, Collins discusses his Main Event, interesting spots he encountered, and the thought behind his limping strategy at the final table.
Here is a snippet from the interview:
I may have $3 million in online winnings, but I have nowhere close to that in my bank account. One of the big concerns I had going into the final table was just how absurd the money jumps were going to be, specifically life money jumps.
Even though it looks like all the big money jumps might be up top, they're still very significant from ninth to sixth. It's a million-dollar jump. I may never play another final table for the next five years where first is a million dollars, let alone just a difference between ninth and sixth. It was really important to me to do something that was low variance. Even though I wanted to play for the win, and I wanted the title very bad, it was kind of financial suicide for me to go out ninth. It would be pretty unacceptable to know that if you play a tight and solid game and literally just fold to move up, you can. You're almost guaranteed to do that if you just fold every hand. A couple of people will bust. But, I still wanted to play lots of hands.
I've limped in the past, so I have a limping range I've done online in tournaments. I was somewhat comfortable doing it. It's one of those strategies that you kind of have to dedicate yourself to if you're going to do it. You can't just limp some hands because if they figure out which hands you're limping, you're just going to get exploited. You're going to have to limp everything, and let them know, "I could have aces, or I could have queen-jack." It puts the ball in their court.
I was also playing against players that like to three-bet a lot, specifically Pius Heinz. When he got a lot of chips from Eoghan O'Dea, that was terrible for me. I had a guy on my right with a lot of chips that I was planning on maybe taking some from. He's a great player, but obviously, I'd rather have O'Dea with chips on my right than Pius on my left.
Ben Lamb three-bet a lot too. Sam Holden and Anton Makiievskyi both had re-shove stacks, so if I played an opening game, I was going to be running into re-shoves and three-bets. I was basically unwilling to four-bet shove without the nuts like queens, kings, aces, or ace-king. That means I had to limp because I was never going to four-bet shove light.
You can still win the tournament that way, too. If things started working out well for me, like if I would have doubled quickly, coolered someone, or tricked someone really bad with aces, or won a big pot with jack-nine because I limped it, then I might have just completely flipped if I got up to a top-three stack. I might have just raised every hand after that. But, with Pius getting chips, and me just staying short, I just stayed with the limp the rest of the way. I'm not too proud of it, but I actually think it worked.
Tune in every week for new episodes of Strategy with Kristy, brought to you by South Point. Feel free to send in questions, ideas or suggestions for the podcast to kristy@pokernews.com. Also remember to follow PokerNews on Twitter for up-to-the-minute news.