Triple-Barrel Bluffing on the First Hand in a Shootout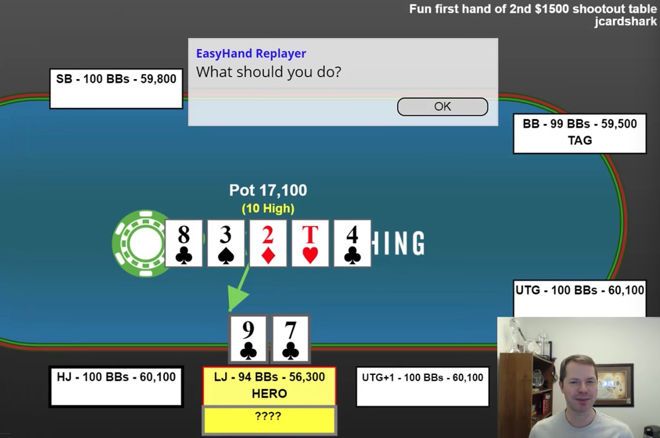 Today I wanted to share and review an interesting hand I played in a $1,500 no-limit hold'em "triple shootout" tournament at the World Series of Poker. In a shootout, you have to win your table to advance to the next round, so it is essentially "winner take all."
This was the very first hand at the second table of the tournament (after I had won my first table). We had all made the money by winning our first tables, and now were playing for a seat at the final table.
The blinds were 300/600 with a 100 ante. With everyone starting with around 100 big blinds or a little more, action folded to me in middle position where I had
and I raised to 1,700. Only the button called.
The flop was very dry coming
, I continued for 2,000 (about 40 percent of the pot), and my opponent called. The turn brought the
, giving me an open-ended straight draw, and I bet again, this time for 4,000, and my opponent called again.
There was a little over 17,000 in the middle when the
river completed the board, meaning I missed my draw. At this point I knew I wanted to fire one last barrel, but I had to decide how much would get the job done.
Watch the video below to hear my reasoning for continuing to barrel all three streets (and see how things turned out). Note how I was already planning to triple-barrel even with the flop bet. Also listen to what I say about bet sizing when triple-barrel bluffing and how it's important not to bet too much on an early street and thus make it more difficult for your opponent to fold to your river bet.
I'm normally a nit, but sometimes I will run an optimistic triple-barrel bluff as I did here. Do you bluff it off on the first hand of a tournament in this situation?
Jonathan Little is a professional poker player and author with over $6,800,000 in live tournament earnings. He writes a weekly educational blog and hosts a podcast at JonathanLittlePoker.com. Sign up to learn poker from Jonathan for free at PokerCoaching.com. You can follow him on Twitter @JonathanLittle.
Finding a trustworthy room to play online poker can be a monumental burden. That's all the more true if you're just looking for a place to play poker for free. We've listed five of the best play-money poker sites to enjoy and help hone your skills.