Analyzing a Year on the U.S. Small-Stakes Live Poker Tournament Grind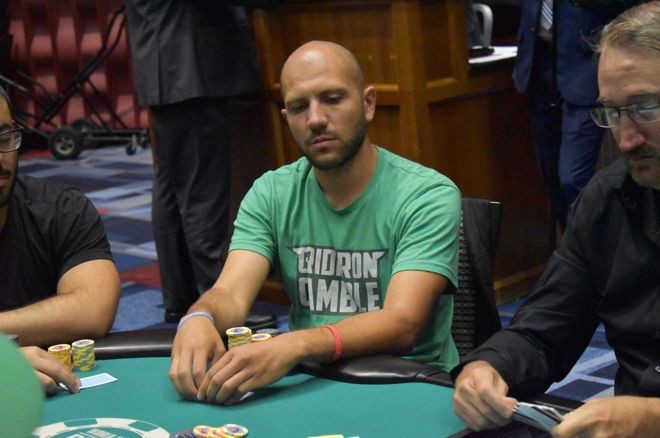 Table Of Contents
Though there's been much hand-wringing over the years about the "health" of the game, at least one subsection of poker is healthier than ever.
The appetite for live poker tournaments in the $300 to $2,000 buy-in range has probably never been bigger. In the United States, tours such as Mid-States Poker Tour, the RunGood Poker Series, the Heartland Poker Tour, WPTDeepStacks and the World Series of Poker Circuit continue to pull in huge numbers year after year, often expanding by a few stops here and there.
Those are the arenas where I get to realize much of my passion for the game, and one of my goals in recent years has been to keep better records of my results. In that vein, while recently flying back from a trip to Australia to report at Aussie Millions, I spent some time filling out my spreadsheets of 2019 results.
Looking it over, several things struck me. I thought I'd go over the highs and lows of the year here and discuss what it can tell us about the low- to mid-stakes scene in the U.S.
The Numbers
| Event | Buy-ins | Expenses | Cashes | ROI |
| --- | --- | --- | --- | --- |
| MSPT Majestic Star | $2,220 | $169 | $42,349 | |
| WSOPC Potowatomi | $6,825 | $440 | $15,833 | |
| WSOPC Hammond | $14,825 | $1,150 | $3,126 | |
| MSPT Meskwaki | $3,330 | $175 | $0 | |
| WSOPC Council Bluffs | $10,475 | $165 | $54,297 | |
| Total | $37,675 | $2,099 | $115,605 | 191% |
What a sick year. A 191% ROI!
I wish. In fact, that was just the first four months of the year. Let's see that table again, only with everything else I played from May onward:
| Event | Buy-ins | Expenses | Cashes | ROI |
| --- | --- | --- | --- | --- |
| MSPT Majestic Star | $2,220 | $169 | $42,349 | |
| WSOPC Potawatomi | $6,825 | $440 | $15,833 | |
| WSOPC Hammond | $14,825 | $1,150 | $3,126 | |
| MSPT Meskwaki | $3,330 | $175 | $0 | |
| WSOPC Council Bluffs | $10,475 | $165 | $54,297 | |
| WPT Choctaw | $7,000 | $460 | $0 | |
| Summer Tournaments | $13,950 | $0* | $2,100 | |
| WSOPC Cherokee | $6,600 | $250 | $0 | |
| MSPT Meskwaki | $2,220 | $75 | $0 | |
| WSOPC Choctaw | $11,200 | $327 | $0 | |
| Total | $78,745 | $3,211 | $117,705 | 32% |
*Wasn't actually $0, but difficult to separate from work expenses
Cue the sad trombone. That's considerably less impressive, if still pretty solid.
Takeaways
So, what are the takeaways from all of this?
Well, first off, it's likely that I ran above expectation. Obviously, I'm mostly playing very good value events. Still my understanding of tournament poker ROI is that 20% is considered pretty good. Therefore, even if I have a decent-sized edge — hopefully this is true! — 32% would be an optimistic expectation.
Also, heaters are fun! My spring sun run included a first-place finish in a Circuit re-entry and a second-place finish in an MSPT event.
Even so, it's important to recognize when you are on a heater and to plan ahead for the inevitable downswing. I cashed for about $117,000 last year, and 98% of it came in about 25% of the year. That's not a recipe for having consistent money, but it's a reality of life on the tournament scene. If you're instantly turning around and using those winnings for more action, the downer will hit very hard.
We must put away some of our winnings as an airbag for when we hit an icy patch and skid off the side of the road. If not we may incur serious injury necessitating a long rehab period — building back at smaller stakes — and be unable to continue firing.
Messy analogy aside, one thing that heater also brings to mind is that it's critical to work on your short-handed and heads-up games. Leaks in these spots can be immensely costly as these situations come up during the biggest money jumps in the tournament, and it's essential to adjust and fight for every pot so the blinds don't rip your stack to shreds. Securing these pay jumps is crucial to your bottom line as they can be the difference between a comfortable winning year and being in the red.
Perhaps the biggest shock to me was the massive number I wound up seeing at the bottom of the "buy-ins" column. While playing very much part-time in between working a full-time job, keeping a regular workout schedule, and trying to have some small semblance of a social life, I still spent nearly $80,000 on tournament entries in 2019.
Now, I definitely took some shots, most notably the WPT Choctaw $3,500 Main Event. However, even during just the second half of the year, I spent well over $30,000 with only one small cash.
What that tells us is that we need a fairly sizable bankroll to comfortably play these events. Downswings of $40,000 are relatively routine. Even keeping expenses as low as I did — find yourself a good, trustworthy roommate and grind those short-term rental maps for value — that hits the old wallet pretty hard.
I recall a few years ago someone on Twitter starting a discussion of what sort of bankroll one would need to grind the WSOP Circuit. Numbers like $25,000 were getting thrown around, and to me that's completely unrealistic. I play an admittedly high-variance style, but that would cover two or three stops for me, and it's pretty easy to go that long without a significant cash. If I can fire off $80,000 in a year playing the odd Circuit and MSPT here or there, that's got to be a few months' worth of small-stakes play for guys like Ari Engel and Nick Pupillo.
Basically it's hard out on those live circuit streets to make the numbers work in the end. Maybe if I get a few six-figure scores rolling in I'll change my tune. But I guess for now, I'll be taking Engel's advice: stick to the day job and try to win some poker monies on the side.