Free Texas Hold'Em Practice Online: How to Start Playing Poker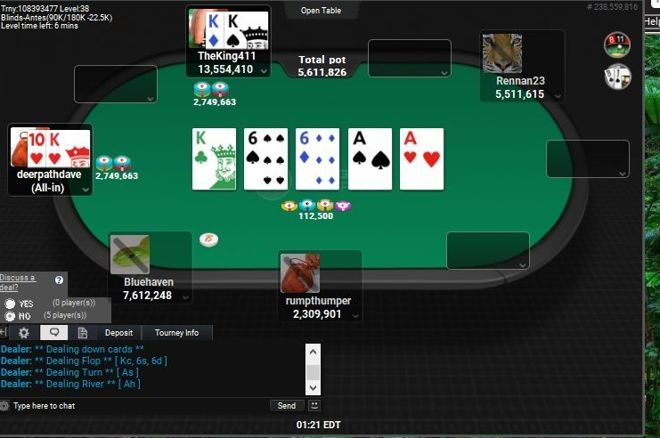 Poker is the world's favorite card game. Everyone loves to play poker and with so many online sites available, you are always minutes away from a great game.
In this beginners' guide to the game, we'll cover:
In other words, if you are looking for a guide that shows you how to practice poker online for free and gives you precious tips to win more hands — you'll love this one.
Why Practice Texas Hold'em Online
There are countless poker games out there, and each one of them attracts a very specific and dedicated crowd of online players.
Variants like five-card draw, five-card stud, and seven-card stud have been the most popular during poker's early history, well into the 20th century.
Today, however, they are not.
These days, Texas hold'em is by far the most played of all variants. In fact, when someone says "let's play poker" more often than not they are referring to playing Texas hold'em.
With so many people already into the game, it might feel daunting to get started with it now. Everyone seems to be an expert already — and no one likes to be the 'easy money' at the table.
The best way to overcome your fears and fix this gap is to use your computer or mobile and invest some time into some good old free Texas hold'em practice.
By practicing poker online for free, you will finally learn the ins and outs of the game's rules and also all the top poker strategy tips winning players use in their games.
Texas hold'em is not a difficult poker variant to learn, although those who have never played may wonder what is the best way to do it and practice the game.
As a beginner, these are the three steps you need to go through before you head to a free poker site and begin to practice poker online there.
Learn the rules of the game. Here on PokerNews we have an entire section for you to learn how to play Texas hold'em with useful guides on gameplay and moves. Use it.
Understand the hand rankings. One of the first and most important things to learn are the poker hand rankings for five-card poker hands.
Play free Texas hold'em practice games. Use these free opportunities to learn the order of play, how betting works, and then eventually start studying strategy and how to win.
Best Sites for Texas Hold'em Poker Free Practice Games Online
Once you are done with the basics, it's time for you to take everything to a different level and play your first games on the best sites that let you practice poker games online.
If you are in a hurry, register on one of these three and get on with the games. They all offer free games to practice hold'em online.
1. Play Texas Hold'em for Fun on ClubGG Poker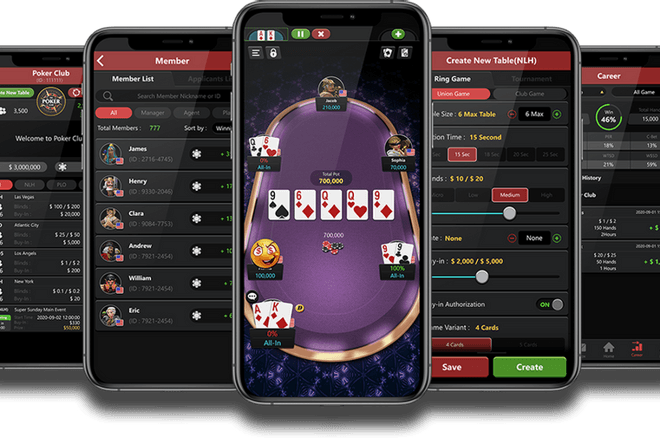 ClubGG Poker is one of the newest poker apps and has quickly emerged as one of the best places to practice Texas hold'em for free.
Players can set up their own free club or join a club of a friend and practice no-limit hold'em tournaments and ring games for free against family and friends.
This app will also give you the opportunity to practice against the PokerNews family including PokerNews staff and readers by joining our Club PokerNews (ID: 811180).
PokerNews Live Reporting Executive Jason Glatzer published an extensive guide on how to join our FREE Club PokerNews at ClubGG. There, you find everything you need to get started playing at ClubGG in no time as well as learn how to join our club.
What's Good: The app lets players from around the world including the United States practice Texas hold'em online for free with players from lots of other countries and the games and software are quite good.
You also can practice with the PokerNews staff and readers in our Club PokerNews (ID: 811180).
What's Bad: ClubGG is for play money only. Players interested in playing real-money cash games and tournaments will have to move onto another platform.
How to Play: Click on this link to download the app (free) and get started.
2. Play Texas Hold'em for Fun on WSOP Poker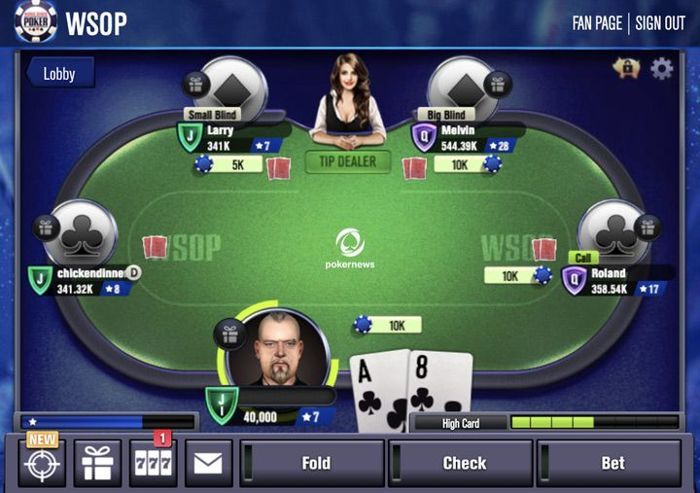 This Texas Hold'em practice app comes straight from the World Series of Poker (WSOP) and is one of the most downloaded mobile poker apps of all time.
If you are looking for free Texas Holdem practice, the WSOP Poker app is one of the best ones out there. US players are allowed to play here and the free apps for iOS and Android are both equally amazing.
WSOP Poker, however, is a free-to-play platform you can't use for anything more than free poker practice. This poker app doesn't feature real money games as it is not licensed to offer real money poker to anyone.
What's Good: The app lets US players practice Texas Hold'em online for free with players from lots of other countries and the games are quite good.
The WSOP poker app attracts tens of thousands of those players who can't access real money games, making their cash games and tournaments a lot more competitive than what you'd expect to find on a free app to play poker for fun.
What's Bad: Once you are done with your free online poker practice, you'll have to move onto another platform to play your first real money games.
How to Play: Click on this link to download the app (free) and get started.
---
3. partypoker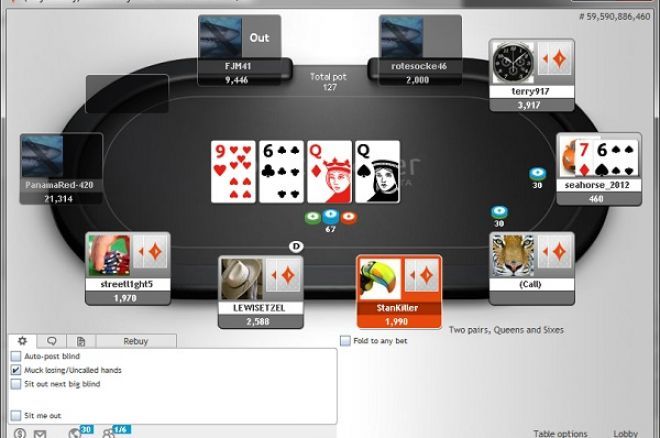 Out of all the most established brands that offer online poker for real money, partypoker is probably the best choice to practice Texas hold'em games for free.
Their increased focus on recreational players and beginners resulted in a multitude of free and low-stakes poker games that are perfect to learn the ropes and begin to master the game.
What's Good: Start from a freeroll tournament and climb your way up to the juiciest games — one level at a time. partypoker offers an impressive range of buy-ins and games. You can move from free hold'em practice to the real money games effortlessly.
What's Bad: Unless you are in New Jersey, you can't play on the partypoker platform from the United States. If this sounds new to you, you might want to have a look at this list of the US poker sites where you find all the explanations you need.
How to Play: Click on this link to register an account (free) and access the practice games on partypoker.
---
4. GGPoker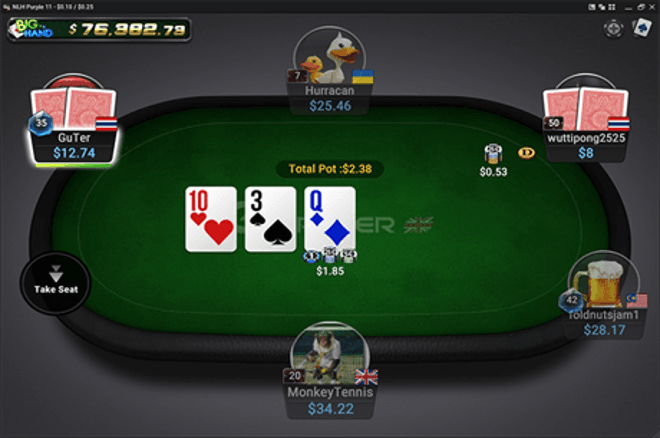 GGpoker is the newest (and boldest) kid on the poker block.
This site boasts an impressive poker platform and features an offer that includes great games for both beginners and high stakes players.
Flagship site of the GGPoker Network, GGPoker started their operations with a particular focus on the Asian poker market and brought a lot of new players into the game.
Later on, they used the experience they acquired in Asia to create an excellent product that is perfect for those who want to learn poker and want to take their time before they hit the real money tables.
Once on GGPoker, you have access to a full 'poker school' that you can use in combination with your free practice games of Texas hold'em.
The best way to use this site is to register to the many daily freerolls to start practicing Texas hold'em online and use them to build up your bankroll.
Once you have collected enough money to make the big jump, invest some of it on the cheapest games to see where your poker skills bring you.
What's Good: GGPoker is still a relatively new site, meaning you'll find a lot of other players who use it to practice Texas hold'em games online for free like you.
Also, here's where you find exclusive (and MASSIVE) online events like the WSOP Online Series to combine your free practice games with the most exciting poker action on the internet.
What's Bad: GGPoker is not active in the United States. You can't use this website for free online Texas hold'em practice if you are in the US.
How to Play: Click on this link to register an account on GGPoker (free) and access all the different games on the site.
---
5. Unibet Poker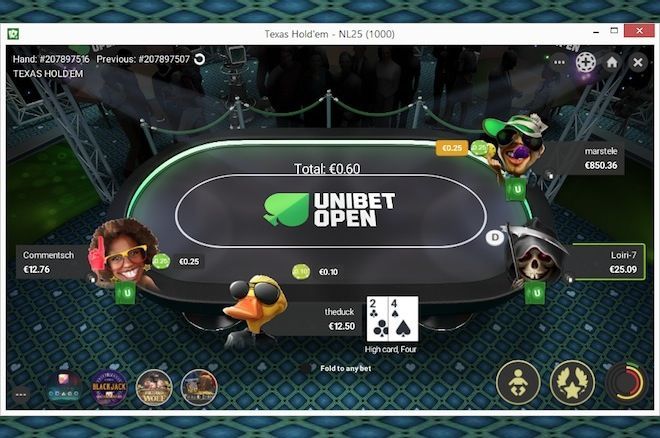 Some say playing on Unibet Poker is a lifestyle choice, and we agree with them.
While this poker site is big enough to host juicy games and offer a lot more than just Texas hold'em, a few things make it significantly different from all the other ones on this list and in the poker market in general.
From the crazy-looking avatars to the mission-based system created to keep you engaged, Unibet is a site built to give recreational players and beginners a good time.
The free poker practice on Unibet is excellent — although it has some limits, too. While the platform is perfect for accessing Texas hold'em practice games, you can't use third-party software to support your learning — and that might be a downer for some.
What's Good: As a beginner who wants some Texas hold'em free practice, you need to give Unibet Poker a try.
With so many people using it for the same reasons as you, this is a great site to practice poker online for free and, who knows, perhaps meet some new online buddies as well.
What's Not Good: Same story — if you are in the United States, you are out of luck. Unibet Poker is available only in New Jersey and, even then, with a limited player pool that includes only users connected from the state.
How to Play: Click on this link to register an account (free) and access the practice games on Unibet Poker.
---
Books, Articles, and Strategy Forums
Besides the free games to practice online, there are many great poker books and free strategy articles for you to learn how to get better at the game.
From basic resources to learn how to play poker to more complex readings on online poker strategy, there's a lot you can use.
One issue, however, is that it might be hard for someone new to the game to tell the difference between texts aimed at beginners and more advanced strategy ones.
You don't want to wander into some high-level, dense text — sort of like picking up an advanced calculus book when you just want to learn about fractions and maybe a little long division.
Many recommend titles like Phil Gordon's Little Green Book or Texas Hold'em for Dummies by Mark Harlan as good introductory books.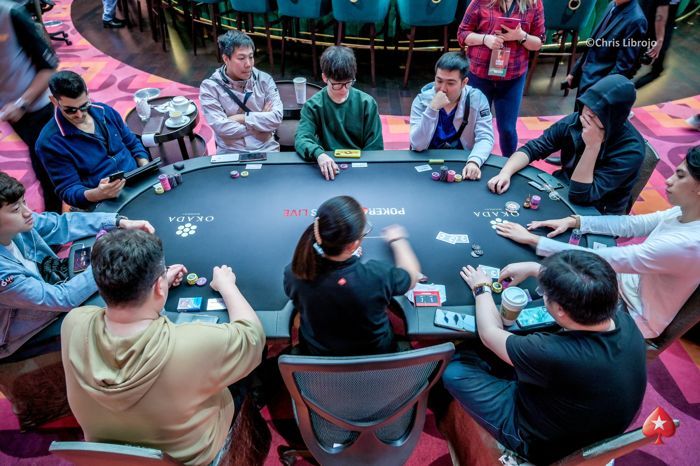 The series of books by Dan Harrington and Bill Robertie on tournament strategy titled Harrington on Hold'em also remain good introductions to basic hold'em strategy as well as tournament play.
Perusing articles here on PokerNews and all the top poker training sites can also provide an excellent start to learning how to play and picking up essential tips to improve your chance of success.
Use the search box up in the right-hand corner of the site (click the magnifying glass icon) and enter whatever you want to know more about.
Search for phrases like 'short deck poker' or 'poker positions' or 'poker equity' — and you'll find several articles helping you with each topic.
Play and Learn from Friends
Getting together with friends and playing poker is, of course, another great way to learn the game, especially if there are more than one of you looking to find out more about Texas hold'em.
When you play online poker with friends you can be relaxed about mistakes as you learn the rules together.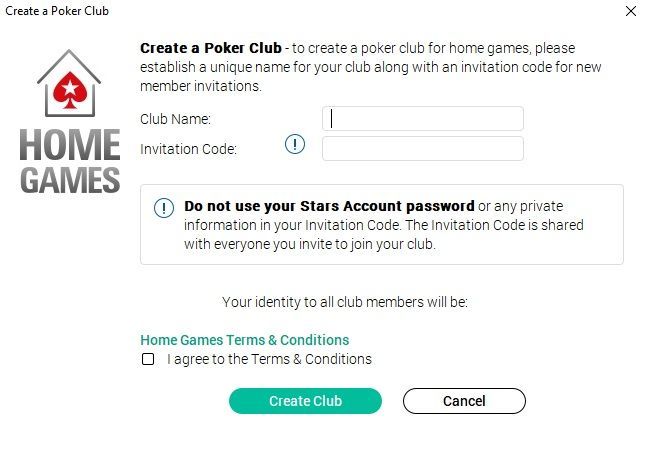 You can also set the stakes as low as you like — even playing just for chips if you want — to reduce the stress of losing at the start.
Poker author Ashley Adams has written several articles here on PokerNews about home games, including a one with useful tips on how to find local poker games.
For many new players, a PokerStars home game is the best place to start when learning and practicing Texas hold'em.
Some find home games ultimately to be more fun than playing in casinos among strangers. In contrast, others will use the home game experience as a springboard into playing in card rooms as a way of seeking new challenges and perhaps playing for higher stakes.
Speaking of Live Poker Rooms…
If you happen to live near a casino or a card room, you may check and see if they ever hold instructional classes or lessons for you to practice hold'em for free — you might be surprised.
Many do offer such lessons, which are invariably free to attend. It is in the card rooms' interest to attract new players, which is why such free sessions are frequently offered.
Such lessons are usually held in the morning or midday when the card rooms are less populated, and are sometimes offered along with lessons in other casino games.
If you want, you can use that as an opportunity to learn also how to play blackjack, how to play craps, how to win at roulette, and the like.
They also give newcomers a chance to sit down at a table and have a bit of experience handling cards and poker chips — something that eventually becomes second nature, but can be a little intimidating to those brand new to the game.
Watch Poker Shows on Television and Twitch
Televised poker is often a draw that attracts newcomers to poker, generally speaking, and Texas hold'em is by far the most frequently shown game on such shows.
Watching the World Series of Poker, the World Poker Tour, and other tournaments can undoubtedly serve as an introduction to the rules of Texas hold'em, while also often providing some insight into strategy as well.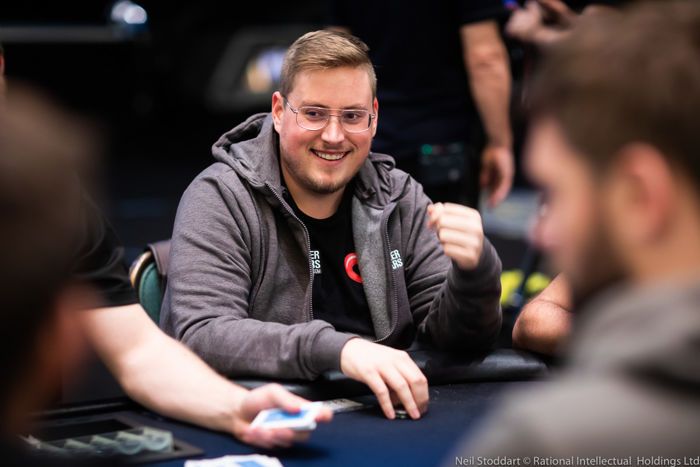 Meanwhile, watching some of the more popular Twitch streams featuring players commenting on strategy while playing online poker can also be a way to learn the game.
Keep in mind that, sometimes, the discussion can be a little more advanced than beginners might like.
Even so, streamers like partypoker's Jaime Staples tend to do very well addressing a broad audience — including newcomers to Texas hold'em — and a lot of players have said they've learned a lot from watching his stream and others.
The Play Money Games Online
Another option for those just learning Texas hold'em is to hop onto one of the many free online poker sites and take a seat at the play money tables.
Nearly every site has play money versions of their games running around the clock — both "cash" games and poker tournaments — and in a lot of cases those play money games are quite popular.
Experienced players will be quick to tell you that the play money games online aren't quite the same as real money games. As you might expect, such games are populated by a lot more inexperienced or casual players, and as a result, the level of play isn't always the highest.
That said, the games are an excellent way to practice Texas hold'em games for free.
They can even in some cases be quite competitive, especially when it comes to sit-n-gos or multi-table tournaments which might feature a lot of loose, reckless play at the start, but are often approached much more seriously by players toward the latter stages.
In any case, do check out the free games on sites like PokerStars, 888poker, partypoker, and others, as they provide a great environment to learn and practice Texas hold'em online for free.
If you are looking for play money poker games for some free Texas hold'em practice online, do have a look at these:
Conclusion
Those are just a few of the many ways new players can learn and practice Texas hold'em games online.
Probably the best advice to brand new players is to read up a little on the rules, then find a game and jump right in, since the best way to learn is by playing.
Frequently Asked Questions
How do you practice Texas Hold'em online

The best way to practice is to register on a website that offers free games online and play until you learn rules and strategy.

Some of these sites offer free practice games with real money prizes, so you can start to build your bankroll for free.
Can I practice Texas Hold'em online for free?

Yes. You can do so playing freeroll tournaments or by accessing the freeplay option available on these online poker rooms.
Are there offline games to practice my poker skills?

A few poker apps and software offer an offline solution to practice. All these games, however, let you play against the computer and not against real players.
Are play money poker games a good way of practicing poker?

While many 'pros' consider the level of these games too low to help a beginner understand how to really play poker, free-to-play poker games are an excellent way to get started with the game.