888poker: Would You Fold a Set of Aces in this Spot at the WSOP Main Event?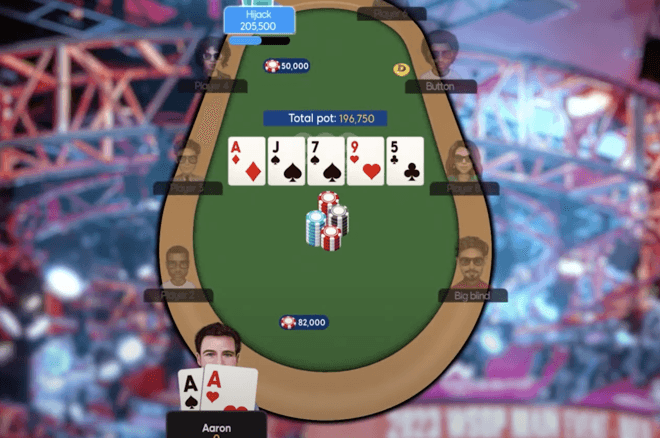 At the 2023 World Series of Poker, 888poker StreamTeam Member Aaron Barone had the opportunity to play in his first ever WSOP Main Event, which also marked his first live tournament buy-in greater than $400.
Barone managed to breezed through his Day 1 flight and was full of confidence heading into Day 2. However, a dose of suspected food poisoning looked to derail of him of any momentum he had built up. Luckily for Barone, he managed to overcome any symptoms, but he soon found himself in another vomit-inducing spot when his Main Event journey resumed.
Did Barone Ruin His Shot At $12,100,000?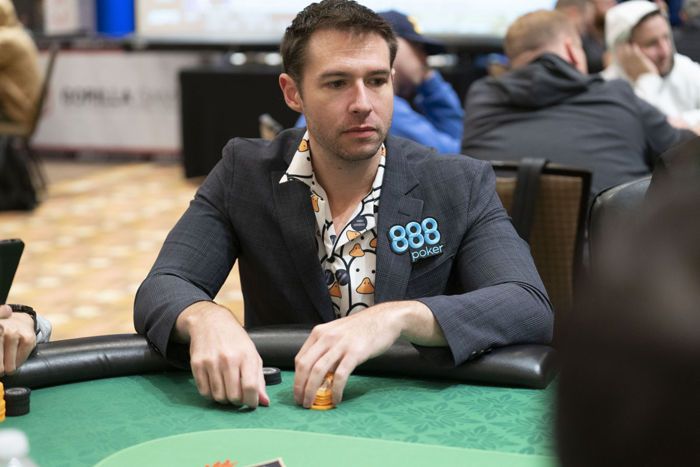 In the penultimate level of his Day 2 flight, where the blinds were 1,000/1,500, Barone looked down at A♠A♥ from under the gun and was ready to add heaps to his 70 big blind stack.
Barone made it 3,000 and picked up calls from the hijack, button and big blind.
"The hijack was a younger person, new to the table, and he hadn't really played any hands in an hour." commented Barone.
The A♦J♠7♠ hit the table in what was a dream flop for Barone, who had a set of aces and a backdoor nut flush draw with plenty of chips still behind.
Barone made a continuation bet of 4,500, with the hijack and the big blind calling. The 9♥ turn prompted Barone to continue firing for 18,500, which was around two-thirds of the pot. The hijack called before the big blind got out of the way.
"At this point, I'm thinking to myself, I'm checking almost every river. Some rivers, a spade comes in, and he could have a flush. If a king or a ten come in, he could have a straight."
Barone stayed true to his word, and he checked the action over to his opponent after the 5♣ completed the board. The hijack then bet 50,000 into a pot of around 70,000, which was for a good chunk of what Barone had left in his stack.
"I've got 82,000 behind, maybe 82,500, and I just started thinking about how many hands he has that I beat versus the ones that I lose to."
With his set of aces, Barone could only be bested by ten-eight and eight-six. The streamer than began listing off all of the hands that he was ahead of.
"He definitely has pocket sevens. Since he's been tight, he might play jacks this way. Ace-jack, ace-seven, ace-five, ace-nine. If he has ten-eight or eight-six, he definitely has nine-seven and jack nine."
With that in mind, Barone opted to move all in and managed to evade the snap-call.
After his opponent looked at the board and his hole cards, they made the call where Barone was "doing cartwheels in his head" and had already begun counting how many chips he was going to have.
Barone quickly turned over his hand, thinking he had the winner, but the hijack tabled 10♠8♠ for the stone-cold nuts.
Keep Track Of All The Action With The PokerNews Online Tournament Calendar
You should give the PokerNews Online Tournament Calendar a try. This free-to-use tool keeps track of the poker tournaments on major online poker sites like 888poker.
You can filter and search the tournaments to find what you're looking for quickly and easily, including the PokerNews exclusive freerolls held on 888poker.
Sign up for 888poker today, and you can register for poker tournaments without ever leaving the calendar!
Calum has been a part of the PokerNews team since September 2021 after working in the UK energy sector. He played his first hand of poker in 2017 and immediately fell in love with the game. Calum's proudest poker achievement is winning the only tournament he has ever played in Las Vegas, the prestigious $60 Flamingo evening event.