WSOP 2021: How To Adjust Your Strategy For Online Events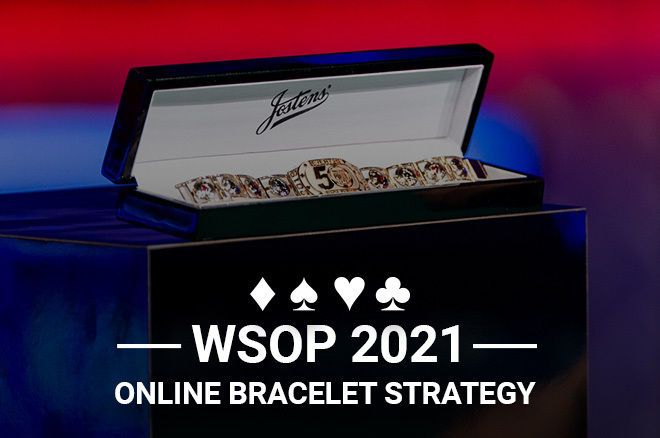 The World Series of Poker 2021 Online is underway with residents of Nevada and New Jersey battling it out at the virtual felt in 33 gold bracelet awarding events. For many poker players, perhaps including you, the WSOP 2021 Online festival's tournaments will be the richest and most coveted you have ever played.
In this article, you will learn the best way to adjust your strategy for the WSOP Online events. We will discuss planning your attack, what to expect from certain events, and how to deal with the pressure of playing for such big prizes. So, make yourself a drink, find your favorite chair, and kick back as we help you prepare!
Check Out the WSOP 2021 Schedule
The WSOP has confirmed an 88-bracelet schedule for 2021. Click here to check it out!
Creating Your WSOP 2021 Online Plan of Attack
"Fail to prepare, prepare to fail," were the famous words of Benjamin Franklin, and they run true when it comes to playing in a poker festival. It is easy to become overwhelmed by the options in front of you, especially at this series where the bustling schedule contains 33 epic events.
Follow all the WSOP 2021 Online action here at PokerNews
Some people reading this article will grind each and every tournament on the schedule. Those people tend to be professionals who play every tournament available to them in order to maximize their expected value. However, the majority of players do not have the time or the bankroll required to compete in all 33 events.
Check your calendar and with your loved ones to ensure you will have no distractions or have any obligations needing fulfilling. Also, be realistic with your scheduling. Are you really going to be able to play your A-game across 20 or so events? It is sometimes better to opt for quality over quantity when it comes to trying to win a bracelet.
The perfect example is Event #5: $1,000 No-Limit Hold'em 8-Max. Is it a good idea to play this tournament if you are having an Independence Day party the day before? Probably not! Likewise, if you have an important business meeting coming up, it is not advised to stay up playing poker into the small hours the day previous.
Do not be afraid to take some time off even if you planned a busy schedule. Just because you wanted to play 20 events does not mean you have to. Go into each tournament well rested and full of confidence.
Key Tip: Plan your schedule to work alongside any bracelet events you plan on playing
WSOP Online Bracelet Schedule: 33 Bracelets in 32 Days
Keep Your Cool: It Is The Same Game
Playing in a WSOP event, even one hosted online at WSOP.com, is an amazing experience. Every poker player worth their salt wants to play at the highest level, and the levels do not come much higher than the WSOP. Plus, you have the chance of taking home one of poker's most iconic prizes - a WSOP bracelet!
It is easy to put yourself under a lot of pressure to perform, and get carried away because you are playing on the big stage. Remember that a WSOP 2021 tournament is still a poker tournament. The rules are the same, you can still make bluffs, it is just the prize money and prestige is more substantial.
Try not to think about the money aspect of the tournament. Instead of thinking you have entered a $500 buy-in event, think of it in terms of your bankroll's buy-ins. Removing the monetary aspect from the game helps you to focus on what is important: playing the best poker you can.
Key Tip: Play your usual game and don't try anything drastic just because it's the World Series of Poker
Making the Switch From Live to Online Poker
The lure of the WSOP 2021 Online is so strong that scores of grinders who usually ply their trade in a bricks-and-mortar live venue will switch to the online poker world in an attempt to bag themselves a bracelet.
If this describes you, you have nothing to fear. Make sure you set up your accounts way in advance of the tournament you plan to play. This will prevent you from having to worry about anything other than playing poker.
Online poker and live poker tournaments are extremely similar, although there are a few subtle differences. For example, online poker plays faster than its live counterparts. The dealer deals quicker, players do not tank for several minutes before acting.
Do not worry about knowing when to act or folding out of turn, etc. because the software helps you; it is impossible to fold out of turn, by the way!
Live Poker vs. Online Poker What's the Biggest Difference Between the Two?
You will likely find that the online games are more aggressive than the equivalent live tournament. Most seasoned online players play a more aggressive style, and there tends to be a little more bluffing because the bluffer does not have to look you in the eyes when they are making a move!
In addition, bet sizes tend to be smaller online than in events played at an actual casino. Min-raises are common preflop, with smaller continuation bets on the flop. Perhaps play some non-WSOP tournaments before diving into the deep end, so you can get a fee for how online poker events play out.
You can read up about more difference between online and live poker in this superb strategy article.
Key Tip: Brush up on the key differences between live and online tournament play
Enjoy Yourself
Above all, poker is about having fun. Take away the money, the jewellery, and strip the game down to its bare bones and poker is all about having fun and outwitting your opponents. Enjoy yourself at the tables and you will leave feeling like a winner, even if a WSOP 2021 online bracelet eludes you.