WSOP Strategy: The Keys to Success, Part 1 -- Food for Thought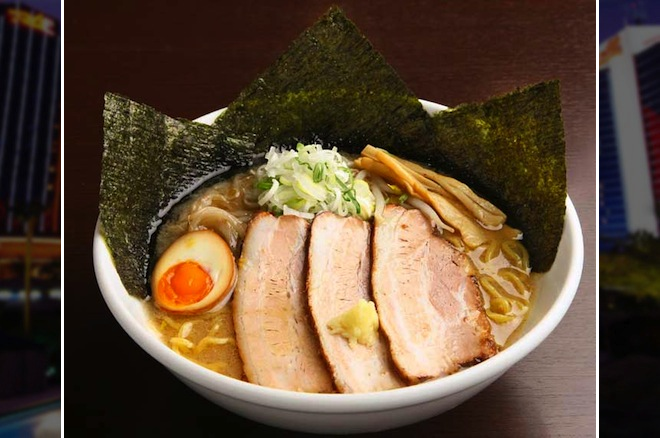 The World Series of Poker is a grueling seven-week stretch filled with all imaginable highs and lows when it comes to the game of poker. Getting your game right to maximize the former and to avoid the latter is paramount, and there are many ways to achieve that.
Now we all know that every single poker strategy book has already been written — and if not, I'm sure Jonathan Little's working on it — and I'm in no way, shape, or form qualified to give you still more advice on how to play ace-king out of position. So this summer, I'm going to do things a little bit differently.
I'll guarantee that before the series is over I will have shared some articles about my favorite games, which include 2-7 triple draw, Badugi, pot-limit Omaha hi-low, and stud hi-low. But I also want to provide some expert insight on things that I'm even better at — eating, drinking, and partying.
Having spent the majority of every summer in Las Vegas since 2009 has made me somewhat of an expert on these topics. Let's start today with the first and talk about the best options for finding food and fun on the dinner break. You can only stick to your strict diet for so long. Accept it, and enjoy it.
Where to Eat on Dinner Break at the WSOP
For the true grinders, there is, of course, the All-American Dave meal plan, individually available at his truck out back. But this strategy article isn't going to be low-carb, high-protein specific — rather, it's more about getting away from the Rio All-Suites Hotel and Casino and enjoying sitting down with friends during the dinner break to unwind.
Let's start with the logistics. You'll have a huge edge if you have a car, or if your friends do, but you'll still want to find places relatively nearby. Here are three places close enough to the Rio — and good enough — to make them prime dinner break destinations.
Option #1: Get Your Ramen Fix
It's common knowledge that a bowl of piping hot ramen is the cure to most problems, and it will almost certainly take the edge off if you've just suffered a horrible bad beat. There are plenty of great ramen options in Las Vegas, but my go-to spot is Ramen Sora on Spring Mountain Road — at most a five-minute drive away.
GTO order: Deluxe Ramen with miso broth ($10) with added spicy meat ($1) (pictured above).
I-Just-Busted-And-I-Need-to-Eat-Away-My-Sorrows-Order: Not so GTO, but even better — extra large Deluxe Ramen with miso broth ($12), killer spicy meat ($1.50), soft-boiled egg ($1), and extra seaweed ($1).
Final thoughts: Jinya Ramen Bar is equally close to the Rio, but is usually a bit busier.
Option #2: Cheap and Fast Thai Food
There are countless great options for Thai food in Las Vegas, but it's not always easy to sneak a meal in during the dinner break. Most of the top-rated places are either jam-packed or not close to the Rio. This is why my go-to Thai spot might not be the first one you'll find on Yelp, but it's a perfect solution for a dinner-break getaway.
Krung Siam is located on the corner of Valley View and Spring Mountain, which makes it a two-minute drive from the Rio parking lot. If you're taking a cab, make sure to tell the cabbie to exit the lot from the back, and take Twain onto Valley View to get there fast.
This place is the type of restaurant where a middle-aged Thai gentleman plays tunes on his keyboard and sings some songs even when you're the only person eating. The vibe is very easy going, and I would suggest hurrying the waiting staff and let them know that you're under time pressure. Get those orders in fast, and go for your favorite Thai dish.
GTO order: Papaya salad and a curry (with brown rice) ($11) or pad Thai ($11) of your choice.
I-Just-Busted-And-I-Need-to-Eat-Away-My-Sorrows-Order: Krung Siam's Platter ($15), drunken noodles ($11), and a fried banana with ice cream ($8).
Final thoughts: Get a Thai iced coffee. Always get a Thai iced coffee. Other great Thai options in Vegas — better restaurants, but not as easy to make on dinner break — include Chada Thai and Lotus of Siam.
Option #3: Sushi for Days
Until a few years ago, it was hard to find decent sushi close to the Rio within the budget of a poker reporter (or for a poker player in deep makeup, for that matter). But Umiya has taken care of that. Located a stone's throw from the Rio on Flamingo and Arville — basically right next to Palms Place — Umiya is the perfect dinner-break sushi-craving spot.
The beauty of Umiya is that you just can't go wrong with their All-You-Can-Eat offering. The $21 lunch option and the $26 dinner include almost everything on the menu, and you can even go healthy with lots of salads, soups, poke, nigiris, and other small dishes on offer.
Obviously nobody likes going healthy at an AYCA place, and that's perfect because Umiya's menu is so extensive that you won't be able to try everything unless you make a deep run in the Main Event.
GTO Order: AYCA — go heavy on the nigiris, especially the super white tuna and unagi.
I-Just-Busted-And-I-Need-to-Eat-Away-My-Sorrows-Order: Go crazy with their special rolls — Red Rock Roll, Crunch lobster roll, Hot night, among many other great choices.
We'll get to those mixed games soon enough, but next week I'll mix it up further with more away-from-the-table WSOP advice.
Photo: Ramen Sora, Las Vegas
Want to stay atop all the latest in the poker world? If so, make sure to get PokerNews updates on your social media outlets. Follow us on Twitter and find us on both Facebook and Google+!