Main Event
Day 1b Completed
Level 8 : 500/1,000, 100 ante
Player
Chips
Progress

Ashley Mason

253,800

23,800

Dale Marsland

172,200

104,200

Benjamin Benoit

140,800

140,800

John Thomson

136,400

136,400

Aziz Youssef

118,900

118,900

Iori Yogo

118,300

98,300

Brendon Rubie

117,700

-42,300

Robert Lam

107,200

107,200

Rasmus Buer

106,200

106,200

Donald Jones

92,200

92,200

Rick Solomon

91,300

91,300

Corbin White

90,500

90,500

Desai Yesha

90,400

90,400

Zeljko Pejasinovic

89,100

89,100

Monica Huynh

80,300

80,300

Patrick Healy

80,100

50,100

Samir Khouiss

78,600

78,600

Hugh Cohen

78,500

56,500

Luke Spano

77,200

77,200

John Kouriel

76,100

76,100

Patrick Crivell

75,800

75,800

Sebastian Pagana

67,800

67,800

Dominik Nitsche

66,900

-38,100

Raymond Ruiz

66,100

66,100

Patrick Woodley

65,300

65,300
Level 8 : 500/1,000, 100 ante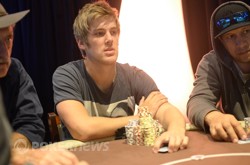 Day 1b of the PokerStars.net Australia New Zealand Poker Tour Sydney Main Event attracted 254 players to the Star Casino. This brought the combined number of entries to 460, a mere one short of last year's event. A prize pool of AUD$920,000 was generated with first place paying an impressive AUD$226,300.
Eighty-nine players were left when the day was finished with Ashley Mason atop the chip counts with a monstrous stack of 253,800 in chips. He waited until the last level to accumulate much of this stack, after the short stacks at his table tried to fight against him. He will lead a 175-strong field coming into Day 2.
Recently back from his deep run at the World Poker Tour Bay 101 event in San Jose, Brendon Rubie was in Thursday's field and will progress to Day 2. His day only went up, with a big hand in the last few levels giving him the chip lead for some time. He eventually finished with a respectable 117,700 in chips.
Snapping at Mason's heels, but a considerable way behind are Dale Marsland (172,200), Ben Benoit (140,800) and John Thomson (136,400). Iori Yogo, Patrick Healy, Jackson Zheng and Joe Cabret were also among the players who made it through Day 1b.
Some of the players who weren't so fortunate included, Didier Guerin, Jonathan Karamalakis, Team PokerStars Pro Bryan Huang, Tom English, Tom Grigg, Tony Hachem and 2011 Aussie Millions Main Event champion David Gorr.
Hachem arrived late to the tournament and didn't last much longer after that. He lost half of his stack when his flopped two pair fell behind to Healy's turned two pair. He then proceeded to get his remaining chip stack in with the
on a
flop with two clubs, and was up against
. The board ran out with the
and
to see his day end.
Gorr was another who played tight throughout the day. He eventually got all his chips in holding the
and was called by the
. When the board ran out
, it saw Gorr exit the building.
ANZPT Sydney Day 1b Top 10 Chip Counts
| Rank | Name | Counts |
| --- | --- | --- |
| 1 | Ashley Mason | 253800 |
| 2 | Dale Marsland | 172200 |
| 3 | Benjamin Benoit | 140800 |
| 4 | John Thomson | 136400 |
| 5 | Aziz Youssef | 118900 |
| 6 | Iori Yogo | 118300 |
| 7 | Brendon Rubie | 117700 |
| 8 | Robert Lam | 107200 |
| 9 | Rasmus Buer | 106200 |
| 10 | Donald Jones | 92200 |
Be sure to join the PokerNews Live Reporting team from 12:30 p.m. local time tomorrow as we bring you all the continued coverage from Day 2 of the ANZPT Sydney Main Event.
Level 8 : 500/1,000, 100 ante
The tournament Director has just announced that their will be three more hands dealt out before players bag up their chips for the night.
Level 8 : 500/1,000, 100 ante
The action has slowed right down, here in the poker room, as players are conserving their chips in hopes of making it into Day 2.
Level 8 : 500/1,000, 100 ante
The last remaining PokerStars Team Pro, Angel Guillen, is almost out of the tournament after committing most of his chips preflop against his opponent.
Guillen:

Opponent:
The players tabled their cards, but it was Guillen's opponent who was all in with his tournament on the line. His cards held though, as the board ran out
, to see Guillen drop to 2,000 in chips.
Level 8 : 500/1,000, 100 ante
With just under an hour left in today's play, Ashley Mason has won a big pot to leap past Brendon Rubie, straight into the chip lead.
Level: 8
Blinds: 500/1,000
Ante: 100
Level 7 : 400/800, 100 ante
Action started with Jackson Zheng opening to 1,600 before facing a raise to 3,900 from the player on the button. He called, and both players saw the flop come
. Both checked the
on the turn as the
fell on river. Zheng's opponent threw out 10,000 in chips, and after a minute, was called.
His opponent tabled
for a straight, which brought upon and instant muck.
Level 7 : 400/800, 100 ante
We arrived at the table to see a player all in for his remaining 12,000 in chips, and finding a caller in Ivan Zalac.
Zalac:

Opponent:
Both players tabled their cards and watched as the board rolled out
. Zalac was unable to catch the cards he needed, as his opponent found a much needed double-up.
Zalac is on the decline, with his stack falling to 20,000 in chips.