Main Event
Day 1a Completed
Level 8 : 500/1,000, 100 ante
Player
Chips
Progress

Gary Benson

193,000

193,000

Jean Pierre Besancon

138,500

138,500

Benjamin Zhang

114,200

114,200

Cathal Shine

101,100

101,100

Carmelo Auditore

94,000

94,000

Sam Capra

93,300

93,300

Adrian Browning

88,700

88,700

Toby Ryall

81,300

81,300

Adam Carlton

79,900

79,900

Martin Ward

78,900

78,900

Michael Fadersen

74,200

74,200

Ken Demlakian

73,500

73,500

Nicholas Heather

71,900

71,900

Richard Theobald

69,300

69,300

Paul Wilson

68,200

28,200

Ebon Bokody

67,500

67,500

Mathew Rolfe

67,100

67,100

Martin Kozlov

67,000

55,000

John Apospolidis

66,700

66,700

Bruce Hall

65,500

65,500

Dmitriy Tymoshenko

64,500

64,500

Ricky Kroesen

63,800

13,800

Michael Kanaan

59,800

-10,200

Haki Sejnovski

59,500

59,500

Xin Zhao

59,000

59,000
Level 8 : 500/1,000, 100 ante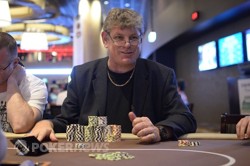 Day 1a of the PokerStars.net Australia New Zealand Poker Tour Sydney Main Event attracted 209 players to The Star Casino. When the day was finished, 86 players were left with Gary Benson atop the chip counts with a stack of 193,000 in chips. Sitting on the other side of the casino, he went relatively unnoticed for much of the day, but was able to win numerous pots to have him top the leader board.
ANZPT Perth Main Event champion Dejan Divkovic was in Thursday's field and will progress to Day 2. His day was up and down, but a big hand involving Jie Gao towards the end of the day pushed him back up the leader board. He eventually finished with a respectable 37,500 in chips.
Snapping at Benson's heels, but a considerable way behind, are Jean Pierre Besancon (138,500), Benjamin Zhang (114,200) and Cathal Shine (101,000). Tobin Ryall, Michael Fadersen, Martin Kozlov, Ricky Kroesen and Michael Kanaan were also among the players who made it through Day 1a.
Some of the players who weren't so fortunate included Liam O'Rourke, Michael Guzzardi, John Caridad, Kristian Lunardi and 2013 Aussie Millions Main Event fifth-place finisher Jarrod Glennon.
Lunardi moved all in on a turn after making a queen-high straight holding
, but he ran into the
of Paul Wilson who had the higher straight. Drawing to chop, it never never came, and Lunardi was eliminated.
Glennon picked the wrong time to make a bluff when he forced his opponent all in on a queen-high board holding
. His opponent had top pair and made the call to take a chunk of chips from Glennon. A few hands later, Glennon was unlucky when he moved all in with his short stack holding pocket kings, but was unable to improve against an opponent who held pocket aces.
Sydney ANZPT Day 1a Top 10 Chip Counts
| Rank | Name | Count |
| --- | --- | --- |
| 1 | Gary Benson | 193000 |
| 2 | Jean Pierre Besancon | 138500 |
| 3 | Benjamin Zhang | 114200 |
| 4 | Cathal Shine | 101100 |
| 5 | Carmelo Auditore | 94000 |
| 6 | Sam Capra | 93300 |
| 7 | Adrian Browning | 88700 |
| 8 | Toby Ryall | 81300 |
| 9 | Adam Carlton | 79900 |
| 10 | Martin Ward | 78900 |
Day 1b is set to kick off later on Friday at 12:30 p.m. AEDT, and there are approximately 165 already in the system.
Be sure to head right back here to the PokerNews Live Reporting pages for all of your up-to-the-minute tournament updates.
Level 8 : 500/1,000, 100 ante
With 15 minutes left on the clock, the remaining players will play two more hands before the end of play.
Level 8 : 500/1,000, 100 ante
With just under 20 minutes to go before the end of play, several players are sitting on 100,000 chips stacks. It will be interesting to see who will overcome the others, and take the honour of finishing Day 1a chip leader.
Level 8 : 500/1,000, 100 ante
We arrived at the table to see Tobin Ryall with a stack of chips pushed out in front of him, with his opponent already all in. The board read
, and Ryall tabled
but was crushed when his opponent tabled
, for a running full house. The 80,000 chip pot moved away from the once chip leader, as his stack drops down to 90,000 in chips.
Level 8 : 500/1,000, 100 ante
We're unsure of what happened, but Liam O'Rourke was just eliminated from the tournament. He didn't seem phased though, as he was just spotted having a good laugh with Daniel Neilson at a neighbouring table.
Level 8 : 500/1,000, 100 ante
Arriving at the table, we found Jackie Glazier all in for her remaining 6,200 in chips and having one caller. The cards were tabled, and it was Glazier's
up against her opponents
.
"I'm really sorry if I give you another bad beat," apologised Glazier.
The flop came
, giving Glazier a flush draw. The turn fell the
, completing her flush, but giving her opponent outs to a full house. The river bricked the
, allowing Glazier to double back up to 15,000 in chips, as her opponent could only sit back and ponder what might've been.
Level: 8
Blinds: 500/1,000
Ante: 100
Level 7 : 400/800, 100 ante
Our chip leader has gone unnoticed until now. Tobin Ryall was just moved to the group of tables near the media desks, bringing with him a very large stack. After a quick count, it was determined that his 140,000 chip stack was the largest in the room, surpassing the next biggest by nearly 50,000 in chips.
After a quick chat with his rail, we found out that he was gifted a double-up when sitting on 60,000 when his opponent shoved on the river with the board reading
, holding only
, losing to the
in his possession.