Main Event
Day 1a Completed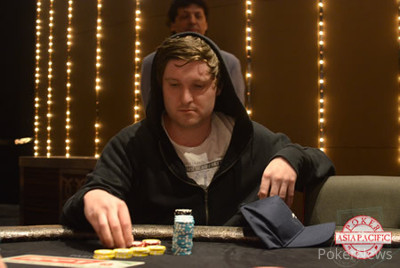 That's all for Day 1a of the 2014 ANZPT Melbourne Main Event!
At the beginning of the day there were high hopes of a big field making their way into the Crown Poker Room. In the end, 242 players partook in the first of two Day 1 flights. That sets the event up to reach 500 players and at the $2,200 buy-in level, that means a massive seven-figure prize pool.
As usual there were plenty of familiar faces at the felt to begin the day, but not all of them made it through the night. Some of those who were eliminated throughout Day 1a include Ken Demlakian, Tom Grigg, Dale Marsland, Jackson Zheng, Benn Skender and Australian Poker Hall of Famers Leo Boxell, Gary Benson and Billy Argyros.
While the aforementioned players didn't have a good day at the felt, it was a different story for 85 others. Especially Akash Mazumdar and Anthony Legg. Late in the day it was looking like Mazumdar would be the chip leader after dealing a double elimination holding
against Stevan Chew's
and another player's
. But then, late in the night, Anthony 'leggieblufs1' Legg stormed into the chip lead, bagging up 160,200. Mazumdar finished with 152,000.
Some of the other players who finished Day 1a with plenty of chips include Daniel Botta (134,100), Dean Francis (119,700), 2011 APPT Melbourne runner-up Tristan Bain (110,800), Phillip Willcocks (110,000) and Adrian Attenborough (99,600).
Others who survived Day 1a, albeit with smaller stacks than the leaders, include Oliver Gill (48,700), Kahle Burns (43,700), 2011 Aussie Millions champion David Gorr (32,200), Mile Krstanoski (24,800) and Hugh Cohen (13,500), just to name a few!
All the 85 survivors from Day 1a will return to the felt from 12:10pm on Sunday. Before then, the second and final batch of Day 1 players will hit the felt. Day 1b kicks off at 12:10 p.m. local time and PokerNews will once again be here providing all the live updates. Be sure to join us then!
Anthony Legg

160,200
160,200

Akash Mazumdar

152,000
2,000

Daniel Botta

134,100
86,100

Michael Christodoulou

120,200
120,200

Dean Francis

119,700
98,700

Michael Chrisanthopoulos

118,800
118,800

Tristan Bain

110,800
-9,200

Phillip Willcocks

110,100
110,100

Henry Tran

108,600
-1,400

Tom Rafferty

108,200
108,200

Hugo Robinson

104,500
104,500

Adrian Attenborough

Natural8 Ambassador

99,600
-2,400

Joe Reina

98,300
98,300

Corey Kempson

97,500
97,500

Cameron Bryce

95,000
95,000

Tania McBride

94,700
94,700

Mauro Sassano

85,200
85,200

Aleksandar Brkovic

84,200
84,200

George Bragg

83,900
83,900

Peter Skouteris

83,000
83,000

Gabriel Messo

81,000
81,000

Rodoliub Batuz

79,700
79,700

Robert Salter

75,500
75,500

Edison Nguyen

75,200
27,200

Christopher Rowlands

74,800
74,800
The tournament clock has been paused and it has been announced that there will be three more hands at each table. Stay tuned for any last-minute action, all the end-of-day chip counts and a recap of the day's action.
Michael Guzzardi finished third in this very event back in 2012 but he won't be matching that result this time around after his recent elimination.
The hand started with an early position raise to 2,100 which was called by Phil Willcocks in the cutoff. Action folded to Guzzardi in the small blind who squeezed all in for 21,400 in total. The original raisor made a crying fold as Willcocks shrugged and made the call.
Guzzardi showed
which brought a cringe from the player who folded as the race was on with Willcocks'
.
The board bricked
to improve Willcocks to a set to eliminate Guzzardi from the tournament. Willcocks is now up to 95,000 and looks set to bag a solid number heading into Day 2.
| | | | | | |
| --- | --- | --- | --- | --- | --- |
| Michael Guzzardi | | | | Busted | |
With just over twenty minutes to go in the day, we've just witnessed the biggest pot of the tournament with a double elimination and a pot worth over 150,000 heading the way of Akash Mazumdar.
It was Mazumdar who started the madness with a raise before Stevan Chew three-bet to 5,100 on the button. The action passed to the big blind who announced all in over the top for around 46,000. Mazumdar then did the same for all of his 63,000-chip stack to put the pressure back onto Chew.
The likeable Aussie pro shook his head in dismay and pondered his decision for several minutes before finally committing to call off his remaining chips.
Big Blind:

Mazumdar:

Chew:
It was a huge cooler and there were no surprises as the board ran out
Here are four of the largest stacks in the room during this final level of the night.
Tristan Bain

120,000
15,000

Henry Tran

110,000
30,000

Adrian Attenborough

Natural8 Ambassador

102,000
-13,000

Alex Lynskey

95,000
20,000
Dennis Huntly has just sent a player home late in this last level.
He held
and had a short-stacked opponent all in with
.
The board ran out
and it was all over for one player, while Huntly moved up to around 70,000.
| | | | | | |
| --- | --- | --- | --- | --- | --- |
| Dennis Huntly | | | | 70,000 | |
This is the eighth and final level of the night.
There are approximately 110 players remaining.
Those who survive will return to the felt on Sunday, while a new batch of player will kick off their ANZPT Melbourne journey from midday tomorrow.
Level:

8
Blinds:

500/1,000
Ante:

100