Event 9 - $10,500 Aussie Millions Main Event
Day 4 Completed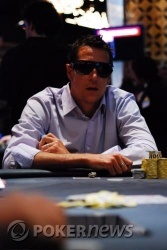 Everything that the 2009 Aussie Millions Main Event was building towards crystallized on Day 4 of this five-day event. We saw big names sent to the rail, expert play, some gamble and lots and lots of flops. We also finished two hours earlier than anticipated, which brought a sigh of relief from the beleaguered media row.

Sweden's hopes for multiple representation at the Main Event final table were dashed early when Day 3 chip leader Michael Tureniec started freefalling through the counts. He ended up on the rail in 19th place, most certainly a disappointing finish. The other Swede in the field, Annica Ivert, fared better, but ultimately was busted in 11th place after getting her chips in with the best preflop hand.

That left room for others to make a charge. Aussie Stewart Scott picked up the baton and started sprinting with it, moving up, up, up through the counts. He is the far and away chip leader heading into the final table after using his big stack to hammer away at all of the smaller stacks on his table as play tightened. Scott finished the day with 4.52 million chips, almost double his nearest competitor and roughly a third of the total chips in play. He has given Australia its best shot ever of crowning its own Aussie Millions Main Event champion.

Tomorrow we move upstairs out of the poker room, to the television studio for the televised final table. Fortune and glory, Dr. Jones, await the winner of the 2009 Aussie Millions Main Event. Who will it be?

We'll be bringing you hand-by-hand coverage of the final table. Play kicks off at 12:30pm tomorrow. Get some sleep!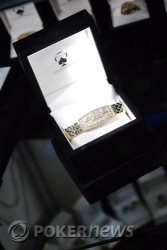 Seat 1: Zach Gruneberg - 1,355,000
Seat 2: Barny Boatman - 349,000
Seat 3: Elliot Smith - 1,120,000
Seat 4: Richard Ashby - 658,000
Seat 5: Stewart Scott - 4,520,000
Seat 6: Peter Rho - 2,420,000
Seat 7: Rajkumar Ramakrishnan - 2,050,000
Seat 8: Sam Capra - 1,161,000
Following the elimination of Zach Fellows and with eight players remaining the Crown tournament staff have surprised us all by calling it a night.

This appears to be a wise move as players are reknowned for tightening up on the final table bubble, which could potentially cause play to drag out until the wee hours of this morning. By suspending play at this point, everyone can get a solid sleep and returned at the originally scheduled start time of 12 noon tomorrow, with a final table of eight players.

We'll have the updated chip counts of all remaining players and the final table redraw for you shortly.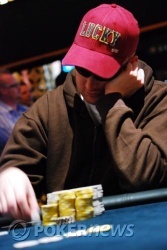 Did somebody put a pep pill in the players' drinks during the last break? We've had another elimination. Peter Rho limped in from the small blind, then quickly called after Zach Fellows moved all in for 332,000 from the big blind. Fellows was in bad shape with
after Rho turned over
.
It was another sweat hand after came down
to give Fellows the smallest flush draw possible to go along with his set outs. He missed the turn
and departed the table after the river fell
. He walks away with AU$100,000.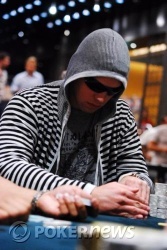 The action folded around to Barny Boatman who raised to 75,000. Elliot Smith moved all in for 530,000 from the big blind and Boatman made the call.
Boatman:
Smith:
Two big hands in the blinds and the board was kind to Smith when it safely arrived
. Smith doubles to over 1 million chips with Boatman now under pressure again with 350,000.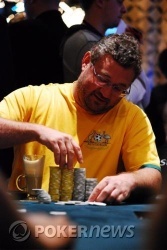 No sooner had we posted about how the play was pretty tight then Tino Lechich called all in with
after Rajkumar Ramakrishnan moved all in with the powerhouse
. To be fair, Rajkumar had three times as many chips as Lehich. Lechich was at risk of elimination, but at least his chips were in the middle as a roughly three-to-one favorite.
was not a flop Lechich wanted to see. It gave Ramakrishnan the nut flush draw, which promptly filled when the turn fell
. Lechich was drawing dead. He left for the payout cage after the river fell
. Ramakrishnan's count was propelled to 2.05 million.
The structure here is deeper than that well that kid fell down that one time. Know what we mean? No? Ok, fine, just take our word for it. Lots of play. AU$2,000,000 on the line. Even the AU$1,000,000 prize for the runner-up is not bad for a week's work. The play has therefore become as tight as a snare drum.

We set the line this morning at somewhere between 3am and 4am before we had our final seven players. At the rate this thing is going, the overs are looking pretty good.

At least a bag of jelly worms was delivered to media row so we can all get our sugar fix.
Ten players remain and we're three eliminations away from our final table. The cards are back in the air.
Level:

22
Blinds:

12,000/24,000
Ante:

4,000