Event #4: $1,150 Pot-Limit Omaha
Day: 2
Event #4: $1,150 Pot-Limit Omaha
Day 2 Completed
Level 23 : 12,000/24,000, 0 ante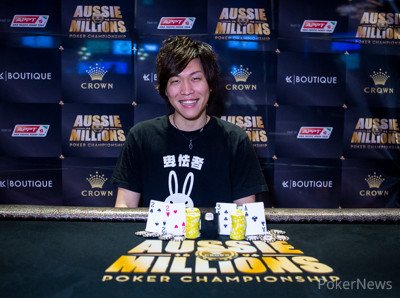 Yuki Ko captured the fourth event on the 2016 Aussie Millions Poker Championship schedule on Tuesday, defeating a final table that included 2003 Aussie Millions Main Event champion Peter Costa.
Costa wound up third and Ko went on to beat Ilias Sagias heads up to earn the Event #4: $1,150 Pot-Limit Omaha title, an exclusive LK Boutique championship ring and a $54,500 first-place prize.
The final table began at half past twelve on Tuesday with nine players remaining and Aussie Mostafa Haidary leading.
Costa was bringing up the rear, but managed to survive two all in pots early, including chopping a big three-way hand with Kiwi Roger Swolf that saw Swolf take over the chip lead.
Jens Lakemeier was the first player sent packing, getting it in with kings on a board with two aces, and fellow German Paul Hoefer was eliminated eighth in a massive three-way pot that saw Costa triple up into contention.
Panayotis Flourentzou took seventh when he ran an overpair into Sagias' set and Swolf continued to hold the lead until Costa took it from him, making a full house over his trips.
Haidary cracked Andrian Chin's aces to double up and Chin was soon sent home sixth before Haidary doubled through Costa and brought him back down to earth.
Ko started moving up the ladder when he busted Swolf fifth, the latter getting it in with a pair and a draw that could not beat Ko's small set. He also ended Haidary's tournament in fourth and started heads up play with a 3:1 chip lead when he made yet another full house, cracking Costa's queens to send the "Silver Fox" home third.
Sagias grabbed the momentum when heads-up started and pulled back to even. It went back and forth for a while until Saigas grabbed the lead, making a flush to double through Ko.
Ko then pulled back into a commanding lead doubling through with a straight against a set of aces and finally made a set of deuces to crack Sagias' aces and secure his first Aussie Millions win.
Level 23 : 12,000/24,000, 0 ante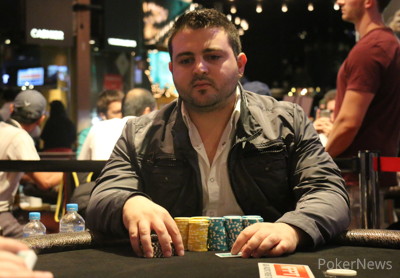 Ilias Sagias made it 70,000 and Yuki Ko called.
The flop fell
and after Ko checked, Sagias potted for 140,000. Ko re-potted and Sagias called all in with the
.
Ko had flopped a set with the
and it held on the
turn and
river to send Sagias home second.
Yuko Ko continues to put huge pressure on his opponent and Ilias Sagias has lost each bigger pot after the Japanese had doubled up back into the lead.
After a raise to 65,000 by Sagias, Ko called and they checked the flop
. On the
turn, Ko led and Sagias mucked.
The same happened on the flop of
and
with Ko taking down the raised pot by betting pot size.
After a raise to 60,000 preflop, both Yuki Ko and Ilias Sagias checked the flop
. On the
turn, Ko bet 80,000 and Sagias raised the pot to 360,000. The Japanese called with only 222,000 chips behind and moved all in after the
river.
Sagias sighed and eventually called off with the
, Ko had rivered a straight with
after his flush draw had busted.
Shortly after, there was pot and repot to send 360,000 chips into the middle of the table. The flop came
and Ko asked for the pot size before leading as much, Sagias snap-folded.
After the usual 60,000 raise preflop, Yuki Ko and Ilias Sagias headed to the flop of
. Ko bet 85,000 and Sagias raised the pot, the Japanese repotted and both players got their stacks in.
Sagias:
for a pair of eights, a gutshot straight draw and the nut flush draw
Ko:
for two pair and the second nut flush draw
The
on the turn improved Sagias but he didn't have the hand locked up yet. It was guaranteed after the
river though and Sagias doubled up for 670,000.
The new level started with two hands that saw a repot and a call before either three-bettor took down the pot on the flop with a big bet. What followed after were five limped hands with four of them going to Yuki Ko on the flop to send Ilias Sagias almost back to the stack where he started the duel for the LK Boutique winner ring.
Level: 23
Blinds: 12,000/24,000
Ante: 0
Both players continue to trade pots with the smaller ones going towards Ilias Sagias and the bigger ones towards Yuki Ko. The latest example saw a limp for 20,000 by Sagias and a raise to 60,000 by Ko, which was called. On the flop
, Ko continued for 45,000 and was called before firing 70,000 on the
turn.
Sagias called and faced a pot-sized bet of 350,000 once the
fell on the river. The Aussie gave it some thought and tossed the cards into the muck.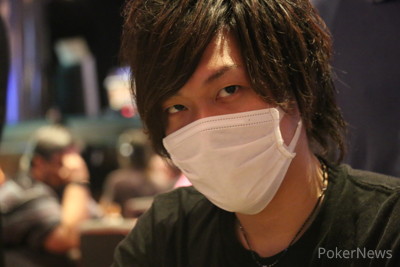 Yuki Ko raised to 50,000 and Ilias Sagias called to see a heads-up flop of
, which both players checked. On the
turn, Sagias check-called a bet of 50,000 and then check-folded the
river when Ko fired a bet of 65,000.
Ko also took down a hand on the
flop with a bet of 85,000 before firing the next heads-up flop of
successfully for 75,000.
Only one showdown took place and the chips went to the Japanese as well. On the
flop, Ko check-called a bet of 40,000 by Sagias. The
turn and
river were checked through and Ko won the pot wuth
for two pair.