Event 2 - $1,100 Pot Limit Holdem (2-Day Event)
Days: 2
Event 2 - $1,100 Pot Limit Holdem (2-Day Event)
Day 2 Completed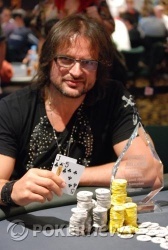 After coming back from the brink of defeat on multiple occasions during this tournament, Australian fashion designer Chris Chronis stormed to the lead late on Day 1 and dominated today's final table to capture the trophy and AU$60,398 in prize money.

His patience was rewarded in the heads-up battle with a determined David Gorr, when his flush was too good for Gorr's trips.

Congratulations to Chris Chronis!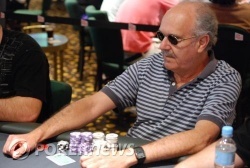 After limping pre-flop both players took a flop of
. Both players checked and saw a free turn card of
. Gorr led at the pot and Chronis raised enough to put Gorr all in. He made the call and finally we had a showdown:

Gorr:

Chronis:


Gorr had slowplayed trips on the flop but ran into trouble on the turn as Chronis had made his flush. David Gorr prayed for the board to pair on the river to survive, but it wasn't to be as the
peeled off to give Gorr 2nd place and AU$35,910.

With his flush Chris Chronis wins the trophy in Event #2: $1,100 Pot Limit Holdem and pockets a healthy AU$60,398!
The heads up battle continues and not much has changed over the past twenty minutes...well except for the dealer! David Gorr only has around ten big blinds and Chris Chronis, who has been relentlessly aggressive all day, seems to have put on the breaks as they wait for some premium cards.
David Gorr is just waiting for a premium hand to make a move and double up. Both players are giving each other plenty of walks, even showing the junk hands face up, as they try to find two hands strong enough to go to war with. Gorr is down to around 60,000 chips.
In raised pot, both players took a flop of
. David Gorr checked, Chris Chronis made a 30,000 chip bet, Gorr min-raised to 60,000 and Chronis announced he was re-raising the pot. Gorr immediately moved all in and Chronis called in a heartbeat, jumping out of his chair as he tabled
for a set of jacks. A dejected David Gorr says "The money was going in anyway" as he flipped over
.

The turn brought the
and the river the
and Chris Chronis doubles up in dramatic fashion, leaving Gorr with only around 140,000 in chips.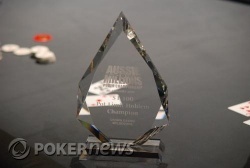 The elimination of Sam Youssef has set up a very intriguing heads-up match between Australian fashion designer Christopher Chronis and one of Australia's original hard knocks, David Gorr.

Chronis owns a number of Playboy brand shops around the world as well as his own fashion company, CCD (Christopher Chronis Designs). Gorr is a popular Australian poker player - a regular at the Crown - who played in the old-school Melbourne home games with the likes of Mel Judah and Michael "Sticky" Guttman.

The two bring very different styles of play to the table - Chronis being relentlessly aggressive and Gorr, patient and deliberate.

They've already exchanged the lead twice since heads-up play began and with the way things are going, the match could end up either way. Stay tuned!
On a flop of
Chris Chronis fired out a 16,000 bet and David Gorr made the call. The turn brings the
and Chronis checks. Gorr bets out 30,000 and Chronis check-raises all in. Gorr makes the call and the trophy is again up for grabs:

Gorr:

Chronis:


Chronis snatched the lead on the turn with his trip deuces and Gorr was left needing a miracle on the river to win the title. However it wasn't to be, as the
peeled off to double up Chronis and even up this heads-up contest once again.
Chris Chronis raised the pot pre-flop and David Gorr made the call.

The flop was
. Gorr checks and Chronis fires a pot-sized bet to which Gorr smooth calls.

The turn brings the
and the action is checked to Chronis who again bets the pot. Gorr then check-raises all in for an additional 80,000 chips and a pot committed Chronis makes an instant call.

Gorr:

Chronis:


Needing a deuce on the river to win the tournament, Chronis can only find a
and David Gorr has doubled up to take a commanding chip lead of Chris Chronis.
Level: 16
Blinds: 4,000/8,000
Ante: 0