€5,250 Championship Main Event
Day 3 Completed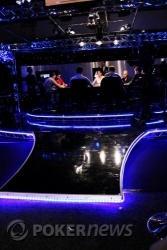 So at the end of play, Salvatore Bonavena pips Alexiou Konstantinos as the chip leader with just under a quarter of the chips in play. Will one of the three Italians become the first Italian to claim an EPT title?

The final table will start at 1pm local time tomorrow, and we'll be here to bring you all the action as they play to a winner.

See you tomorrow!
Salvatore Bonavena -- 1,402,000
Alexiou Konstantinos -- 1,382,000
Francesco Cirianni -- 807,000
Fredrik Nygard -- 666,000
Massimo Di Cicco -- 429,000
[Removed:197] -- 376,000
Raul Mestre -- 313,000
Andrew Alan Chen -- 309,000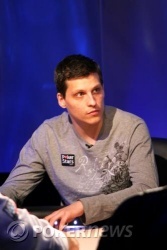 A short-stacked Sebastian Ruthenberg moves all in for 145,000. Massimo Di Cicco quickly moves in behind. Francesco Cirianni looks on in agony for a minute before folding and Ruthenberg discovers he's dominated with
against Di Cicco's
. The board comes
and we have our final table for tomorrow, with EPT Barcelona winner Ruthenberg just falling at the final hurdle as the Italian goes running into the audience to his fans.
Raul Mestre raised to 40,000 and Salvatore Bonavena made the call, but out of nowhere, Alexiou Konstantinos bumped it up to a total of 216,000, effectively telling Mestre that he'd have to put his tournament life on the line if he wanted to play.
Mestre looked tortured, as if somebody were plucking individual hairs from his eyebrow. Although a wrong decision here could result in a final table bubble, Mestre took a deep breath and pushed all in. Once Bonavena had side-stepped out of the way, Konstantinos called the extra 98,000.
Incredibly, and much to the delight of a parched press room, both players had the same hand, and what's more, they shared the same suits with
versus
.
The
board teased a backdoor flush, but no such event occurred and the pot was chopped up, the only profit made being from the blinds and the flat-call from Bonavena. Oh, and Mestre did reach the showdown without suffering a triple bypass.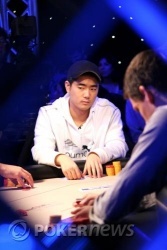 Andrew Alan Chen open-shoved from late position to take down the blinds and antes uncontested. This was the first hand he played, meaning he has a 100 percent success record. My money's on this guy!
It's passed to Francesco Cirianni in the small blind, who raises to 51,000. Raul Mestre thinks for ages (or he might have fallen asleep, he's motionless) in the big blind and then folds.

Next hand and Massimo Di Cicco moves all in for around 240,000 from the cutoff and takes the blinds. Still have to lose one more player before we finish.
A raise preflop from Salvatore Bonavena to around 40,000 and Sebastian Ruthenberg reraises to 110,000 with about 250,000 behind. Bonavena moves Ruthenberg in and the young German shakes his head, hating the situation. He folds and Bonavena shows
, Ruthenberg shakes his head and has to take a moment away from the table to compose himself.
Level:

22
Blinds:

8,000/16,000
Ante:

2,000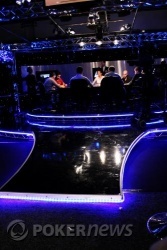 Salvatore Bonavena -- 1,412,000
Alexiou Konstantinos -- 1,166,000
Francesco Cirianni -- 885000
Fredrik Nygard -- 722,000
Sebastian Ruthenberg -- 376,000
Raul Mestre -- 363,000
[Removed:197] -- 325,000
Andrew Alan Chen -- 222,000
Massimo Di Cicco -- 216,000