€5,250 Championship Main Event
Day 2 Completed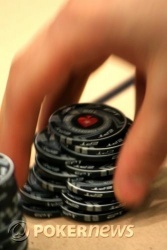 In the immortal words of Mr Porky Pig, "Th-th-th-th-th-that's all, folks." It's been one hell of a day with action galore, as the chip lead changed multiple times and Johnny Lodden's stack fluctuated as unpredictably as usual, but we've finally whittled the 570-strong field down to just 32.

Of course, official chip counts will be flying through cyberspace soon and will shortly grace PokerNews shores, but until then, feel free to absorb my prediction of Flying Fin Fredrik Nygard being the overnight chip leader, with Spanish duo Raul Mestre and Juan Maceiras not too far behind.

Thank you for watching, but please do everything within your power to join us tomorrow at 12pm (Czech time) as we battle away to the final table. We'll take it personally if you don't.
Russian Yury Kerzhapkin has been eliminated from today's event and becomes the final exit of the night. He leaves in 33rd, meaning 32 (yes, I did math at school) shall return for the penultimate day.
Right at the death and before our final exit of the night, Phulippe Bara Carlier was all in for his tournament life with
against the
of Brian Jensen.
With his breath held, Carlier managed to survive a board of
to see his stack climb to 105,000. Jensen, meanwhile, slipped to 75,000.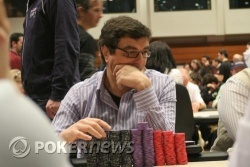 A big "Yes, yes, yes, yes..." (actually, I lost count of the amount of yeses), emanated from Greek giant Konstantinos Alexiou, and the aftermath on the felt showcased the cause.
All in with
, Martial Blangenwitsch was looking good for a double-through against Alexiou's
, but a cruel
board dealt out a below-the-belt blow and sent Blangenwitsch hurtling to the rail in 34th.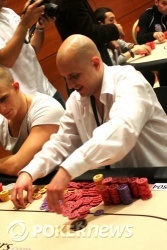 A huge pot was brewing on Table 1. Juan Maceiras had fired 100,000 on the turn of a
board and after a think, Fredrik Nygard made the call. On the river
Maceiras set his opponent in and Nygard went into the tank.
After only two minutes or so, Maceiras called, "Time," which caused a look of bemusement from one of their tablemates, who must have felt he hadn't had enough time yet. But as soon as Maceiras called for time, Nygard shot him a look and immediately called, flipping
and Maceiras mucked.
Nygard allowed himself a little shout of joy as the half-million pot was sent his way.
Level:

17
Blinds:

2,500/5,000
Ante:

500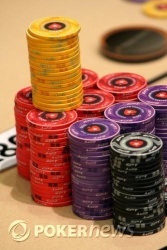 Players are now taking a well deserved break, during which your intrepid TDs will be busy coloring up the small-denomination chips. We'll be back in the yank of a chain.
In this festive season, Raul Mestre has been giving away a couple of early presents. First he raised and called Igor Rejdovjan's shove with
against
and missed. Then soon after, Daniel Biro pushed with
and Mestre called with
but the board came
and the Hungarian doubled through. Mestre still has lots of chips, but is probably just around the 300,000 mark now instead of headier heights.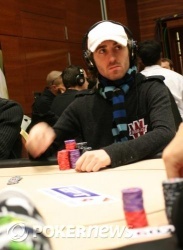 I think the phrase the kids are using these days is "MBN," and it would certainly apply to Ludovic Lacay, whose combination of skill and good fortune have seen him take the chip lead with a mammoth 530,000.
Most of those chips derived from his recent encounter with Pavel Blatny, where Lacay limped from the button with
before calling a raise from Blatny in the small blind.
The
flop was a beauty for the Frenchman, who duly raised his opponent's leading bet. Blatny smooth-called.
On the
turn, all the monies went in, Blatny probably confident about his
before being shown Lacay's goodies. No assistance on the river, and the Czech was gone, leaving Lacay to start reconstructing the biggest stack of the tournament thus far.