Main Event
Day 2 Completed

Player
Chips
Progress

Benny Spindler

469,800

59,800

Jamie Rosen

405,000

5,000

Basile Yaiche

403,600

135,600

Martins Adeniya

395,000

100,000

Jonathan Layani

363,000

-22,000

Matthijs Remie

353,500

-36,500

Sandor Demjan

350,500

-14,500

Andre Klebanov

349,900

19,900

Steven Kelly

346,200

146,200

Hugo Loureiro

327,000

243,200

James Mitchell

315,000

8,000

James Wilson

306,300

249,300

Daniel Neilson

303,100

131,100

Marvin Rettenmaier

301,300

261,300

Neil Lusher

287,000

232,300

Paul Foltyn

277,000

179,700

Sebastian Blom

258,100

18,100

Pascal Hartmann

255,200

212,600

Paul Alterman

254,800

-9,200

Andrew Chen

251,400

205,400

Andreas Munoz

248,700

201,900

Paul Vas Nunes

243,700

-20,300

Justas Semaska

239,100

186,900

Stanislav Koleno

234,200

138,800

Jamie Burland

231,900

183,600

Level 13 : 1,000-2,000, 300 ante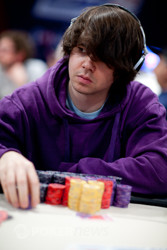 Day 2 of the 2011 PokerStars.com European Poker Tour London Poker Festival Main Event is all said and done after five 75-minute levels of play. The field of 417 players that returned today has been whittled down to around 170 players. Leading the way looks to be Benny Spindler with 469,800 in chips.
Team PokerStars Pro was represented well coming into Day 2. Those sporting the red spade badge and country flag included Joe Hachem, Vanessa Rousso, Jason Mercier, Victor Ramdin, Matthias De Meulder, Barry Greenstein, Ivan Demidov, Sebastian Ruthenberg, JP Kelly, George Danzer, Noah Boeken, Vicky Coren, Ville Wahlbeck, Ana Marquez and Angel Guillen. Out of that bunch, Mercier, Marquez and Ruthenberg were able to advance as all the others were sent packing.
Other notables who were eliminated on the day were Scott Seiver, Surinder Sunar, Cornel Cimpan, Sam Chartier, Justin Bonomo, Jonathan Karamalikis, Mickey Petersen, Soren Kongsgaard, Nick Binger and Dominik Nitsche. We also lost last year's EPT London champion David Vamplew, which opens up the door for a new winner this year.
Of those who are are advancing to Day 3, we've got James Mitchell, Martins Adeniya, Sebastian Blom (brother of Viktor Blom), Steve O'Dwyer, Sorel Mizzi, Daniel Neilson and Jake Cody. Team PokerStars Pros Juan Manuel Pastor and Nacho Barbero are also returning for play on Monday.
Day 3 begins at noon tomorrow. Surely the money bubble will break then, so you won't want to miss any of the action. Be sure to tune into PokerNews then for all of the live coverage.

Level 13 : 1,000-2,000, 300 ante
The tournament staff has just announced that each table will finish the hand they are on and play five more hands.

Player
Chips
Progress

Benny Spindler

410,000

107,000

Jonathan Layani

385,000

60,000

Sandor Demjan

365,000

149,000

Andre Klebanov

330,000

249,000

James Mitchell

307,000

183,000

Paul Alterman

264,000

187,500

Andrew Feldman

224,000

119,000

Jeff Sarwer

70,000

-60,000

Level 13 : 1,000-2,000, 300 ante
Action folded to Dan Kelly in middle position and he moved all in for 21,700. Arvi Vainionkulma made the call on the button and the hands were tabled.
Vainionkulma:

Kelly:
The board ran out
and with the straight on board, the players chopped up the pot.

Player
Chips
Progress

Jamie Rosen

400,000

149,000

Martins Adeniya

295,000

57,000

Frank Fellous

290,000

188,600

Sebastian Blom

240,000

54,000

Steven Kelly

200,000

151,000

Ana Marquez

138,000

7,000

Team Pro: Spain

Jason Mercier

112,000

-74,000

Barry Greenstein

Busted

Nick Binger

Busted

From under the gun, Daniel Rowlands raised to 5,000. Action folded to Team PokerStars Pro Joe Hachem in middle position and he made the call. Everyone else folded and the dealer ran out the
flop. Rowlands fired a big bet of 15,500 with exactly 25,000 behind. Hachem took his time and then raised all in for 41,700. Rowlands immediately looked pained. He put his head in his hands for a few seconds while thinking about the decision. After about a minute he said, "Well, if you have it, you have it," and made the call.
Hachem rolled over the
, but to his astonishment and to the astonishment of the table, he was behind the
for Rowlands. Given all of Rowlands actions, no one thought he had a hand that big.
The turn was he
and the river the
. Both missed Hachem and he was crushed down to just 1,300 in chips.
On the next hand, Roberto Romanello raised from under the gun to 4,300. Hachem called all in for his last 1,000 and then action folded to Bryn Kenney in the cutoff seat. He called and Rowlands also called from the big blind. The flop came down paired with the
falling. Action checked to Kenney and he bet 7,400. After Rowlands folded, Romanello raised to 20,000. Kenney folded and left Romanello to battle with Hachem.
Hachem held the
, but was in a world of hurt against the
for Romanello. Two hands in a row Hachem was up against kings now and this time he needed a miracle to save his tournament.
The turn was the
and the river the
to end the hand and send Hachem to the rail.
Level: 13
Blinds: 1,000/2,000
Ante: 300

Level 12 : 800-1,600, 200 ante
The players are now on their last 15-minute break of the day.