$2,700 No Limit Hold'em Main Event
Day 2 Completed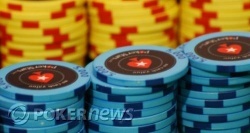 With 43 minutes left in Level 19, we have reached the end of play for the day!

We began some 12 hours ago with 93 players, and all but eight have fallen by the wayside. Among the casualties of Day 2 were PokerStars pros Humberto Brenes, Vanessa Rousso, and Greg Raymer, as well as Mark Kroon, Alex Fitzgerald, Edward Sabat, Carter Gill, Mike Halioua, and start-of-the-day chip leader Jorge Gonzalez.

It certainly was a hard-fought battle for our final eight. Here are the players who have earned their ticket to the final table and the amount of chips they bagged up at the end of the night:

Alexandre Gomes - 763,000
Gylbert Drolet - 691,000
Jose Miguel Espinar - 675,000
Lisandro Gallo - 465,000
Alex Brenes - 457,000
Paulo Cesar Figueiredo Ribeiro - 281,000
Juan Jose Perez - 167,000
Sidney Chreem - 93,000

As the sole PokerStars pro remaining, Alexandre Gomes is the handicapping favorite going into tomorrow, but any of the other seven players have a chance to notch the upset victory. The chips are still being counted, recounted and bagged, and we'll have official chip counts for you shortly.

The final table is slated to begin at 12 noon local time, but we anticipate a bit of a late start. We thank you for following along with us today, and we hope you'll do the same tomorrow as we crown our champion in the 2008 PokerStars.net LAPT Punta del Este. Goodnight from Uruguay!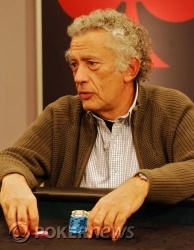 Over on the featured table, action folded to Alexandre Gomes in the small blind. He moved all in, with the big blind on the short stack of about 80,000. Carlos Alberto Curi looked down at
and made the call. Gomes'
was dominated, but he had the opportunity to eliminate a player.
A crowd gathered as the dealer spread the flop:
. Curi was apparently in good shape to double up. All he needed to do was dodge a...
on the turn. That card put Curi in grave danger of being knocked out on the final table bubble. He needed to catch any ace or any heart to stay alive. The dealer burned and turned the final card:
A roar broke out in the room as Gomes' two pair bested Curi's pair of queens. Unable to hold his lead in the hand, Carlos Alberto Curi was eliminated in ninth place and will get to spend tomorrow elsewhere. He pockets more than $12,000 for his efforts; not bad for two days' work.
The players are back, and we're playing what looks to be the last level of the evening.
Level:

19
Blinds:

10,000/5,000
Ante:

1,000
Action has been incredibly deliberate and thoughtful during the course of this level. With perhaps 15 hands played in the hour, we have come to another break.

We'll take 10 minutes to stretch our legs while the pink T100 chips are colored up and raced off.
Outer Table
Lisandro Gallo - 470,000
Juan Jose Perez - 240,000
Paulo Cesar Figueiredo Ribeiro - 255,000
Alex Brenes - 400,000
Gylbert Drolet - 695,000

Featured Table
Jose Miguel Espinar - 540,000
Alexandre Gomes - 560,000
Carlos Alberto Curi - 120,000
Sidney Chreem - 132,000
We are now down to our final nine players, and apparently there was a discrepancy with the tournament information. The staff has informed us that the final table only has eight hole-card cameras, so we're going to play on until we lose one more.

In this unusual configuration, we have one five-handed table and one four-handed table remaining. The tournament is being dealt hand for hand.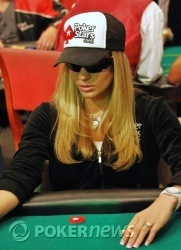 We are unable to gain access to the featured table area, but we can see that Vanessa Rousso has just been eliminated. She held
and was all in preflop for about 230,000. She was called down by Jose Miguel Espinar holding
.
The board failed to provide salvation for Rousso, and she is knocked out in 10th place.
Level:

18
Blinds:

4,000/8,000
Ante:

500