€4,300 Main Event
Days: 1b
€4,300 Main Event
Day 1b Completed

Level 9 : 500-1,000, 1,000 ante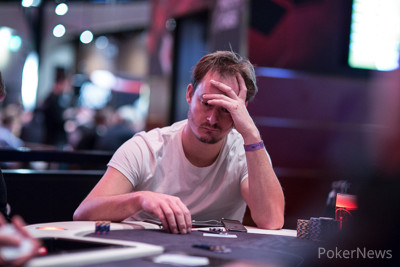 Day 1B of the Master Classics of Poker saw a much larger turnout than Day 1A. A total of 191 entries were made into the €4,300 event, growing the total to 266 and 75 players survived Day 1B.
A small legion of familiar faces and former champions made their way to Holland Casino Amsterdam for the annual event. Among those to bag were Noah Boeken, Stefan Wolzak, Lex Veldhuis, and Steve O'Dwyer.
A Strong Dutch Showing
It was a who's who of Dutch poker in the tournament room, with a battery of international stars joining in on the fun. While players like Chino Rheem, Jan Eric Schwippert, Davidi Kitai, and Bart Spijkers all gave it their best, they didn't make it through the nine levels played on Day 1B. They all still have one last chance to enter though as registration remains open till play gets underway on Day 2.
Dutch poker star Fatima Moreira de Melo was among those falling victim to a lack of rungood. She got it in with a flopped straight with a flush draw to go with it against a player holding a bare higher straight draw. The dealer burned and turned the worst card in the deck for the recent Dutch Poker Hall of Famer; her opponent made a higher straight and the river didn't give her the much-needed diamond to stay alive.
Legendary Dutch player Rob Hollink also departed early on. He got it in with ace-king against Marcel Goldenbelt's jacks. Hollink didn't connect with the board and was forced to reenter.
More Day 1B Survivors
Jasper Meijer van Putten, who won the last EPT in Prague before this year's resurrection of the tour, had a good showing on Day 1B, leading for some part of the day. The biggest contribution to his stack came in the form of flopped trips versus flopped trips, with Meijer van Putten's superior kicker making for the deciding factor. In the end, he bagged 87,900.
David Boyaciyan, an MCOP winner with a nice EPT Prague track record of his own, couldn't miss out on his hometown tournament and made his entrance as well. One of the best performing Dutch poker players has taken a bit easier approach to poker recently but hadn't forgotten his tricks, with no sign of being rusty whatsoever. He bagged 89,000 in chips.
Not just the live pros came out for the biggest poker tournament in Holland, the online delegation also made their appearance. Players like Luuk Gieles, Jans Arends, Rens Feenstra, and Jasper Wetemans all sat down right when the event got underway and made it through the nine levels of play.
November Niner Michiel Brummelhuis ended the day with the heaviest of bags; he turned 30,000 into 193,100. He's had plenty of success in this event. In 2016 and 2015, he finished 13th. In 2014, he finished 18th and in 2013, he finished 26th. After play concluded, he predicted finishing eighth this year.
While there was a hiatus between Day 1A (Friday) and Day 1B (Tuesday), the event now plays out like a regular tournament with Day 2 getting underway Wednesday at 2 p.m. Blinds will be 600/1,200 with a 1,200 big blind ante. PokerNews will once again be present to bring you all the updates you can ask for. Check the PokerNews MCOP Live Updates to stay in the loop.

Level 9 : 500-1,000, 1,000 ante
Player
Chips
Progress

Michiel Brummelhuis

193,100

-15,900

Stefan Wolzak

188,400

62,600

Ivane Khazaradze

177,000

177,000

Joey Vittali

170,800

170,800

Olav Genemans

166,500

166,500

Noah Boeken

165,800

50,800

Hakim Zoufri

157,700

127,700

Vlada Stojanovic

140,300

140,300

Danny Tang

139,900

139,900

Ruud Kerkhof

135,200

135,200

Michal Mrakes

135,100

135,100

David Margi

132,100

132,100

Lex Veldhuis

131,500

41,500

Team Online

Steve O'Dwyer

128,100

30,100

Erkan Atmaca

121,700

121,700

Luuk Gieles

117,600

29,600

Viktor Lavi

116,500

116,500

Danilo Velasevic

114,600

114,600

Ben Jones

114,300

114,300

Jim Saft

113,700

113,700

Eli Fisz

108,700

108,700

Diego Zeiter

106,000

106,000

Sergio Castelluccio

103,700

43,700

David Vidana

103,100

103,100

Kristian Eques

99,800

99,800

Level 9 : 500-1,000, 1,000 ante
The clock has been paused and the tournament speaker announced there are four more hands to be played. We'll report back shortly with assorted end of day chip counts.

Level 9 : 500-1,000, 1,000 ante
We picked up the action on the turn as, from the hijack, Niek Minten had just checked on
. Michiel Brummelhuis in the cutoff bet 10,200 and the button called. Minten called as well.
The
hit the river and Minten checked. Brummelhuis shoved all in and the button called all in for 34,000. Minten reluctantly folded.
Brummelhuis showed
while the button mucked his
.

Level 9 : 500-1,000, 1,000 ante
Down to about 17,000, Vojtech Ruzicka shoved all in from the hijack. His neighbor Jan Eric Schwippert called all in for his last 7,000 or so. The button and blinds all folded.
Vojtech Ruzicka:

Jan Eric Schwipper:
The board ran out
and Schwippert and Ruzicka shook hands before the former left the tournament area. The latter started stacking.

Level 9 : 500-1,000, 1,000 ante
From middle position, Stefan Wolzak opened for 1,300. The player on the button shoved for 22,300 and big blind Jan Eric Schwippert shoved over the top. Wolzak instantly called all in for 51,000.
Stefan Wolzak:

Jan Eric Schwippert:

Button:
The board ran out
and Wolzak doubled through Schwippert. On top of that, he added the button's 22,300 to his stack as well.
Level: 9
Blinds: 500/1,000
Ante: 1,000

Level 8 : 400-800, 800 ante
A player in early position limped in and German high stakes player Jan Eric Schwippert over limped from the hijack. Small blind Stefan Wolzak, who busted earlier today but bought back in, completed. Hakim Zoufri checked his option in the big blind.
The flop of
saw the blinds check. The first limper now bet 1,000. Schwippert called before Wolzak check-raised to 4,000. Zoufri and the initial limper folded. Schwippert three-bet to 11,000 and Wolzak called.
Both players checked the
on the turn and the
completed the board. Wolzak checked once more and Schwippert bet 10,500. Wolzak check-raised to 25,000 and Schwippert called.
Wolzak showed
and chopped the pot as Schwippert tabled
for the same full house.
"I've seen worse runouts," Wolzak said with a big smile.

Level 8 : 400-800, 800 ante
The player under the gun opened for 1,800 and Davidi Kitai, with a stack of 11,000, called from the button. Matthias De Meulder called from the small blind and Anton Wigg called from the big blind.
The flop of
saw the blinds check. The initial raiser bet 1,800 and Kitai and De Meulder called, Wigg folded.
The
hit the turn and De Meulder and the initial raiser checked. Kitai shoved for 7,400 and De Meulder called, the initial raiser folded.
Davidi Kitai:

Matthias De Meulder:
The
on the river wasn't one of the cards Kitai was looking for and he exited the tournament area. De Meulder is up to 60,000.