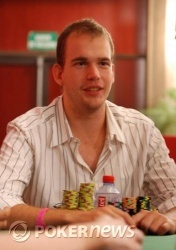 James 'Flushy' Dempsey just went from having 150,000 in chips to none in a matter of minutes, sparked by one pivotal pot that left him with less than 26,000 in chips.
The pot saw Dempsey make it 5,500 to go from the button and Philippe Rottemberg made the call from the big blind. The flop came
and Rottemberg opened with a 6,000 bet. Dempsey then raised to 20,000 and Rottemberg re-popped it to 40,000.
Holding
and on a complete bluff, Dempsey moved all in putting his opponent to a decision for all of his chips. Much to Dempsey's dismay, Rottemberg made the call with
and Dempsey was drawing dead.
The hand that dealt the fatal blow came shortly after when Flushy announced 'Tapis' and slid his stack, worth 23,000, across the betting line. Joseph Balvay opted to call and the rest of the table folded.
"I've got three outs . . . I just don't know which three," Dempsey said as he tabled
. Balvay then revealed
, saying "I like greens!" in reference to Dempsey's four stacks of green chips that were up for grabs.
The
flop was a poor one for Dempsey, as it gave his opponent flush and gutshot straight draws.
"That's a good flop . . . I'm a big fan," he said, sarcastically of course.
The turn brought the
, at which point Dempsey got out of his chair and said "Well played," as he misread the club for a spade. After a double take, he regained interest in the river which brought the
, giving Balvay a single pair and the best hand.
"Well played," Dempsey muttered again, as he wished the rest of the table good luck and exited the tournament area.