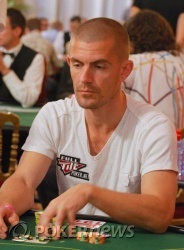 In the first few moments following dinner, Gus Hansen has already found himself involved in a big pot.
We pick up the action on the flop in a heads-up pot between Hansen and the player to his right. The dealer spreads out three community cards:
. The player first to act puts out a bet of 4,000, and The Great Dane quickly raises to 10,000. Without much hesitation, his opponent moves all in for a total of 46,300, catching Gus a bit off guard. He studies for several moments, mumbling to himself, "Oh, what did I get myself into now?" After taking his time to assess the situation, he does indeed make the call.
The all-in player tables
, and he sees the bad news as Hansen turns over his
, having a hammerlock on the hand. The turn and river come
and
respectively, and Gus Hansen claims his first victim of the night. After raking in a nice pile of checks, he has now moved up dangerously close to the 400,000 mark.