Big Stax 300
Day 1d Completed

Level 14 : 1,500-3,000, 3,000 ante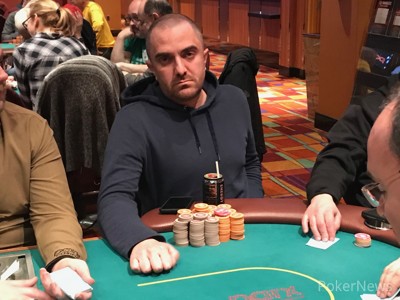 All four Day 1 flights are now complete in the Parx Big Stax 300. The fourth and final opening day flight went down Saturday, as Day 1d drew more than 940 entries to Parx Casino in Bensalem, Pennsylvania.
That big field trimmed down to less than 200 players by night's end, and the Day 1d survivors will join the 208 players that made it through Day 1a, 1b and 1c to advance in the tournament. All of the players that bagged over the past four days will come back Sunday for Day 2, with the combined field coming back for a noon restart.
Among the big stacks bagging Day 1d are names like Mikhail Patish (696,500), who appeared to end the night with the Day 1d chip lead, as well as the biggest stack overall coming back for Day 2.
Others in contention include Sharath Sreeramoju (572,000), Eric Valerio (539,500), Joseph Galazzo (536,000), and John Ciafolo (424,000).
The field played through 14 45-minute levels Saturday, ending with the blinds at 1500/300/3000/ Play will resume at Level 15 Sunday, and the structure will switch to one-hour levels until the final table is reached.
The 948 entries on Day 1d brings the total number of entries to 2,174 for the tournament. Late registration is still available through the beginning of Level 16, the second level of play, Sunday.
Follow along with the PokerNews live blog as the Parx Big Stax 300 continues Sunday!

Level 14 : 1,500-3,000, 3,000 ante
Player
Chips
Progress

Mikhail Patish

696,500

696,500

Sharath Sreeramoju

572,000

157,000

Eric Valerio

539,500

539,500

Joseph Galazzo

536,000

151,000

Frank Nera

497,500

497,500

John Ciofalo

424,000

144,000

Andrew Yakubovich

408,500

316,500

Mijael Meza-Rivera

405,500

405,500

Thomas McMahon

402,500

402,500

Cody Wells

382,000

242,000

Thomas Revello

360,000

360,000

Anthony Chin

358,500

8,500

Dimitrios Georgis

358,000

358,000

Roderick Shifter

344,000

344,000

Michael Linster

341,500

341,500

Albert Harary

340,500

340,500

Willy Taveras Escolastico

323,500

323,500

James Tarantino

321,500

41,500

John Hinds

312,000

312,000

Phillip Phan

305,000

305,000

Christoph Bilinsky

303,500

303,500

Gary Bowker

300,500

300,500

Sudhir Cherukupally

291,500

291,500

Kenneth Rubin

286,500

286,500

Alexander Berdichevskiy

284,500

284,500

Level 14 : 1,500-3,000, 3,000 ante
The field will play three more hands before Day 1d comes to an end.

Level 14 : 1,500-3,000, 3,000 ante
Facing a middle position open to 8,000, Gus Katsipoutis three-bet to 26,000 from the cutoff.
The big blind shoved for 65,000, the original raiser folded, and Katsipoutis made the call.
Big Blind:

Gus Katsipoutis:
Board:
Katsipoutis found an ace on the flop, and after the turn and river the big blind opponent headed for the exit.
Player
Chips
Progress

Gus Katsipoutis

270,000

Level 14 : 1,500-3,000, 3,000 ante
Joseph Galazzo opened to 7,000 in early position, and got a call from the cutoff.
The flop came
, Galazzo bet 9,000, and the cutoff folded.
Galazzo has gone from 60,000 to nearly 400,000 in the last two hours, and looks to be in good position to bag a considerable stack at the end of Day 1d.
Level: 14
Blinds: 1,500/3,000
Ante: 3,000

Level 13 : 1,500-2,500, 2,500 ante
In a three-bet pot with 35,000 in the middle preflop, Brian Wee checked from the big blind on a
flop.
John Ciofalo bet 9,000, and Wee check-raised to 35,000.
Ciofalo tanked for a bit, then folded. Wee offered to show one card, and the table got a look at the
.

Level 13 : 1,500-2,500, 2,500 ante
The under-the-gun player opened to 8,000, Raj Mehad called in middle position, and James Tarantino called in the hijack.
All three players checked the
flop. Action checked to Mejad on the turn, and he bet 16,000 with the
hitting the board. Only Tarantino called.
Both players checked the
river, and Tarantino took it down with
.
Player
Chips
Progress

James Tarantino

280,000

45,000

Raj Mehad

176,000

176,000

Level 13 : 1,500-2,500, 2,500 ante
John Ciofalo limped under the gun, an early position player raised to 7,000, Greg Gratton three-bet to 18,500, and both Ciofalo and the early position player called.
Action checked to Gratton on the
flop, Gratton bet 18,500, and only Ciofalo called.
Ciofalo checked the
turn, Gratton went all in for his last 80,000, and Ciofalo folded.
Gratton showed
, then collected the pot.