Main Event
Day 1a Completed

Level 14 : 2,000-4,000, 500 ante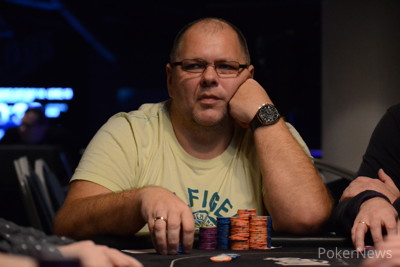 A total of 98 entrants ponied up the €250 buy-in to the PokerNews Cup Main Event with 19 players surviving until the end of the day. Many more are expected on hand during the three remaining opening days taking place on Nov. 20 and Nov. 21 to compete for a share of at least €200,000 guaranteed prize pool .
Currently it is Lithuania's Rytas Staniukynas leading the way ending the day with 446,000 chips. Fellow Lithuanian Tomas Steponkus sits in second place after the action on Day 1A with 339,500 chips.
The day started off in a unique fashion with yesterday's PokerNews Cup Opening Event winner Timothy Weltner being the first player to bust out of the tournament. He was among the 12 players to re-enter today's event and now is sitting in decent shape with 102,500 chips.
Among the exits today were some familiar faces including "Homer Simpson", who was part of the five-way deal in yesterday's event and Australia's Lewis Murray who cashed yesterday after finishing in 17th place. While the Aussie poker player shared with us that he was using poker to help finance his travels around Europe, he appeared to be leaving Rozvadov to head to Prague.
"It's going to be Friday night, and Prague is calling," stated Murray.
Also surviving today are Russian film director Nikolay Karman with 70,000 chips and his wife and Russian film producer Anna Yamshchikova with 90,000 chips. Additionally Germany's Elena Litvinyuk will head to day two with a healthy third-place chip stack of 284,000 chips, while charismatic "Janja" busted out of the tournament just before the day ended.
The PokerNews Cup Main Event continues its play tomorrow, Nov. 20 at 17:00 CET. Also on the schedule tomorrow is a €35 buy-in Main Event Mega Satellite awarding at least eight guaranteed seats at 13:00 CET along with the €100 buy-in PokerNews Pot Limit Omaha 1 X Rebuy or AO side event with a €10,000 Euro guarantee at 16:00 CET.

Level 14 : 2,000-4,000, 500 ante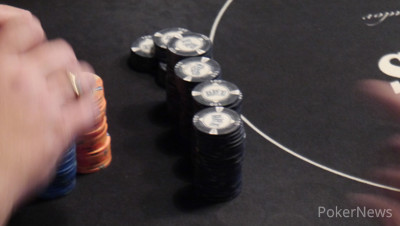 19 players survived out of the 98 entrants to pony-up the €250 buy-in for Day 1A of the PokerNews Cup Main Event. Here is a look at the chip counts:
Player
Chips
Progress

Rytas Staniukynas

446,000

416,000

Tomas Steponkus

339,500

79,500

Elena Litvinyuk

284,000

124,000

Andreas Altenburger

225,500

225,500

Lazer Gjergji

201,500

201,500

Martin Greizinger

194,000

194,000

Andreas Neukel

190,500

190,500

Thomas Pedersen

169,500

169,500

Eusebiu-Nicolae Jalba

115,000

115,000

Josef Peterek

114,500

114,500

Timothy Weltner

102,500

2,500

Anna Yamshchikova

90,000

-50,000

Jens Peter Rinke

81,000

81,000

Wouter Jozef A Dehaene

75,000

75,000

Nikolay Karman

70,000

-20,000

Sebastian Wyzkiewicz

68,000

68,000

Petr Kuchar

65,500

65,500

Marcin Czerwionka

55,500

55,500

Georg Danzer

55,500

55,500

Level 14 : 2,000-4,000, 500 ante
The last level of the night just began with 25 players remaining.
Level: 14
Blinds: 2,000/4,000
Ante: 500

Level 14 : 2,000-4,000, 500 ante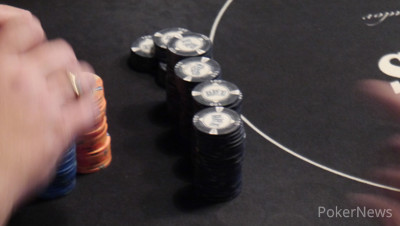 Players are stretching as dealers are removing the black 100-denomination chips from the table.

Level 13 : 1,500-3,000, 400 ante
Player
Chips
Progress

Tomas Steponkus

260,000

160,000

Elena Litvinyuk

160,000

10,000

Anna Yamshchikova

140,000

20,000

Timothy Weltner

100,000

20,000

Nikolay Karman

90,000

10,000
Level: 13
Blinds: 1,500/3,000
Ante: 400

Level 12 : 1,200-2,400, 300 ante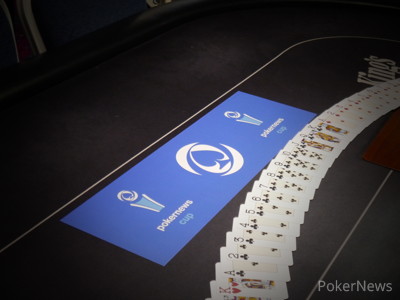 As the day winds down, we have 31 players remaining out of the 98 entrants. There is a little more than an hour of play, and players that don't progress to Day 2, will have a three more opportunities to advance in Days 1b-1d.