Main Event
Day 1c Completed

Level 14 : 2,000-4,000, 500 ante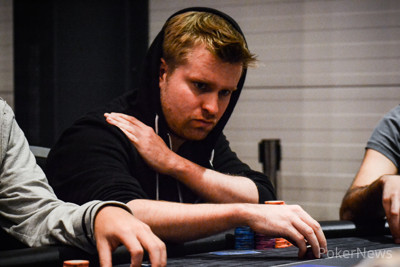 Day 1C is in the books, and King's Casino regular poker player who plays under the alias "BKRF Investments" is the chip leader with 325,500 chips. The third opening flight was by far the largest with 402 players entering.
At the end of the day, 94 remain from the field to join the 19 from Day 1A and 36 from Day 1B to play tomorrow in Day 2. Currently running is a turbo-charged Day 1D that has 120 entrants with late registration still open for a little while.
Among the exits today include some familiar faces including Unibet Pro Quentin Lecomte, King's Casino regular Roman Cieslek, Germany's Stephan Steven, massage establishment owner Chikkita, and local poker dealer and player Matus Schnierer. Additionally, fan favorites "Janja", Wansa Trensch, and online qualifier Attila Toth-Madi all hit the showers during the day.
"BKRF Investments" shared with us that his alias comes from his initials "BK" and initials of his good friend "RF". He went on to say, "Investments is because we like to burn money." True to his word, straight after he bagged his chips for the day, he ran to the cashier to buy into the €60 buy-in King's Hold'em Championship before late registration closed.
On the way to the table, the Day 1C chip leader shared, "I'm looking to burn more money." Overall, "BKRF Investments" currently sits in fourth place behind behind the overall chip leader from Lithuania, Rytas Staniukynas (446,000 chips), Day 1B chip leader from Germany, Jens Dengler (412,000 chips), and Lithuania's Tomas Steponkus (339,500 chips).
Day 2 resumes tomorrow at 14:00 local time. Tune into PokerNews for updates as they happen.

Level 14 : 2,000-4,000, 500 ante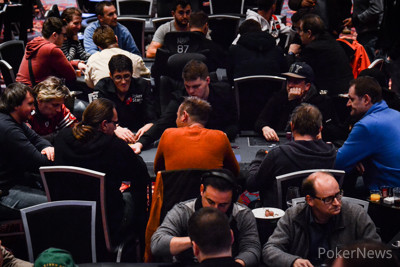 Here is a look at the 94 players to survive Day 1C:
Player
Chips
Progress

BKRF Investments

325,500

-10,000

Justin Herboldt

275,000

275,000

Volkan Alkan

270,000

270,000

Maurizio Adamo

265,000

265,000

Darabi Spanos

260,000

260,000

Sylvan Sattler

257,000

257,000

Hermanus van Beek

254,500

-10,000

Gerold Steinhart

254,500

254,500

Sebastian Haack

249,000

249,000

Milad Izadmousa

245,500

245,500

Marek Blasko

241,000

241,000

Christian Igelspacher

230,500

230,500

Matthias Gude

220,000

220,000

Brian Joseph Lim

212,500

212,500

David Kanok

212,000

212,000

Taoufik Aissaoui

201,500

201,500

Christian Baegetius

199,000

199,000

Fouzi Merzougui

197,500

197,500

Milan Telvák

196,500

196,500

Jürgen Melan

179,500

179,500

Marián Uharcek

177,500

177,500

Günter Neu

173,500

143,500

Lucas Schaumann

169,000

169,000

Said Kambez Nadjem

163,000

133,000

Michael Falk

161,500

161,500

Level 14 : 2,000-4,000, 500 ante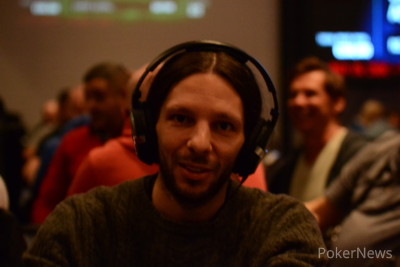 As seems to be always the case, Psi0Nic was in good spirits. This was even true after busting out when he jammed all in with
and wound up being called by the player in the big blind who woke up with
. Psi0Nic was unable to improve and is out of the tournament, however, his night of poker isn't over yet.
Psi0Nic shared with us that he plans to enter the €100 buy-in turbo knockout side event that starts in less than an hour. We overheard a few other players saying they were looking forward to playing it as well.
Player
Chips
Progress

Psi0Nic

Busted

Level 14 : 2,000-4,000, 500 ante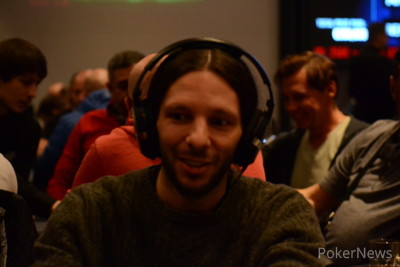 Another player we caught up with on break was Germany's Psi0Nic. He said he has been all-in a few times hoping to get called for a double-up.
He plans to continue this strategy during the last blind level of the night in hopes of coming back for Day 2 tomorrow with a good stack. He currently sits at less than 12 big blinds with around 46,000 chips.
Player
Chips
Progress

Psi0Nic

46,000

18,000

Level 14 : 2,000-4,000, 500 ante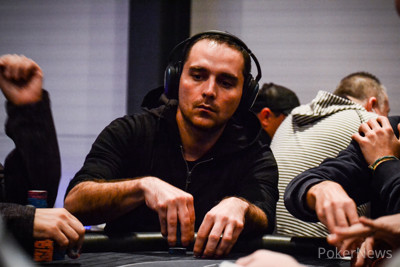 We caught up with Romania's Dan Hila on break. Hila shared with us recently that he has been in and out of Rozvadov for about a month. He has around 56,000 chips and is hoping to improve on that before the last level of the night ends in 28 minutes.
Hila also shared with us this week that he has been doing well in cash and during his spare time has been visiting his family that lives in Germany.
Player
Chips
Progress

Dan Hila

56,000

56,000
Level: 14
Blinds: 2,000/4,000
Ante: 500

Level 13 : 1,500-3,000, 400 ante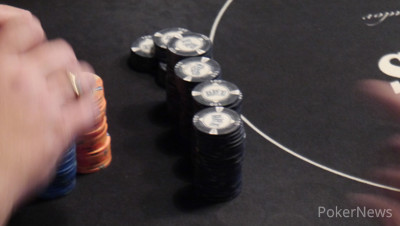 Players are now on a 15 minute break in Day 1C, the last of the night. Dealers have been instructed to color up the 100-denomination chips.

Level 13 : 1,500-3,000, 400 ante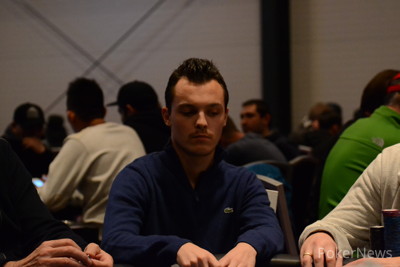 "Players should always to be patient. They should not get worried if after five hours of play they still have the starting stack. After all, no one wins a tournament during the Day 1."
During the afternoon, we sat down with Unibet Poker pro Quentin Lecomte and asked him for some advices to make it through an event like the PokerNews Cup.
"In tournaments like this one I see quite a lot of player playing very good poker for five hours and then lose everything in less than thirty minutes," Leconte explained. "It's something I find quite normal, as it used to happen to me as well when I started to play poker."
"When you find yourself with the same stack you had in the beginning after playing for a lot of hours, you feel like you have to do something. That's a mistake," Lecomte continued.
"It's exactly the same reason why you shouldn't give away chips only because you have five times the starting stack. You always need to be patient and do your best to make it through the tournament one small step after the other. This is the only way to win a poker tournament."
Considering this advice comes from a guy who has more than $370,000 in live tournament winnings and who plays poker for a living - I think you may want to follow it.

Level 13 : 1,500-3,000, 400 ante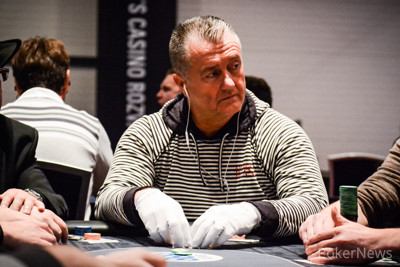 Magic is in the air. Because King's Regular who refers to himself as Magic Man to rotate and can act his magical powers.
Denis Horozović pushed his last 12 big blinds and asked for Magic Man's fate to help. He tossed a coin and then asked his opponent, "Do you want me call?" The coin replied yes and the board rewarded him with a flush to increase his chip stack over six-digits.
Player
Chips
Progress

Huseyn Erbay

120,000

Denis Horozović

Busted