Main Event
Day 2 Completed

Level 24 : 40,000-80,000, 10,000 ante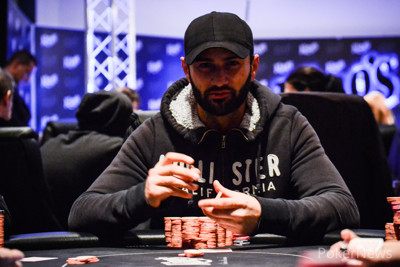 With the Day 2 now in the books, all involved are now off for a good sleep before they return on Monday to discover who will leave King's Casino as the ninth champion of the PokerNews Cup and bring home the top prize of €37,229.
Day 2 kicked off at 14:00 CET, when the 190 players still in the €250 Main Event took their seats in the tournament room. With many short stacks still in play, a lot of players hit the rails during the early stages. The eliminations came so fast that the field was already down to 130 players before the second level of play finished.
Day 1a chip leader Rytas Staniukynas started Day 2 in the top spot overall with a stack of 446,000. Not too far behind him were Germany's Jens Dengler and fellow Lithuanian Tomas Steponkus with 412,000 and 339,500, respectively. Ten hours later, when the dealers asked the remaining 16 who advanced to Day 3 to bag their stacks, none of those three were still in the tournament.
Staniukynas was the only one to cash in the event thanks to a 24th-place finish worth €1,183.
When the day ended, it was German poker pro Daniel Can bagged the biggest stack, and he will start Day 3 of the Main Event with an impressive 3,445,000 in chips.
In the second spot of the chip counts was Hermanus van Beek with a stack of 2,655,000. Hailing from The Netherlands, van Beek has already managed to win a side bet thanks to his deep run in the tournament.
"I bet with some other guys that I would be the last Dutch standing in the Main Event and here I am, I won the bet," van Beek shared with PokerNews.
Slovakia's Marian Uharcek will begin Day 3 in the third spot on the podium with 2,610,000 in chips. With the first player to leave the game tomorrow being guaranteed a cash prize of €1,765, Uharcek has already secured the second-biggest payday in his career.
Also amongst those who will be back for Day 2, is France's Benoit Kuhn, the member of the BKRF Investments team who ended Day 1c with the biggest stack. The outspoken and talkative player who has repeatedly tried to tilt his opponents with his chatter has already bested his top result in the PokerNews Cup so far, as last February he cashed for $1,017 with a 62nd-place finish.
Germany's Erich Ott was the one who had the ungenerous honor to burst the bubble as he left the tournament in 80th place. As reported in our live blog, Ott jammed his remaining 80,000 in chips on the bubble and was called by Volkan Alkan. A crowd gathered around the table as Ott turned over the
, and he was ahead preflop against Alkan's
.
Ott began sweating when Alkan picked up a flush on the
flop. The
hit the turn to give Alkan a leading pair, and then the river completed the board with the
. That only made matters worse, as it gave Alkan a flush, and Ott was out.
There will also be no Day 3 for Germany's Elena Litvinyuk, winner of the World Series of Poker Circuit Ladies Event that took place here in Rozvadov earlier this month. Determined to best her €2,331 cash in the WSOP Circuit event, Litvinyuk was the last woman standing in the event when she went out of the tournament in 41st place for €795. Out as well, but not in the money, was Lewis Murrey. The Aussie has been trying to finance his trip around Europe through playing in poker events, but his visit to Rozvadov did not support his cause.
Similarly, Timothy Claude Weltner will not coming back on Monday. The player from Berlin who won the PokerNews Cup Opening Event for €2,607 on Wednesday, explained that his bust out hand had a lot to do with his lack of experience in live poker.
"I announced a raise when the action wasn't on me," Weltner explained. "When the player to my right reacted to my mistake by going all in, I thought I had to do the same, so I called him and lost my chance to progress in the Main Event. I should have at least asked someone if I had the chance to do something else and if I could have avoided going all in."
Coverage of the Main Event will resume Monday at 14:00 CET with blinds at 100,000/200,000 and a 10,000 ante. Returning players are guaranteed a €1,765 payout, however, everyone has their eyes on the top prize of €37,229. Stay tuned at PokerNews for live coverage until a winner is determined.

Level 24 : 40,000-80,000, 10,000 ante
Eric Danis and Rich Ryan are back to discuss some of the big changes in the Global Poker Index Player of the Year race and GPI Top 300.
You can subscribe to the entire iBus Media Network on iTunes here, or you can access the RSS feed here. The PokerNews family of podcasts is now available on Stitcher.

Level 24 : 40,000-80,000, 10,000 ante
Player
Chips
Progress

Daniel Can

3,445,000

3,358,000

Hermanus van Beek

2,655,000

1,655,000

Marián Uharcek

2,610,000

2,432,500

Philipp Kämpf

2,325,000

2,259,500

Claudius Istrate

2,090,000

-1,410,000

Gerald Hiebler

1,770,000

170,000

Thomas Pedersen

1,640,000

140,000

Benoit Kuhn

1,510,000

1,510,000

Christian Voss

1,335,000

1,233,500

Gjergji Lazer

1,105,000

1,105,000

Brian Joseph Lim

1,020,000

807,500

Christian Waldemar Dieter

960,000

917,500

Jürgen Melan

940,000

760,500

Robert Markus Manner

695,000

643,000

Jakub Krämer

685,000

618,000

Sasa Klein

180,000

90,000

Level 24 : 40,000-80,000, 10,000 ante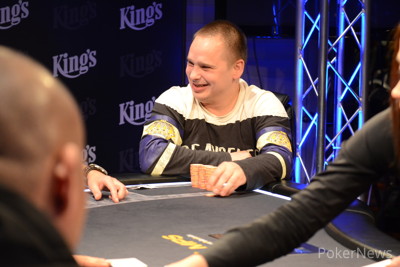 Estonia's Janek Hin just became the last casualty of the day. First, he lost almost all chips to Hermanus van Beek, and his stack was enough just big enough to pay the ante.
Philip Kämpf raised the action to 160,000. All other players folded and the action unfolded.
Philip Kämpf:

Hin:

Board:
Hin was unable to hit any part of the board, and was eliminated in 17th place for €1,765. Hin was our last casualty of the day. We will post updated chip counts of the remaining 16 players within the next hour.
The final day of play in the PokerNews Cup Main Event will take place tomorrow at 14:00 CET.

Level 24 : 40,000-80,000, 10,000 ante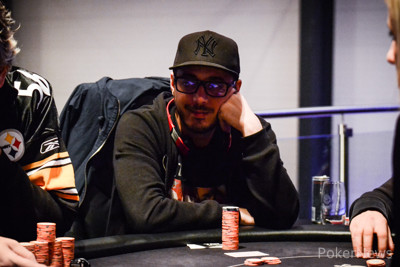 Ivo Peters is the latest to bust out of the tournament after going all-in preflop with
and getting called by Daniel Can holding
.
The board ran out
, giving Can a higher pair than Peters. Peters is eliminated in 18th place for €1,571. Play will continue until there are 16 players left.

Level 24 : 40,000-80,000, 10,000 ante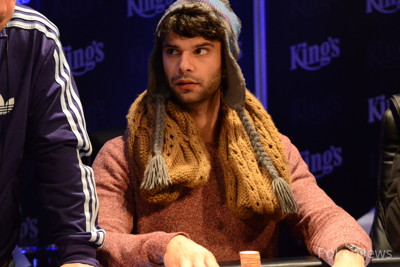 Sanji Bastian Bhatia has been short-stacked for awhile, and his PokerNews Cup Main Event comes to an end. He is out in 19th place after losing a hand going all-in against two other opponents.
Level: 24
Blinds: 40,000/80,000
Ante: 10,000