Main Event
Day 1b Completed

Level 14 : 2,000-4,000, 500 ante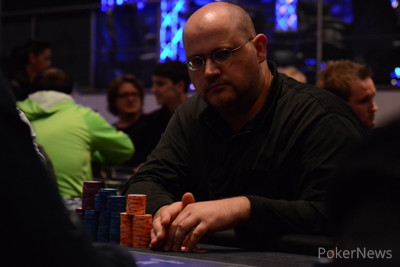 A total of 174 entrants ponied up the €250 buy-in to the PokerNews Cup Main Event with 36 players surviving until the end of the day. In addition to the 98 entrants that played yesterday, we are now at 272 players after two opening days. Many more are expected on hand during the two remaining opening days taking place tomorrow, Nov. 21 to compete for a share of at least €200,000 guaranteed prize pool .
Germany's Jens Dengler finished as the Day 1B chip leader mounting a huge 412,000 chip stack. He currently sits in second place heading into Day 2 just behind Lithuania's Rytas Staniukynas' impressive stack of 446,000 chips. Fellow Lithuanian and Day 1A participant Tomas Steponkus sits in third place heading into Day 2 with 339,500 chips.
Among the exits today include some familiar faces including Unibet Pro Quentin Lecomte. Additionally, we saw two of the players that chopped the PokerNews Cup Opening Event not progress to the second day after today's action in Przemyslav Omylak and Matus Schnierer. Additionally fan favorites "Janja", Wansa Trensch, and online qualifier Inna Ohorodnyk all hit the showers during the day.
Meanwhile, Australian traveler who stated it was either double up a bunch of times or head off to Prague before the last level of the night, went from 20,000 to 120,000 during the last blind level to set himself up to be in the middle of the pack in Day 2. When we asked him if he would rest up for tomorrow, he laughed and said, "No chance, I'm going to enter the €60 side event."
The PokerNews Cup Main Event continues its play tomorrow with Day 1C tomorrow at 14:00 and a turbo Day 1D at 21:00. Also on the schedule tomorrow is a €40 buy-in Turbo Satellite awarding at least five guaranteed seats at 11:00 CET along with the €60 buy-in King's Hold'em Championship with a €12,000 Euro guarantee at 17:00 CET. Those hanging around late tomorrow will also be able to play in the €100 buy-in PokerNews King's Deepstack Late Night Turbo at 23:00 CET.

Level 14 : 2,000-4,000, 500 ante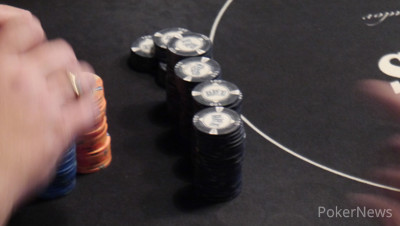 Here are the chip counts of the 36 players that survived Day 1B to bring forward into Day 2 on Sunday at 14:00 ET.
Player
Chips
Progress

Jens Dengler

412,000

412,000

Marek Bartoszewicz

305,000

305,000

Robert Obrtlík

259,500

259,500

Michael Waldmann

247,500

247,500

Lucian Ene

224,500

224,500

Alain Medesan

221,000

221,000

Oguz Erk

212,500

82,500

Dominik Bauer

203,000

13,000

Daniel Kebernik

194,000

194,000

Bartlomiej Grabowskli

184,500

184,500

Michael Bauer

173,000

173,000

David Manhart

167,000

167,000

Lubos Klima

161,500

161,500

Wolfgang Rose

160,000

160,000

Poitr Sadowski

150,000

28,000

Steven Gosiau

138,500

138,500

Torsten Albert

137,000

137,000

Szymon Bujok

133,000

133,000

Benjamin Streber

125,500

125,500

Franz Doblinger

125,000

125,000

Van Hiep Tran

118,000

118,000

Lewis Murray

117,500

-2,500

Mario Günther Westphal

115,500

115,500

Rene Hermans

113,500

113,500

Ravi Kumar Gahi

106,000

106,000

Level 14 : 2,000-4,000, 500 ante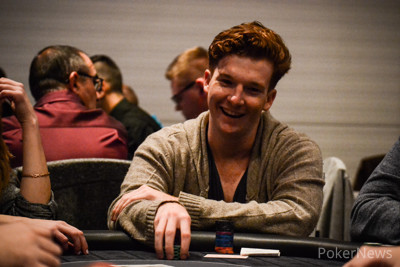 Lewis Murray was overheard saying he didn't want to enter Day 2 with a short-stack. It was either build up his five big blind stack or head off to Prague to avoid the cost of another night of hotel accommodations.
Therefore Murray was playing hard and fast and now has doubled a couple of times to 80,000 chips. He then doubled again when his
survived his opponents
with the board presenting two diamonds for a flush draw for his opponent. Despite flopping a set, Murray had to sweat things out a little before doubling up again.
He then lost a couple of smaller pots to be at around 120,000 chips near the end of the day.
Player
Chips
Progress

Lewis Murray

120,000

108,000

Level 14 : 2,000-4,000, 500 ante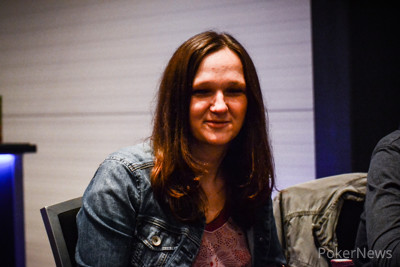 Janja exited last night on the 14th and final blind level, and is hoping not to do the same. She shared with us on break that she is now down to 30,000 chips after her
was unable to hold against her opponent's
.
Player
Chips
Progress

Janja

30,000

-60,000
Level: 14
Blinds: 2,000/4,000
Ante: 500

Level 13 : 1,500-3,000, 400 ante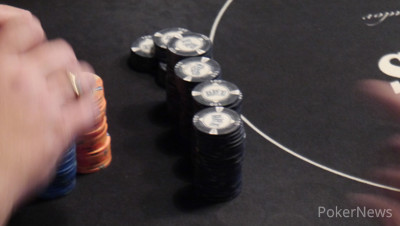 There is a 15 minute break with one level to go in the evening. While this might seem unorthodox, it is necessary so the dealers can run off the 100-denomination chips.

Level 13 : 1,500-3,000, 400 ante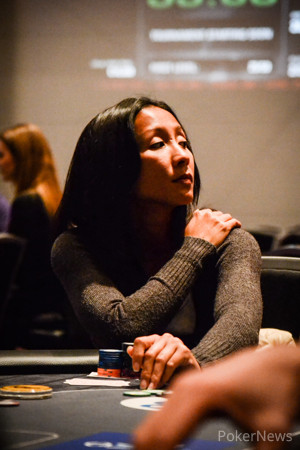 Thailand's Wansa Trensch has left the tournament area after losing a three-way pot to Dominik Bauer for around 100,000 chips.
The Board appeared with and secured Dominik Bauer a pot of around 100,000 chips. Bauer is now among the chip leaders with 190,000 chips.
Player
Chips
Progress

Dominik Bauer

190,000

190,000

Wansa Trensch

Busted

Level 13 : 1,500-3,000, 400 ante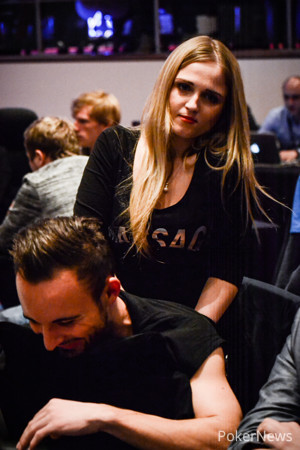 With Day 1B winding down, many players are opting for a massage to relax. Massages at King's Casino are reasonably priced at €1 per minute, and players can choose any length of time within reason.

Level 13 : 1,500-3,000, 400 ante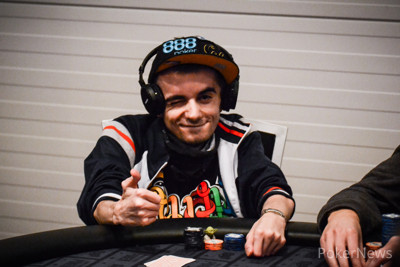 Przemyslav Omylak chopped the PokerNews Cup Main Event for €2,607. However, he will need to re-enter tomorrow to have a chance at similar success in the Main Event. As of now, he told us his intentions were to stick to side events. Based on his success two days ago, this might not be a bad idea for Omylak.
He got it all in with
against
of that of his opponent, whose alias is "Keepanik".
The board was of no help to Omylak. While the Polish poker player exited Day 1B, "Keepanik" watched his stack soar to 140,000 chips.
Player
Chips
Progress

Keepanik

140,000

140,000

Przemyslav Omylak

Busted