Daniel Can Wins the PokerNews Main Event Cup for €17,105

Level 25 : 50,000-100,000, 10,000 ante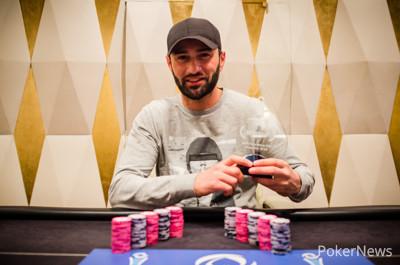 The PokerNews Cup Main Event ended about two hours into Day 3 when the nine remaining players agreed to a deal before the first cards of the final table were dealt. Germany's Daniel Can emerged as the official winner after the deal was finalized collecting the agreed upon top prize of €17,105 and the coveted PokerNews Cup trophy.
Can shared with us that is consider to soon head off to Prague for the Prague Poker Festival.
Germany's Benoit Kuhn, otherwise known as half of the BKRF Investments, finished just behind Can for €16,822. Kuhn told us last night when he was witnessed in the casino playing online poker hours after Day 2 ended that he felt he could play his "A" game without a good night's rest.
Others to win big thanks to the deal that was made are Denmark's Thomas Pedersen (third place - €15,481), Germany's Christian Voss (fourth place - €13,913), Netherlands' Hermanus van Beek (fifth place - €13,497), Claudius Istrate (sixth place - €12,402), Slovakia's Marián Uharcek (seventh place - €11,797), Germany's Christian Waldemar Dieter (eighth place - €11,193), and Germany's Philipp Kämpf (ninth place - €9,814).
Day 3 kicked off with 16 of the original 820 entrants to enter the event. Just a few minutes in the day, we were down to 15 players after Germany's Jurgen Melan was all-in with blinds at 40,000/80,000 and a 10,000 ante holding
for 940,000 chips. He collected €1,765 for 16th place after his hand was unable to improve once Dieter called with
.
Straight after many of the short-stacks wound up getting it all-in to find themselves in a coin-flip situation. More often than not, the coin-flips shipped the chips to the bigger stacks and narrowed down the field.
The final table was reached on Day 3 in less than two blind levels after Germany's Sasa Klein (15th place - €1,998), Germany's Gerald Hiebler (14th place - €1,998), Czech Republic's Gjergji Lazer (13th place - €2,289), Germany's Jakub Krämer (12th place - €2,289), Slovakia's Brian Joseph Lim (11th place - €2,697), and Germany's Robert Markus Manner (10th place - €2,697) were eliminated.
Still yet to come is the €85 buy-in PokerNews Cooldown NLH event featuring a €5,000 guaranteed prize pool. A decent turnout is expected as we have overheard a few players say they were going to enter the tournament that begins at 19:00 CET, including PokerNews Cup Opening Event winner Timothy Weltner.