$575 Main Event
Days: 1bc
$575 Main Event
Day 1bc Completed

Level 12 : 1,500-2,500, 2,500 ante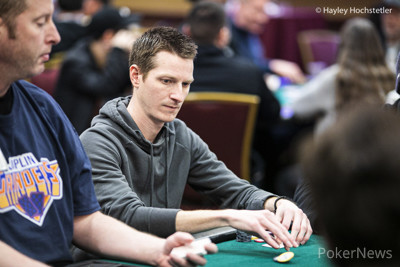 The RunGood Poker Series main event at the Downstream Casino drew 383 total entries and a prizepool of almost $200,000. The action started Friday at 7 p.m. and continued with two more starting flights on Saturday.
Jared Ward is the overall chip leader and will lead the 70 players with 368,000 into Day 2 Sunday at noon.
Several of the RGPS regulars came through Downstream Casino throughout the weekend, including the defending main event champion Greg Jennings. He was eliminated in the final two hours of play on Day 1c.
Sam Washburn, the current leader of the casino champion race, was also eliminated late in Day 1c. He has set himself up with a good lead, but Jacob Seale is certainly within striking distance and has a formidable stack heading into Day 2.
The top 45 players in the main event will make at least a min-cash of $1,053.
There were some heavy hitters that came out for the main event that didn't find a bag for Day 2. Most notably, Dan Lowery. Jennings, Lowery, Jon Bennett, Washburn, Jeff Tebben, Shaun Roberts, and Norm Glueckert all fell short.
The field is still stacked and will certainly make for a fun Sunday. PokerNews.com will be here throughout the weekend as the RGPS Downstream comes to a close and the newest All-Stars season main event champion is crowned.
Player
Chips
Progress

Jared Ward

368,000

Devin Arnone

355,500

Grant Hinkle

255,500

242,100

Phillip Teel

233,000

Cesar Torres

221,000

221,000

Wesley Lantrip

212,500

Eric Anderson

207,000

John Martin

192,500

Preston McEwen

179,500

Taylor Scott

172,500

Rajko Radovic

168,500

Mason Hinkle

167,000

Randy Murfin

160,500

98,500

William McCracken

153,000

153,000

Michael Lech

117,500

-17,500

Brett Pfeifer

109,500

-91,500

Christopher Brouster

108,500

Josh Sandoval

103,000

6,200

Bob Holmes

102,000

Hunter Barnett

100,000

-15,000

Patrick Dixon

98,500

Tim Black

95,500

Shantanu Garg

95,000

95,000

Teresa Griffith

93,500

Patrick Dorothy

91,500

91,500

Level 12 : 1,500-2,500, 2,500 ante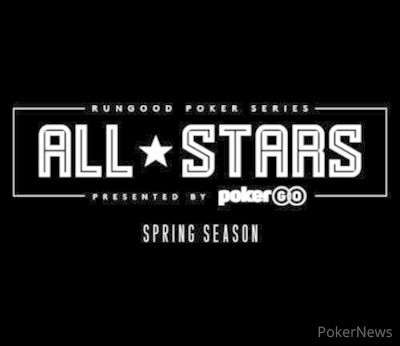 Each RunGood Poker Series stop this season will crown one player the casino champion. So far Jennifer Gianera (Jamul Casino) and Christopher Christian (Horseshoe Council Bluffs) have won their seats to the All-Stars event to be held in December at the PokerGO studio.
If you want to catch the All-Stars event and all the great content from PokerGO throughout the year, including the Super High Roller Bowl, Poker Masters, and the U.S. Poker Open, you can use the code "RUNGOOD" for $20 off the annual subscription. Click here to sign up.
Currently, Sam Washburn leads the race at Downstream Casino, and if he wins he may be the first player to do so without winning a tournament. Washburn has two final tables so far this series.
The casino champions will join the winners of each of the main events this season at the All-Stars event. In total, 32 players will earn a seat to this special tournament where they will get the chance to play against invited guests. PokerGO will broadcast the event.
Here is a look at the current leaderboard and who might have a shot at catching Washburn.
| Player | Points |
| --- | --- |
| Sam Washburn | 32.5 |
| Lance Ledford | 25 |
| Norm Glueckert | 25 |
| Vincent Ramirez | 25 |
| Brett Nigh | 20 |
| John Heckenkamp | 20 |
| Robert Patterson | 20 |
| Andrew Berdahl | 17.5 |
| Jacob Seale | 17.5 |

Level 12 : 1,500-2,500, 2,500 ante
The final flight of the RGPS Downstream main event is winding down and there are five more hands.
Level: 12
Blinds: 1,500/2,500
Ante: 2,500

Level 11 : 1,000-2,000, 2,000 ante
Michael Lech three-bet shoved against a Jesse Mull early position open. Mull had made it 5,000 and Lech shoved. Mull called and was covered.
Lech had
against the
of Mull.
The board ran out
and Mull was eliminated.

Level 11 : 1,000-2,000, 2,000 ante
Brett Pfeifer opened to 4,500 from middle position and got three callers.
The flop came
and all four players checked.
The turn was the
and the big blind led for 8,000. Pfeifer was the lone caller.
The river was the
and the big blind led again, this time for 11,000. Pfeifer called.
The big blind showed
and Pfiefer turned over the winner with
.
Player
Chips
Progress

Brett Pfeifer

201,000

59,000
Level: 11
Blinds: 1,000/2,000
Ante: 2,000

Level 10 : 800-1,600, 1,600 ante
Player
Chips
Progress

Brett Pfeifer

142,000

142,000

Eric Anderson

140,000

23,800

Hunter Barnett

115,000

72,500

Jesus Hernandez

108,000

69,000

Josh Sandoval

96,800

-25,200

Michael Escareno

85,000

Jim Traber

75,000

-85,000

Shawn McCracken

72,000

45,500

Michael Lech

71,000

-44,000

Sam Washburn

68,500

22,500

Jesse Mull

57,000

36,000

Dan Lowery

Busted
Level: 10
Blinds: 800/1,600
Ante: 1,600