SCOOP-10-H: $1,050 NLHE [PKO], 750K Gtd
Day: 2
SCOOP-10-H: $1,050 NLHE [PKO], 750K Gtd
Day 2 Completed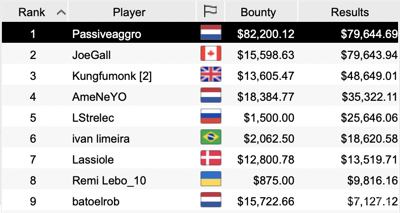 Two days ago a Dutchman won his maiden title of the 2020 PokerStars Spring Championship of Online Poker (SCOOP) in a high stakes progressive knockout tournament and history repeated itself as "Passiveaggro" came out on top of a field of 1,157 entries in Event #10-H: $1,050 NLHE [PKO]. He claimed the biggest slice of the $1,157,000 prize pool after defeating Canada's "JoeGall" in heads-up to add $161,844.81 in total to his bankroll.
"Passiveaggro" follows in the footsteps of Jorryt "TheCleaner11" van Hoof and two other Dutchmen had reached the final table. Former EPT Main Event champion Rob "batoelrob" Hollink finished in 9th place after he was eliminated by "Passiveaggro" and "AmeNeYO" came up short against eventual runner-up "JoeGall" to finish in fourth place. There seemingly wasn't a lot of passiveness about the three players from the Netherlands, as they eventually ended up with the top three bounty prizes of the entire field.
Final Result 2020 SCOOP Event 10-H: $1,050 NLHE [PKO]
| Place | Winner | Country | Bounty Prize (in USD) | Cash Prize (in USD) | Total Prize (in USD) |
| --- | --- | --- | --- | --- | --- |
| 1 | Passiveaggro | Netherlands | $82,200.12 | $79,644.69 | $161,844.81 |
| 2 | JoeGall | Canada | $15,598.63 | $79,634.94 | $95,233.57 |
| 3 | Kungfumonk | United Kingdom | $13,605.47 | $48,649.01 | $62,254.48 |
| 4 | AmeNeYo | Netherlands | $18,384.77 | $35,322.11 | $53,706.88 |
| 5 | LStrelec | Russia | $1,500.00 | $25,646.06 | $27,146.06 |
| 6 | ivan limeira | Brazil | $2,062.50 | $18,620.58 | $20,683.08 |
| 7 | Lassiole | Denmark | $12,800.78 | $13,519.71 | $26,320.49 |
| 8 | Remi Lebo_10 | Ukraine | $875.00 | $9,816.16 | $10,691.16 |
| 9 | Rob "batoelrob" Hollink | Netherlands | $15,722.66 | $7,127.12 | $22,849.78 |
The early stages of the final day can only be described as frantic. After 90 minutes of play, the 93 survivors from the previous night had been cut down all the way to the final four tables already. Some of those that didn't make it to the first break were reigning SCOOP Main Event champion Gianluca "Tankanza" Speranza, Ariel "ArielBahia" Celestino, and Rui "sousinha23" Sousa. The attempts of Manuel "manuverd0n" Bardon to knock out online superstar Simon "C. Darwin2" Mattsson were not crowned by success, which sent the Spaniard and UK resident to the rail in 44th place.
EPT Main Event champion Robin "robinho" Ylitalo hit the rail soon after and Andrey "ThePateychuk" Pateychuk, who holds the same title on his poker resume, had to settle for 27th place. The poker pro from Russia lost a flip with pocket nines against the ace-jack of "Carlos levis". Mattsson also missed out on the final two tables when his turned two pair with jack-four suited came up second-best against superior two pair on the river for Germany's "pudelpower". Moments later, Event #02-H: $2,100 NLHE finalist "danechka1991" exited in 20th place and the only dull period of the final day commenced.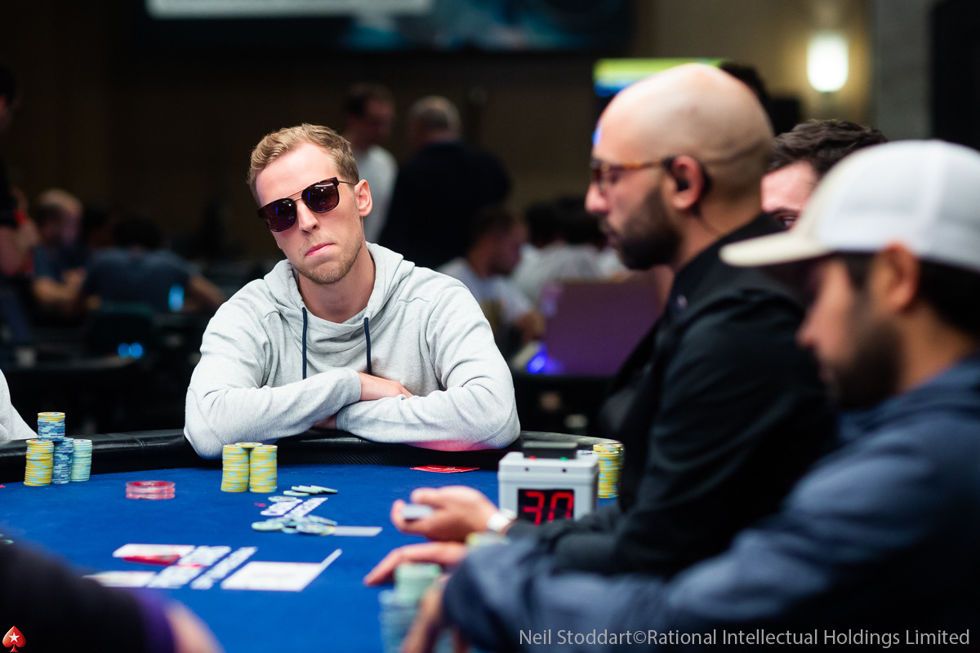 More than one level passed without any elimination but once the field was down to the last 12 hopefuls, the remarkable run of "Passiveaggro" took place. In three consecutive hands, he sent "Freshmannn", "necgaidziai" and Day 1 chip leader "mandan1979" to the rail in order to set up the final table. He made it four seat open in a row after felting Rob "batoelrob" Hollink with ace-jack versus queen-jack and seemed unstoppable.
However, he then bluffed into "JoeGall" and "AmeNeYO" to double up both and suddenly dropped back into the middle of the pack. One short stack after the other vanished and "Passiveaggro" was suddenly back on track after he doubled twice against his countryman "AmeNeYO".
With sheer aggression, "Passiveaggro" dominated the short-handed action and sent both of his final opponents to the rail in quick succession to claim the SCOOP title. That wraps up the PokerNews updates for this event on a busy poker Sunday.
"JoeGall" limped his button and called a raise to 2.1 million by "Passiveaggro" to see a
flop, on which a first barrel for 2.1 million resulted in a call. "Passiveaggro" didn't slow down and also bet the
turn for 2,829,750 and "JoeGall called with fewer than 19 million behind.
The
on the river paired the board and "Passiveaggro" bet enough to put his opponent all-in. He received the call and tabled
for a full house while "JoeGall" had turned a straight with
and finished as the runner-up. The Canadian collects $15,598.63 and a cash prize of $79,634.94.
Both left their "GG" in the chat and about one minute passed, then "JoeGall" added a "nice river".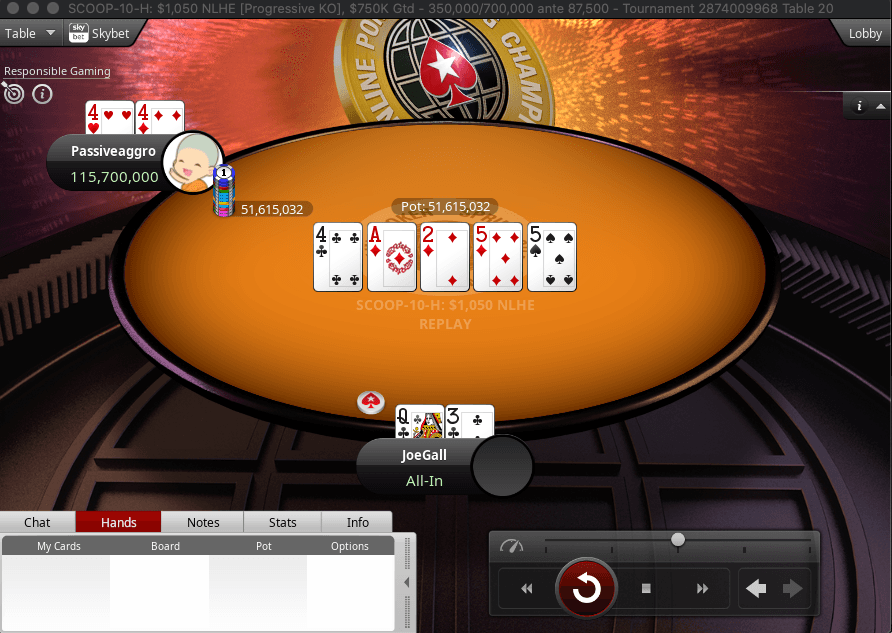 That wraps up the tournament action and a recap of today's action is to follow.
A seemingly innocent limped pot cemented the lead for "Passiveaggro" who is on the verge of establishing a 3-1 advantage over "JoeGall".
There was no betting action on the
flop and the Dutchman then min-bet the
turn and bet more than the pot on the
river. "JoeGall" made the call and mucked when he was shown
for a backdoor straight.
Extremely aggressive three-handed play led to a rising stack for "Passiveaggro" and especially "Kungfumonk" suffered from that as he lost all bigger pots to the Dutchman and dropped to a short stack of fewer than 20 big blinds.
In a battle small blind versus button, "Kungfumonk" then three-bet shoved for 13.5 million and received an instant call by initial raiser "Passiveaggro.
"Kungfumonk":

"Passiveaggro"
Board:
No ace nor straight came to the rescue for Kungfumonk, who collects $13,605.47 in bounty prizes and $48,649.01 in cash prizes for his third place finish.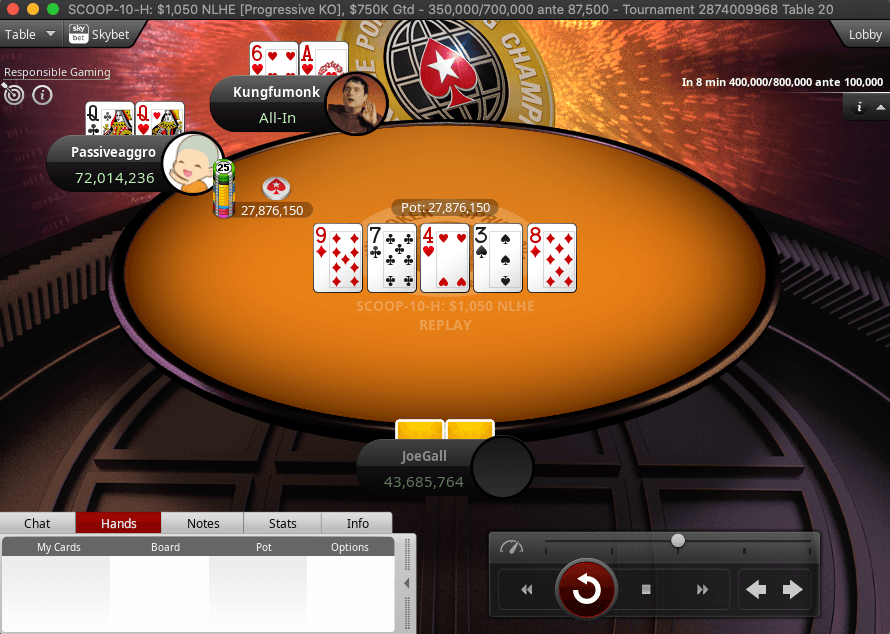 Level: 41
Blinds: 350,000/700,000
Ante: 87,500
Suddenly the shortest stack with four players remaining, "AmeNeYO" raised to 1,260,000 and was called by "JoeGall" in the big blind. On a flop of
, "JoeGall" check-called a small bet of 1,029,600 and the
appeared on the turn.
A check-jam by "JoeGall" was called by "AmeNeYO" who found himself behind with
versus
. The
river added further misery as "JoeGall" scored the knockout with a full house.
AmeNeYO" takes home $18,384.77 in bounty prizes and $35,322.11 in cash prizes for his 4th place finish.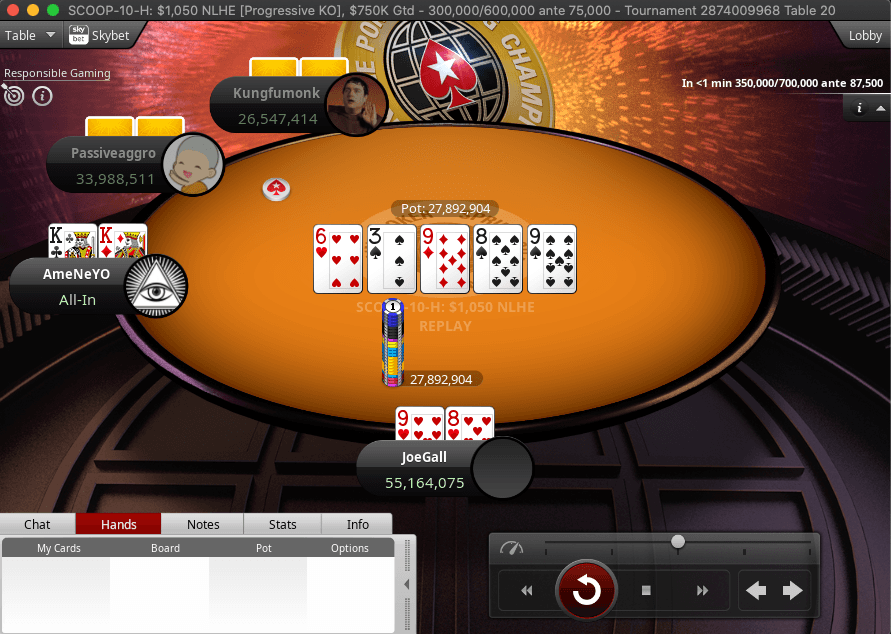 Player
Chips
Progress

AmeNeYo

Busted
"Passiveaggro" raised to 1.3 million and called a three-bet by "JoeGall" for 2,998,000 in the small blind. On a flop of
, a continuation bet by "JoeGall" followed and the
turn was checked. Once the
came on the river, "JoeGall" bet 4,560,999 and won the pot uncontested.
"Passiveaggro" claimed the chips back without showdown against "Kungfumonk". A limp-call for 1.8 million and a check-call on the
flop for 1.2 million led to checks on the turn. The
river was bet by "Passiveaggro" for more than the pot and that did the trick.
Player
Chips
Progress

JoeGall

40,992,623

2,851,009

Passiveaggro

34,063,511

7,248,991

Kungfumonk

26,922,414

-7,640,000

AmeNeYo

13,721,452

-2,460,000
Within quick succession, the two Dutch players among the final four got their chips into the middle and it was "Passiveaggro" that came out on top both times to remain in contention.
"Passiveaggro":

"AmeNeYO":
A committed raise for ten big blinds with fewer than one behind by "Passiveaggro" led to the shove of "AmeNeYO" and the board ran out
.
Two hands later, a button raise resulted in the three-bet shove for more than 21 big blinds by "Passiveaggro", who picked up a reluctant call.
"Passiveaggro":

"AmeNeYO":
There was no glimpse of hope on the
flop and the
turn ensured the second double, a meaningless
on the river even gave "Passiveaggro" a set of queens.
Player
Chips
Progress

JoeGall

38,141,614

1,547,000

Kungfumonk

34,562,414

10,567,000

Passiveaggro

26,814,520

13,285,890

AmeNeYo

16,181,452

-26,024,890
Level: 40
Blinds: 300,000/600,000
Ante: 75,000