Event Info
| | |
| --- | --- |
| Buy-in | $1,500 |
| Players | 808 |
Level Info
| | |
| --- | --- |
| Level | 33 |
| Blinds | 60,000 / 120,000 |
| Ante | 20,000 |
Main Event
Day 3 Completed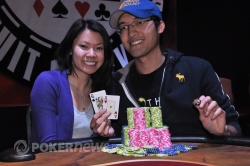 After just over eight hours of play on Day 3, Huy Nguyen is the winner of the World Series of Poker Circuit Main Event here in Choctaw. He receives $232,706 for his victory and bested a final table which included WSOP-C Ring winners Charles "Woody" Moore and Drazen Ilich, and WSOP bracelet winner Robert Cheung.
The day started with 14 players and Neal Seiwert was the chip leader. Austin, Texas' Basil Lombardo was the first to go and then Seiwert lost two monster flips. One was with
against
, which took half of his stack, and the other was with
against
for his tournament life. He lost both and was eliminated in 13th place.
John Loza was the next to go after a massive hand against Nguyen. The two got four million chips in the middle at 20,000/40,000/5,000 in a blind-for-blind battle, and Nguyen's
had Loza's
crushed. Nguyen held and Loza busted in 12th shortly after.
Next to exit was Joe Bui in 11th place. He was very short when he open shoved with
and ran into Victor Haynes'
.
Moore made the unofficial final table, but couldn't quite make his third official final table of the 2011 WSOP-C. He busted in 10th when he moved in with
and was re-shoved on by Bobby "Shooter" Hempkins with
. Hempkins held and Moore headed to the cage to collect his $17,662 in prize money.
Cheung and Andrew Watson were eliminated in 9th and 8th place respectively and both were dominated when their chips went in. Cheung ran a set into the nut straight and Watson ran wired fours into pocket queens. Both players were KO'd by our winner; Nguyen.
Victor Haynes was the next victim. He doubled twice during Level 31, but the third time he was all in for his tournament life he did not survive. Haynes'
was dominated by Shallum Lynch's
and the queens held, sending Haynes home in 7th place.
Ilich failed to capture his second WSOP-C ring and finished 6th when he shoved with
on a
board. Nguyen called with
and held when the
fell on the river.
Hempkins coasted to the final table without getting involved in too many big hands, but once play was five-handed he three-bet shoved for 900,000 with
. Lynch snapped it off with
, and just like in every other elimination, the best hand held.
We then went to dinner break and play slowed mightily upon return. The four remaining players knew they were on a six-digit money bubble and everybody played noticeably tighter. It wasn't until Jeff Gibralter tried to make a hero-call did the fireworks start shooting.
Jeff Gibralter opened to 255,000 on the button and Huy Nguyen called from the small blind. The dealer flopped
and Nguyen led for 755,000. Gibralter called.The turn was the
and Nguyen moved all in for effectively 3.5 million. Gibralter went deep into the tank before calling with just
and was crushed by Nguyen's
. The river was the
and Gibralter was eliminated in 4th place.
Only a few hands later Lynch three-bet shoved for 2.1 million with
. Nguyen, the original raiser, quickly called with
and held, giving him a massive chip lead entering heads-up play with the last female standing; Traci Brown.
It was Brown's birthday (literally) and she couldn't be stopped. She won two big flips and cracked Nguyen's kings with ace-king when play was six handed to stay alive. She could not overcome the deficit however when she open-shoved with
and Nguyen called with
. The board ran
and Nguyen was the WSOP-C Main Event champion!
For besting a field of 808 players and playing great poker for three days he receives $232,706, a seat in the National Championship and, of course, the WSOP-C Ring!
Congratulations to Huy Nguyen and goodnight from Choctaw!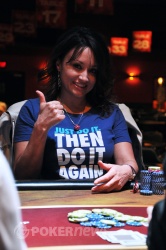 Traci Brown shoved for roughly 2,300,000 on the button and Huy Nguyen slowly peeked at his cards. He liked the first one, quietly talking to himself and asking for a second card to his liking. "Call!" said Nguyen emphatically, showing
.
Brown was in trouble with
, but as she noted, "Diamonds are a girl's best friend."
The flop came down
, no help to Brown. The
hit the turn and gave her a flush draw, but the river brought the
.
For her runner-up performance, Brown earned $143,462.
Level:

33
Blinds:

60,000/120,000
Ante:

20,000
Traci Brown had the button and raised to 250,000. Huy Nguyen called and the flop fell
. Nguyen checked, Brown continued for 500,000 and Nguyen moved all in.
Brown thought for nearly a minute and finally made the call.
Nguyen:

Brown:
Brown was up against the ropes and needed a ten to win.
The turn was the
, sneaking a few chop outs into the equation.
The
spiked on the river and Brown was elated.
"Yeah!" she shouted. "I cannot lose!"
The two chopped the pot and it was back to the drawing board.
Traci Brown and Huy Nguyen are now heads-up for $232,706 and the WSOP-C Main Event Ring.
Nguyen has Brown heavily out-chipped with 14 million to her 2 million.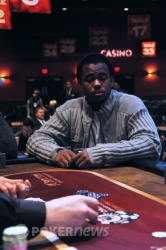 Huy Nguyen opened to 250,000 on the button and Shallum Lynch moved all in for 2.1 million from the big blind. Nguyen snapped it off and the hands were opened.
Nguyen:

Lynch:
Lynch showed emotion for the first time today as he stood from his seat and muttered, "S#!t," to himself.
The flop fell
.
"Four," Lynch said quietly.
The turn was little, but the
did not help.
"Come on," Lynch urged. "Four."
The
on the river missed Lynch as well, and he was eliminated in 3rd place. Lynch, who referred to himself as "Master" on his WSOP bio sheet, will return to Lewisville, Texas with $105,764.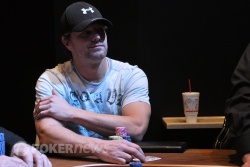 Jeff Gibralter opened to 255,000 on the button and Huy Nguyen called from the small blind. The dealer flopped
and Nguyen led for 755,000. Gibralter called.
The turn was the
and Nguyen moved all in for effectively 3.5 million. For the next three or so minutes nobody in the Center Stage area made a sound. Gibralter stood up from his seat only to sit back down seconds later, and then reached for his entire stack. He didn't commit them though, pulling his hands away and chuckling.
"I don't have much," he announced.
He went back in the tank for another half of a minute before finally calling. He opened
and was crushed when Nguyen tabled
. The river was another king, the
, and Gibralter was eliminated in 4th place.
The Rockwall, Texas native's hero call went awry, but he will receive $78,828 for his efforts over the last three days.
"It's so quiet in here!" Traci Brown just yelled.
She's right, it's been very quiet since dinner break. These players are very focused - and for good reason. They're competing for $232,706, a WSOP-C Ring and a seat in the National Championship in May.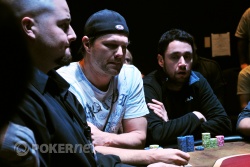 Shallum Lynch raised to 300,000 out of the small blind and Jeff Gibralter moved all in for 1.975 million from the big. Lynch went deep in the tank and eventually called.
Gibralter:

Lynch:
Gibralter was ahead, but he wasn't happy with Lynch's call. The dealer rapped the table and fanned
to give Gibralter a pair of tens. Lynch had backdoor straight and flush draws, but those dreams were dashed by the
on the turn. Only a jack or a ten could eliminate Gibralter, and he survived when the river brought the
.
Gibralter doubled to 3.99 million chips while Lynch slipped to 3.8 million.