Event Info
Level Info
| | |
| --- | --- |
| Level | 25 |
| Blinds | 40,000 / 80,000 |
| Ante | 0 |
Event 36 - $5,000 Omaha Hi Lo
Day 3 Completed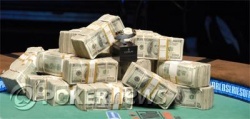 Robert Stevanovski was down to almost nothing when he limped into the last pot of the day. Guth checked and the flop came
. Robert bet . . . and Guth re-raised him all in. Stevanovski had no choice but to call, and when he did he found that Guth had flopped a set of Nines. When John saw the cards he shouted, "Please, once in my life don't let me lose to a gutshot!" That's what Stevanovski needed, a Jack to make his straight.
But we'd had enough drama for the day -- the turn was the
, giving Guth a full house, the pot, and the title.
You won't see a happier champion the rest of the Series. He jumped up and down and screamed almost incoherently. He said, incredulous, "This is my bracelet!!?? This is my money??!! Are these my bricks??"" He hugged and high-fived his friends and picked up the bracelet. "Can I put this on?" he asked, forgetting that the bracelet was, in fact, all his.
Guth took time to shake hands one last time with Robert Stevanovski, who played magnificently and never lost his cool as the match see-sawed back and forth. Stevanovski won $218,456 as our runner-up.
And in addition to the bracelet he couldn't believe was his, John "Sir Scoopalot" Guth won $363,216. That's a lotta bricks.
Level:

25
Blinds:

40,000/80,000
Ante:

0
Guth scooped another big pot when he rivered a Queen to give him Kings and Queens, which trumped the two pair (threes and fives) Stevanovski hit on the flop. Guth now leads by 2.5 million to 315,000.
With the board reading
and nearly 500,000 in the pot, Guth bet 120K and Stevanovski thought it over before making the call. "I have nut-nut" Guth said as he spread his cards, showing Q-J for the nut straight and 2-4 for the nut low. Stevanovski looked at his cards and tossed them aside as Guth thrust his arms in the air and scooped a massive pot. He now has a 2.4 million to 400K chip lead.
After scooping that huge pot and building up his lead to 2.3 million to 500K, John Guth did something almost unimaginable -- he reached out and touched the World Series of Poker bracelet sitting on the pile of cash at the end of the table. His fingers barely brushed it . . . and it slipped off its stand and fell on the felt. He tried putting it back but it wouldn't stay.

"Don't jinx yourself!" one of his female supporters yelled from the stands. We'll have to wait and see to find out if he did.
John raised to 120K before the flop and Robert called. The flop came
and Stevanovski check-called Guth's 60K bet. He check-called again when the
hit on the turn, but when the
fell on the river Stevanovski led out for 120K. Undaunted, Guth raised to 240K and Stevanovski called. Both players had 9-8 for the straight but Guth had A-2 for the low and quartered Stevanovski.
Guth raised to 120K before the flop and Stevanovski called. The flop came
and Stevanovski check-called Guth's 60K bet. Robert did the same when the
turned and the
fell on the river. Guth turned over his hand and was looking for his low draw . . . and seemed not to notice that he'd made a flush with the
to beat Stevanovski Aces and Jacks. There was no qualifiying low and the pot Guth scooped put him back into the lead, 1.8 million to 1 million.
"They're gonna chop this pot."

We've heard that a fair few times over the last two hours. The game is Omaha Hi-Lo, it's the nature of the beast. The players build a big 'ol pile of pink chips in the middle of the table . . . and then they divvy 'em up fifty-fifty. And then we start all over again.
The length of the match hasn't dimmed the enthusiasm of either player's supporters. In fact Robert Stevanovski's fans have taken to shouting, "That's what I'm TALKIN' ABOUT" when he does something exciting like, oh, limping into a pot. Though I think that's a bit tongue-in-cheek. A bit.