Event 36 - $5,000 Omaha Hi Lo
Days: 1
Event 36 - $5,000 Omaha Hi Lo
Day 1 Completed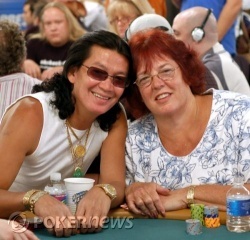 Day 1 action from the $5,000 Omaha Hi-Lo event is officially complete. The action for much of the day was relatively slow, until the last couple of rounds when we lost the likes of Phil Ivey, Freddy Deeb, and Doyle Brunson. Of the 280 players who started the day, 147 of them will be back tomorrow afternoon.

Plenty of big names will be returning tomorrow for what should be a much livelier Day 2, including Scotty Nguyen, Todd Brunson, Patrick Antonius, Huckleberry Seed, Annie Duke, and Robert Williamson III.

Join us tomorrow at 3:00 p.m. PDT for our continued coverage of event 36.

Until then, good luck and good night!
Phil Ivey, Michael Keiner, and Howard Lederer have all been eliminated from the tournament.
Freddy Deeb, Marcel Luske, Berry Johnston, and Minh Ly have all been eliminated from the tournament.
Doyle Brunson was just eliminated from the tournament.
Patrick Antonius just took down a huge pot against Kirk Morrison and Brett "Gank" Jungblut, making quad 10's on the turn against Morrison's Kings full. Jungblut mucked his hand on the river.

Afterwards, Antonius jumped up to 30,000, while Jungblut and Morrison dropped to 11K each.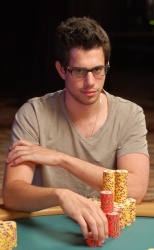 Nick Schulman might be a good businessman, but it looks as though he needs some practice throwing plastic soda bottles into garbage cans from over 20 feet away.

Schulman was able to get other players at his table to lay him 20-1 odds that he could sink his soda bottle into a nearby garbage can from his place at the table.

He made two attempts and I'm told he missed both by a longshot.
We just witnessed a 4-way pot between Chris Ferguson, Hasan Habib, Nick Schulman, and David Levi, ending with a Schulman-Levi chop. Here's how it went down.

On a board reading
, the action was checked around to David Levi who bet out. Ferguson and Schulman called, and Habib folded.

The turn brought the
. Ferguson checked and Schulman bet out; both Levi and Ferguson called.

The river card was the
. Both Ferguson and Schulman checked and Levi put in one last bet; both of his opponents called.

At showdown, these were the players' cards:

David Levi:

Nick Schulman:

Chris Ferguson: Mucked

Levi won the high with the nut flush, while Schulman picked up the low with A-2-5-6-8.

After the hand, Ferguson dropped to 10,900, while Schulman moved up to 14,000 and Levi to 12,500.
Level: 8
Blinds: 300/600
Ante: 0
Sherkhan Farnood, Jordan Morgan, Bill Chen, Jesse Jones, C.K. Hua, Toto Leonidas, and Andrew Black have all been eliminated from the tournament.